Kripalu Recipe: Carrot Cake with Cream Cheese Frosting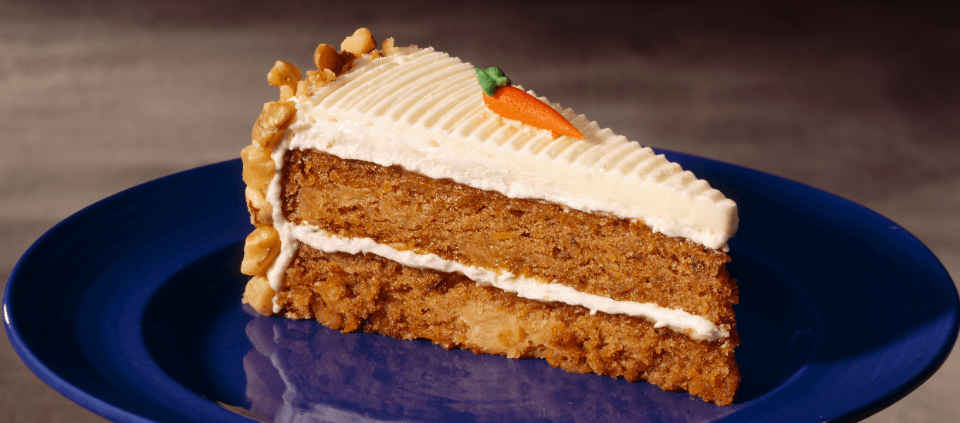 This delicious carrot cake recipe could also pass as carrot muffins and, since it's chock full of carrots, walnuts, and raisins, we say it counts as breakfast!
Makes one 9x13-inch or one 9-inch round cake
For the frosting:
1/2 cup cream cheese, room temperature
1/4 cup unsalted butter, room temperature
1 to 2 tablespoons honey
1 teaspoon vanilla extract
Whip cream cheese and butter together in a food processor or by hand with a fork until smooth. Add the vanilla and honey and mix thoroughly. Use immediately to frost a cake or quick bread.
For the cake:
2 cups all-purpose flour
2 teaspoons cinnamon
2 teaspoons baking powder
1/2 teaspoon baking soda
1/2 teaspoon sea salt
3 cups shredded carrots
1 1/4 cups sugar
3/4 cup sunflower oil
1/2 cup orange juice
1 cup raisins
1 cup chopped walnuts
Preheat oven to 350 degrees. Grease cake pan.
Combine the flour, cinnamon, baking powder, baking soda, and salt in a large mixing bowl. Stir in the carrots and mix until they are coated with the flour mixture. Stir in the sugar, oil, and orange juice and mix until just blended. Stir in the raisins and walnuts.
Pour batter into prepared pan and use a spatula to spread batter evenly.
Bake until the edges pull away from the pan and a toothpick comes out clean, 45 minutes to 1 hour. Cool for 10 minutes. Remove from pan and let cool completely on a wire rack. Frost with Cream Cheese Frosting, if desired.