Kripalu Recipe: Curried Cauliflower, Potatoes, Chard, and Peas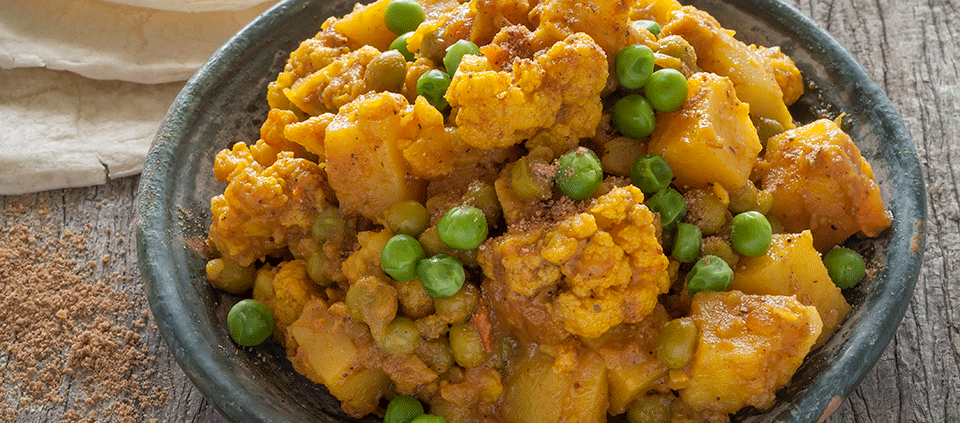 Fill your home with the delicious aroma of spices, garlic, and delicious cauliflower.
3 tablespoons ghee, olive, or coconut oil
1 tablespoon coriander
1 ½ teaspoons cumin
½ teaspoon turmeric
1 teaspoon curry powder
¼ teaspoon dry red pepper flakes
4 cups (medium head) cauliflower cut into large florets
1 ½ pounds red bliss or Yukon Gold potatoes cut into 1 ½ inch pieces
1 tablespoon garlic, chopped
2 teaspoons minced ginger
1 cup canned tomato puree
2 cups thinly sliced red chard
2 tablespoons unsweetened shredded coconut
Heat the oil over medium heat in a large deep sauté pan or wide top soup pot. Add the coriander, cumin, turmeric, curry powder, and red pepper flakes and stir. Bloom spices for 2 minutes. Add the cauliflower and potatoes and cook, frequently stirring, for roughly 5–7 minutes or until the vegetables start to soften.
Add ginger and garlic and cook for 30 seconds to release their aroma. Next, add the tomatoes, 1/4 cup of cilantro, 1/3 cup of water, and the salt, being sure to scrape any fond from the bottom of the pan. Bring to a simmer, reduce the heat to low, cover the pan, and cook until the vegetables are fork-tender, about 10–15 minutes. Stir in chard and cook for 2–3 minutes. Stir in the peas and the remaining 1/4 cup cilantro and let it simmer for 2–3 minutes before serving.
Garnish with shredded coconut to serve.
Jeremy Rock Smith, Kripalu faculty and a graduate of the Culinary Institute of America, began his career in classical French cuisine.
Full Bio and Programs