Kripalu Recipe: Dahl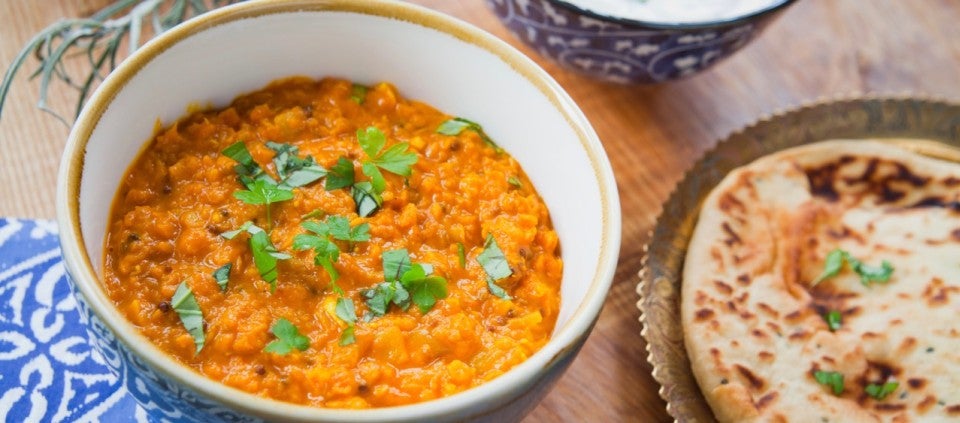 This dish offers a smorgasbord of anti-inflammatory and detoxifying herbs and spices, including ginger, turmeric, coriander, mustard seeds, and asafetida. It's particularly satisfying due to the sustaining combination of fiber-rich carbohydrates and high-quality protein in the red lentils. It also packs in B-vitamins such as thiamin (good for the nervous system), choline (essential for neurological function), and folate (critical for cell replication and the health of our DNA).
Serves 4.
1 tablespoons ghee (or oil)
1 teaspoon mustard seeds
2 tablespoons fresh minced ginger
1/2 tablespoon turmeric
1 teaspoon ground coriander
Pinch asafetida (also known as hing)
1 small onion, diced
1 small carrot, diced
1 cup dry red lentils, rinsed well
1 teaspoon salt
4 cups water or vegetable stock
Heat the ghee in a soup pot. Add the mustard seeds; as soon as they start to pop, add the ginger and then the other spices. Sauté one minute. Add the onions and carrots and sauté until they are heated through. Add the salt and continue to sauté until the onions start to brown. Add the red lentils and stir to coat with spices. Add water or stock and bring to a boil. Reduce heat and simmer until lentils have broken up. Adjust seasonings to taste.