Kripalu Recipe: DIY Oat Milk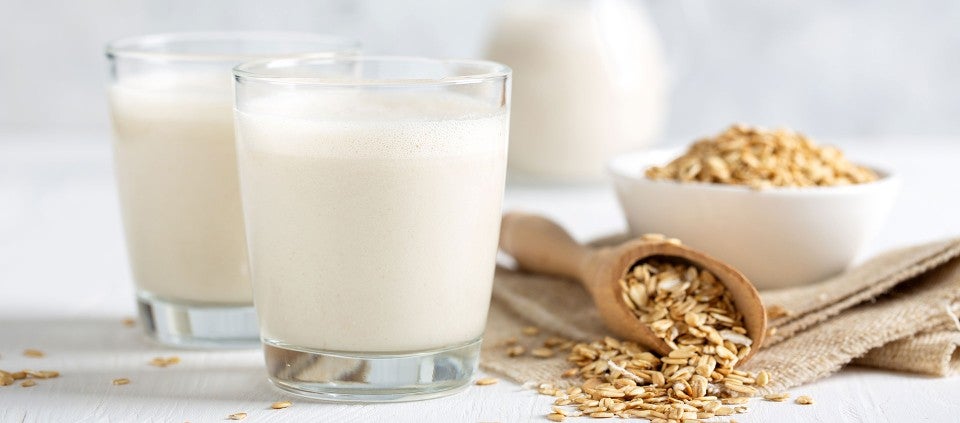 Oat milk is all the rage these days. Oat milk chai, oat milk lattes, golden oat milk … Why the fan frenzy? Of all the milk alternatives, the consistency and unctuousness of oat milk is most like that of cow's milk.
That being said, I'm leery about consuming store-bought milk alternatives. What could be a three-ingredient beverage (water, oats, and salt) turns into a lengthy list. Check out the ingredients found in one popular brand's oat milk: Oatmilk (Filtered Water, Oat Flour), Sunflower Oil, Vitamin and Mineral Blend (Calcium Carbonate, Vitamin A Palmitate, Vitamin D2, Riboflavin, Vitamin B12), Malt Extract, Dipotassium Phosphate, Sea Salt, Gellan Gum, Locust Bean Gum, Natural Flavor, Ascorbic Acid.
Gellan gum? Yikes! Bottom line: If time allows, make it yourself.
Before I launch into the how-to part, here's some lightning-fast Ayurvedic theory: Oat milk is a terrific choice during the winter. Oats are warming, heavy, and oily, a perfect antidote to the cold weather. Drink it warm to keep the digestive fire robust and to prevent the body from getting chilly. Increase circulation by adding a shake of ground cinnamon and ginger.
1 cup steel-cut oats, soaked for at least an hour in warm water and drained
3 cups filtered water
Pinch of sea salt
Optional add-ins for a sweeter flavor:
1 medjool date
¼–½ teaspoon ground cinnamon
Place drained oats, water, salt, and any additional add-ins in a food processor or high-powered blender. Whirl for 1–2 minutes until uniform and the oats are mostly broken up. Filter through a fine mesh strainer or nut milk bag. Store in a glass jar for up to four days.
Lauren Gernady is an Ayurvedic Health Counselor, a 500-hour Ayurvedic Yoga Teacher, a graduate of the Kripalu School of Ayurvedic (KSA), and a former intern and Academic Coordinator of KSA.
Full Bio and Programs