Kripalu Recipe: Eggs Over Chorizo Spinach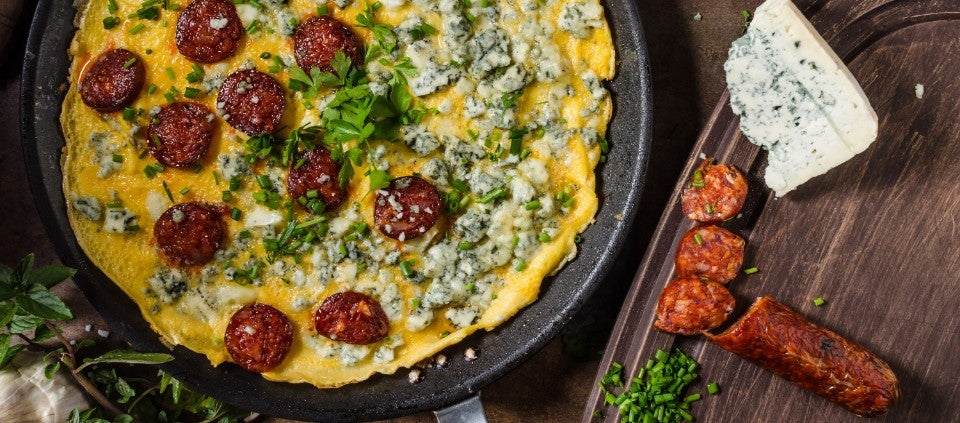 Enjoy this meal any time of day, not just for breakfast.
Serves 2
2 tablespoons olive oil
1 teaspoon curry
1 teaspoon paprika
½ teaspoon cumin
½ teaspoon ground ginger
½ cup large diced onion
½ teaspoon jalapeño pepper
¼ cup sliced or crumbled chorizo (or spicy vegetarian sausage)
¼ cup medium diced green peppers
¼ cup raw peanuts
2 cups chopped spinach, packed
4 eggs
Salt and pepper to taste
Your favorite peppery olive oil to top
Cilantro and/or scallions to garnish
In a medium pan, heat the olive oil to a medium temperature. Add the spices and stir until they begin to release their fragrance. Be careful to keep it at a medium temperature so that the spice doesn't burn. Add the onions and peppers and sauté to desired texture (I like to keep mine firm, but you may prefer to caramelize the onions).
Add some salt to the vegetables. Next, add the chorizo and peanuts, and sauté for a few more minutes. Add the spinach and gently combine. Crack the eggs on top of the spinach, and add a pinch of salt and pepper. Pour a few tablespoons of water into the pan, bring the temperature up to create some steam, cover, and allow to cook until the eggs reach the desired level of doneness.
Garnish as you please with olive oil, cilantro, and/or scallions. We served ours with a side of fresh grapes and a few slices of goat cheese.