Kripalu Recipe: Gluten-Free Vegan Gravy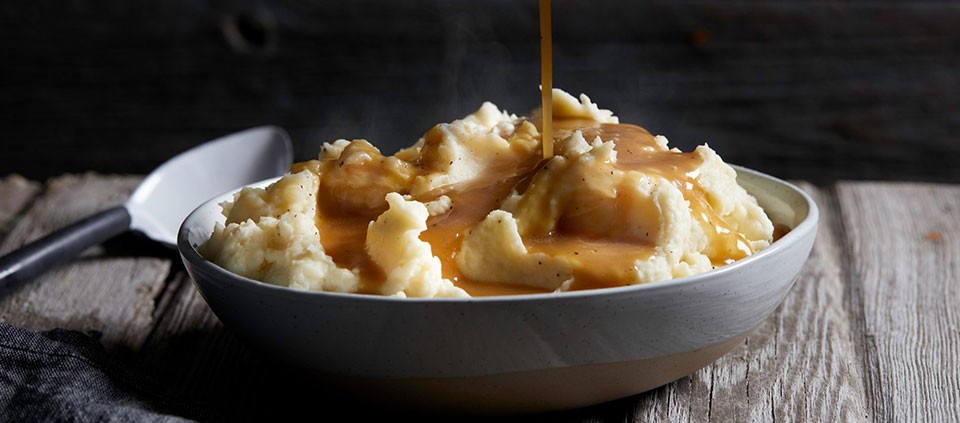 November 17, 2020
Craving the perfect vegan, gluten-free gravy for your holiday celebration? Try Chef Jeremy's iconic recipe he's planning on serving this holiday season. The secret? Browning and caramelizing your vegetables is the trick to the savory vegan gravy. That, and a tincture of nutritional yeast. From there, it's a matter of thickening the broth with some flour (we use brown rice flour) and flavoring the gravy with plenty of aromatic herbs such as thyme, tarragon, and parsley.
Makes about 2 cups
Ingredients
2 tablespoons olive oil
1 1/4 cups chopped onions
3/4 cups sliced mushrooms
1/4 teaspoon dried tarragon
1/4 teaspoon dried thyme
2 tablespoons brown rice flour
1 1/2 cups unsalted Vegetable Stock (page 000) or store-bought
2 1/2 teaspoons soy sauce or Bragg's liquid aminos
1 teaspoon nutritional yeast
1/2 teaspoon fine sea salt
1 teaspoon chopped fresh parsley
Instructions
Heat a medium saucepan over medium heat. Add the oil, onions, and mushrooms, shaking the pan to coat the vegetables. Reduce the heat to low, cover and sweat the vegetables until they are soft and the mushrooms release their liquid, 3 to 4 minutes. Uncover, turn the heat to medium, and cook until the vegetables are lightly caramelized and browned, 5 to 7 minutes, stirring now and then.
Stir in the tarragon and thyme, and cook for 1 minute. Stir in the rice flour and then gradually stir in the stock and simmer until the mixture is smooth and slightly thickened. Stir in the soy sauce, nutritional yeast, and salt. Simmer gently for 5 minutes.
Puree the mixture with an immersion blender or in an upright blender. If using an upright blender, avoid a blowout by slightly cooling the mixture and partially removing the center lid of the blender. Puree until the gravy is smooth.

Stir in the parsley and serve hot. Or refrigerate the gravy in an airtight container for up to 3 days and reheat before serving.
Jeremy Rock Smith, Kripalu faculty and a graduate of the Culinary Institute of America, began his career in classical French cuisine.
Full Bio and Programs