Kripalu Recipe: Iced Chai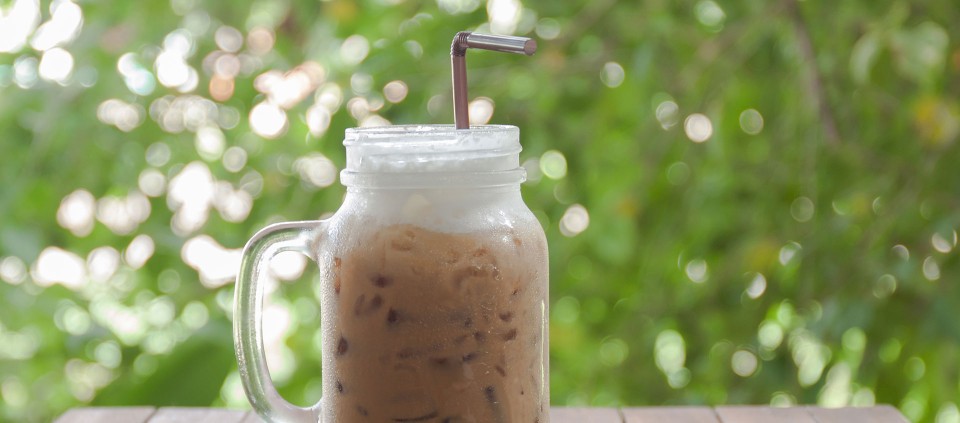 From Starbucks' Oprah Chai to "Chai Mondays" in the Kripalu lobby (where you are bound to spot many employees milling about in anticipation), this beverage has been gaining well-deserved popularity over the last few decades. Masala chai, which translates as a "mixed-spiced tea," is the beverage of choice on the Indian subcontinent. Fun fact: Many of the masala mixtures used today are actually derived from ancient Ayurvedic texts.
Historically, in India, tea was perceived as an herbal medicine rather than a morning beverage—until the 1830s, when the British East India Company began to feel the squeeze as China continued to dominate the tea market. To amp up sales, the company began to cultivate like crazy in British India and British Ceylon (known today as Sri Lanka). However, noticing that tea consumption was dismally low in India, an ingenious marketing campaign was launched to bump sales: Factories, textile mills, and mines were all encouraged to offer tea breaks for their employees.
As a result, what started out as merely a means to make more money became a hallmark of Indian culture. Nowadays, the streets are bustling with chai wallahs, or tea servers, on every corner. A day of socializing in India might involve multiple cups of chai, as it is customary to greet visitors with a steaming mug of spicy goodness.
Containing one-third the caffeine of coffee, chai can be a lovely substitute if you are trying to cut back, yet still crave a rich and satisfying replacement. Know that you can always swap out the black tea for green tea, which has less caffeine; or rooibos, to make the beverage completely jitter free.
But what about iced chai? Well, ice is generally perceived as the ultimate no-no in Ayurveda (ice extinguishes your digestive fire, thus hampering your ability to break down and assimilate food), but the Kripalu School of Ayurveda has decided to turn a blind eye this summer! After all, many of the spices in chai strengthen your digestive fire and have plenty of medicinal benefits, as listed below …
Fennel
Soothes abdominal pain, indigestion, and colic
An expectorant, used to treat coughs, breathlessness and hiccups
Antispasmodic (relieves spasms of involuntary muscles)
Diuretic
Carminative (relieves gas)
Ginger
Excellent digestive and anti-flatulent
Treats indigestion
Fights colds
Purifies blood
Anti-inflammatory
Analgesic (pain relieving)
Eases menstrual cramps
Combats headaches and migraines
Clove
Improves digestive fire
Aphrodisiac
Analgesic
Stimulates liver
Eases coughs
Reduces toxins
Cardamom
Reduces gas
Stimulating
Fights indigestion and poor absorption
Laxative
Freshens the mouth
Cinnamon
Stimulates liver
Cardio stimulant
Increases appetite
Digests toxins
Controls blood sugar
Improves digestion
Be it chilled or hot, I invite you to explore this stellar chai recipe from KSA faculty Rosy Mann. If you do decide to ice it, first bring the chai to room temperature, or refrigerate until it's cool enough to pour over ice. Cheers!
Dr. Rosy's Chai
Serves 2
2 cups filtered water
2 tablespoons whole fennel seeds
1 slice fresh ginger
2–3 cloves
3–4 cardamom pods, crushed
1-inch piece of cinnamon stick
1 tablespoon organic dried black tea leaves (or green or rooibus, if using)
2 cups whole milk or non-dairy milk
2 tablespoons jaggery, raw sugar, or maple syrup
Place water, fennel seeds, ginger, cloves, and cardamom in saucepan. Bring to a boil, then reduce heat to a low boil for 10 minutes. Add tea and gently boil for two or three minutes. Add milk and sweetener and bring to a low simmer. Remove from heat and strain into mugs.
Variations for the Doshas
Kapha: Substitute almond milk. Replace sugar with a small amount of honey after chai has been in cups.
Pitta: Substitute coconut milk.
Vata: Use more milk.
Lauren Gernady is an Ayurvedic Health Counselor, a 500-hour Ayurvedic Yoga Teacher, a graduate of the Kripalu School of Ayurvedic (KSA), and a former intern and Academic Coordinator of KSA.
Full Bio and Programs