Kripalu Recipe: Mushroom Nut Pâté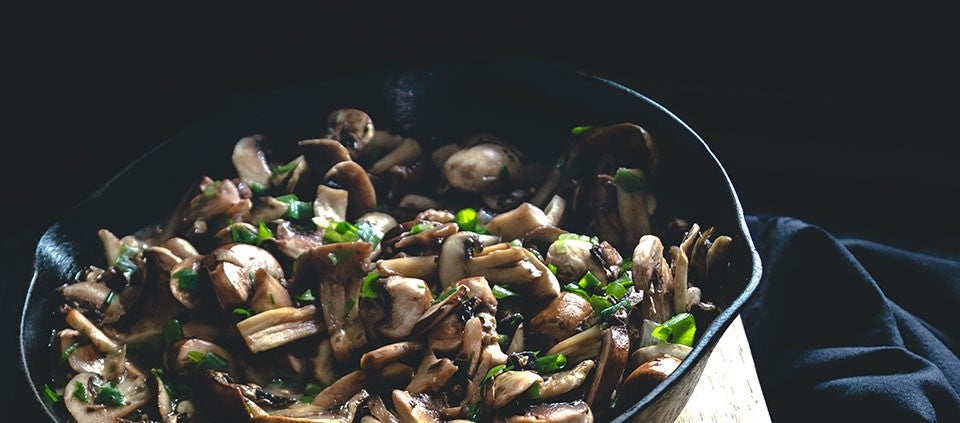 November 17, 2020
Enjoy this gluten-free, vegan pate that makes 4 to 6 cups.
Ingredients
1 tablespoon olive oil
2 1/2 cups sliced button mushrooms
1 cup diced onions
3 cloves garlic, chopped
1 1/2 cups walnuts
1 cup raw sunflower seeds
2 tablespoons tamari
1 1/2 tablespoons fresh lemon juice
1/2 tablespoon tahini
1 tablespoon fresh oregano leaves
1 teaspoon fresh thyme leaves
Instructions
Preheat the oven to 350ºF.
Pour the oil onto a sheet pan (18 x 13 inch) and then add the mushrooms, onions, and garlic. Use your hands to rub the oil all over the vegetables, coating them thoroughly. Spread the vegetables in a single layer and roast in the oven until the onions are lightly browned and the mushrooms lose most of their liquid, 10 to 12 minutes. Remove from the oven and let cool on the pan.
Meanwhile, put the walnuts and sunflower seeds in a small food processor and puree until smooth. If the nuts and seeds are too big, the pate won't hold together, so make sure everything is chopped fine. Add the cooled mushroom mixture, tamari, lemon juice, tahini, oregano, thyme, salt, and 1/2 cup of water. Continue to puree until very smooth, periodically scraping down the sides of the bowl. Taste the mixture and add salt. Press the pate into twelve 2-ounce patties, each about 3 inches in diameter and 1/2 inch thick. Let chill overnight.
To serve, preheat the oven to 375ºF. Bake on an oiled sheet pan until heated through and crusty on the outside yet tender in the center, 10 to 15 minutes. Serve with vegan gravy.
Jeremy Rock Smith, Kripalu faculty and a graduate of the Culinary Institute of America, began his career in classical French cuisine.
Full Bio and Programs