Kripalu Recipe: Pumpkin Pie with Cardamom Whipped Cream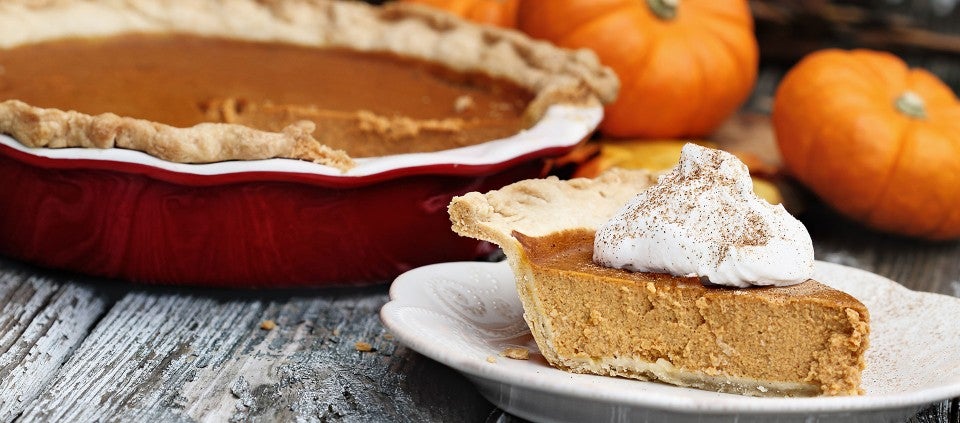 The flavors of this pie integrate nicely overnight, so you can bake it the day before serving.
Makes one 9-inch pie.
For pecan crust:
½ cup pecan meal
¾ cup gluten-free oat flour
¼ cup buckwheat flour
½ teaspoon cinnamon
⅛ teaspoon baking powder
⅛ teaspoon salt
¼ cup sunflower oil
¼ cup maple syrup ½ teaspoon vanilla extract
For pumpkin filling:
¼ cup arrowroot powder
1 teaspoon cinnamon
1 teaspoon cardamom
½ teaspoon salt
2 cups pumpkin purée
1¼ cups soy milk
¾ cup maple syrup
1 teaspoon vanilla
Cardamom Whipped Cream
Makes 2 cups.
1 cup heavy cream
1 tablespoon maple syrup
⅛ to ¼ teaspoon cardamom
Dash of vanilla extract
Preheat oven to 350 degrees. Brush the inside of a 9-inch pie plate with palm shortening or sunflower oil, and coat with a light sprinkling of flour.
To make the pecan crust, mix dry ingredients together in a bowl. Mix wet ingredients separately. Make a well in the dry ingredients and pour in the wet ingredients; mix together.
When thoroughly combined, press mixture onto bottom and sides of pan by covering dough with a piece of wax paper or plastic wrap and pressing and smoothing until evenly spread. Refrigerate or freeze until set.
Place a round of wax paper or parchment paper over crust, including the rim, and weight bottom and sides with dried beans. Bake until crust starts to firm, about 15 minutes. Remove paper and beans. Place pan over a square of aluminum foil; bring foil up over crust edges to keep crust from browning too much. Continue baking for another 6 to 8 minutes until bottom of crust starts to brown.
For pie filling, mix all dry ingredients in a bowl. Add the pumpkin purée, milk, sugar, and vanilla, and stir to combine. Pour filling into crust and bake until filling is set and starting to puff around the edges, about 45 minutes.
Combine ingredients for Cardamom Whipped Cream, and beat until soft peaks form. Serve alongside pie, or on top of each slice.
Jeremy Rock Smith, Kripalu faculty and a graduate of the Culinary Institute of America, began his career in classical French cuisine.
Full Bio and Programs