Kripalu Recipe: Sour Cream Coffee Cake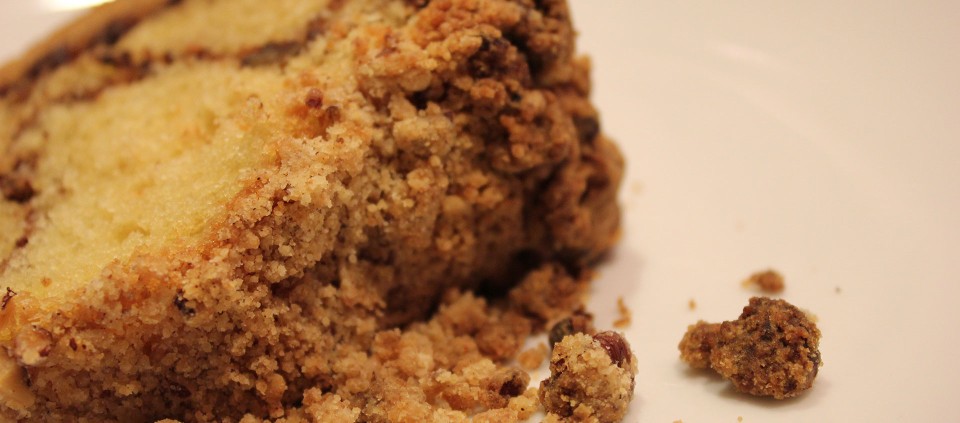 May 22, 2020
Part of the charm of this comforting coffee cake is that some of the streusel topping falls into the batter, creating a surprise layer of sweetness, cinnamon, and crunch right in the middle.
Makes one 8 x 4½-inch loaf, about 10 slices
Streusel Topping
¼ cup packed light brown sugar
¾ teaspoon ground cinnamon
3 tablespoons cold unsalted butter
Cake
½ cup (1 stick) unsalted butter, softened, plus more for greasing the pan
1¼ cups all-purpose flour, plus more for dusting the pan
¼ teaspoon baking powder
½ teaspoon baking soda
½ teaspoon fine sea salt
½ cup organic cane sugar
½ cup sour cream, at room temperature
3 large eggs, at room temperature
1 teaspoon vanilla extract
Preheat the oven to 350 degrees. Butter an 8 x 4½-inch loaf pan. Cut a piece of parchment paper to fit the bottom and just up the sides of the pan. Grease the paper, then dust the entire pan with flour. Gently tap out the excess flour.
For the streusel, mix the brown sugar and cinnamon in a medium bowl. Using your fingertips or a pastry cutter, cut in the cold butter to make a crumbly mixture. Pop the bowl in the fridge to keep the butter cold while you make the cake.
For the cake, mix the flour, baking powder, baking soda, and salt in a small bowl.
Put the butter and sugar in the bowl of an electric mixer fitted with the paddle attachment. Beat on medium speed until well mixed but not yet light and fluffy, about 1 minute. Turn the mixer to low speed and gradually add the dry ingredients, beating just until smooth. Scrape down the sides of the bowl and return the mixer to medium speed. Add the sour cream and beat until smooth. Then add the eggs, one at a time, scraping down the sides of the bowl at least once. Add the vanilla and mix until smooth.
Scrape the batter into the prepared pan and sprinkle the streusel evenly over the top. Bake until golden brown and a toothpick inserted into the center comes out clean, 55 to 60 minutes. This cake keeps for a day or two at room temperature. You can also freeze it for a month or two.
Jeremy Rock Smith, Kripalu faculty and a graduate of the Culinary Institute of America, began his career in classical French cuisine.
Full Bio and Programs