Outside Our Walls: Yoga for Middle Schoolers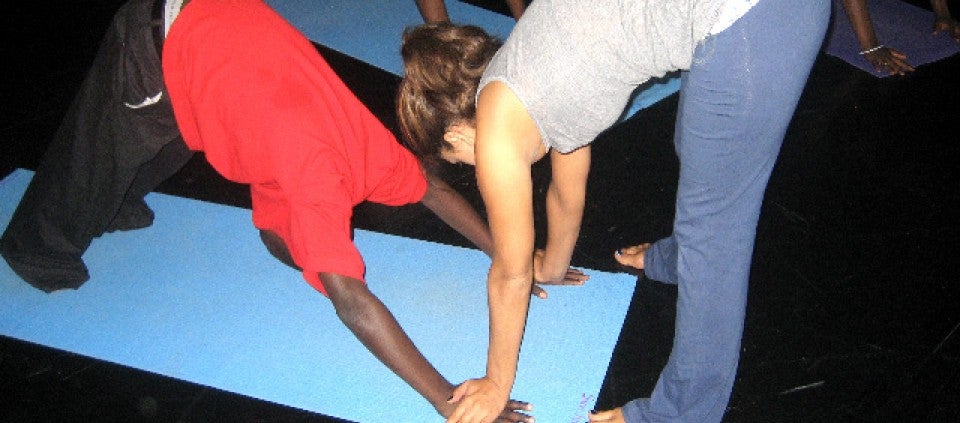 by Melinda Atkins
Introducing yoga to a group of middle-school students is an enlightening experience, especially after teaching yoga full-time to high-school students. Middle-school minds are more impressionable, and their bodies more malleable, than those of their older counterparts. Eager to learn discipline, most are still children who want to be grown, and the success that the practice rewards them with encourages their self-confidence.
Today's student typically suffers from poor posture, poor eating habits, and poor self-esteem. For middle schoolers, with an overt awareness of their changing bodies, classroom performance is hindered. With surges and shifts in hormones, along with excessive technological stimuli, students are hard-pressed when it comes to focus. This ultimately causes stress and, for many—especially those struggling to assimilate—failure.
Years of teaching high-school English has instilled in me an empathetic view of the physical, mental, and emotional demands involved in adolescent development. Armed with a master's degree in Education and an understanding of the impact a pedagogic approach to yoga would have on adolescents, I created a semester-long yoga course and taught it as part of a high-school curriculum.
As I witnessed students transforming, the mantric message became clear: Yoga = Focus! Completing the 500-hour yoga teacher training at Kripalu in 2004 as well as Ashtanga Yoga teacher training gave me a clearer understanding of how to use yoga as a bridge between adolescent health and classroom learning. I sponsored a school Yoga Club with a mission of community outreach, recruiting and training high-school-aged yogis to assist in classes for inner-city children. I also developed surveys for the students, with the intent of measuring yoga's effectiveness in transcending differences of age, gender, culture, socioeconomic circumstances, ethnic background, and special-needs situations.
In the spring of 2009, I led a 15-class yoga series, supported by a grant from Kripalu's Rachel Greene Memorial Fund, for sixth through eighth graders in inner-city Miami, Florida. The school serves a student body that is overwhelmingly immigrant and poor. A large majority is of Haitian descent and, for many, Creole is their first language and English is a struggle. Language initially proved to be a barrier; however, through the course of practice and with support from staff, the students rose to the occasion and embraced the challenge of yoga. With the help of a posse of high-school and college-aged yoga teachers in training demonstrating and adjusting along the way, students began to stand taller and breathe deeper.
Chataranga Dandasana was a favorite due to its rapid, almost miraculous, muscle development. Eyeing the boys, girls struggled to lift their weight off the ground for Upward Facing Dog. As weeks passed, the number of girls dwindled; ironically, as the boys became more aware of their improved posture and burgeoning muscles, their interest in the girls waned and they became more dedicated to the practice. Motivated not only by the physical results but also by the need of their fragile, evolving egos to gain well-earned recognition, the determined boys pressed forward.
At the end-of-the-year Family Night, the yoga class presented a 10-minute demonstration. The call to practice—Samasthiti!—rang out and students quickly assumed Tadasana in positions across the stage. With music playing over the auditorium sound system, the yoga students (all boys save one brave girl) responded to the count of breath in their newly acquired language, Sanskrit. With precision of breath, balancing their weight forward on their hands, squeezing their abs, they synchronized their exhales into a controlled "fly back" of the legs, landing in Chataranga Dandasana simultaneously. The crowd went wild!
Melinda Atkins, E-RYT 500, is the founding director of AUM hOMe Shala,a nonprofit Yoga-Alliance-registered school in Coconut Grove, Florida, where she trains and certifies yoga teachers and yoga therapists, and designs yoga curriculums for hospitals, universities, and schools.
© Kripalu Center for Yoga & Health. All rights reserved. To request permission to reprint, please e-mail editor@kripalu.org.