Sharing Yoga Wherever He Goes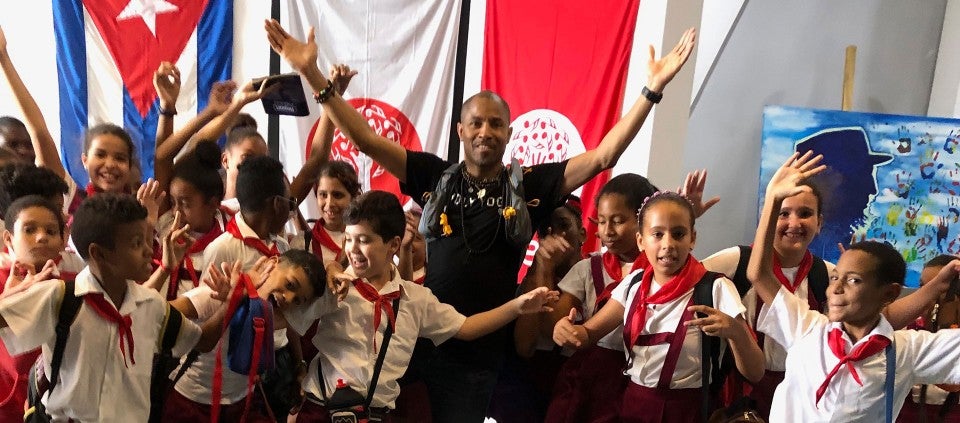 Whether he's teaching yoga to military veterans, leading classes at Christian men's retreats, forging international bonds in his workshops in Cuba and Costa Rica, or helping Girl Scouts earn their yoga patches, Stephen Redmon meets his students where they are, without judgment.
"I'm about packaging yoga in the way it's going to resonate with whoever's there to receive it—whether it's via Biblical scripture, the Koran, the language of the military community, or making it a joyful experience for kids or seniors," says Stephen.
A graduate of 300-Hour Kripalu Yoga Teacher Training, Stephen leads workshops, classes, and retreats throughout the Washington DC area, where he's based, and internationally. He also assists in the Kripalu School of Mindful Outdoor Leadership, helping to train participants in skills like nature meditation, sensory awareness, and forest bathing.
Stephen first gravitated to yoga and meditation in 1980, as a way to cope with the transition from growing up in Harlem to attending Colgate University in rural upstate New York. The practices grounded him and gave him a path to navigate the cultural and social differences he encountered—while also coming to terms with the formidable challenges he'd faced during his youth.
"In retrospect, it was traumatic—I was living in a community where there was violence, rampant drug use, and police corruption," Stephen recalls. "My family struggled financially and with landlords who collected rent but provided little or no services—there were times when we had no heat or hot water in the winter. But we had our faith to help us find a way through where there seemed to be no way. And there was a bright side and many beautiful things about Harlem—brilliant, hardworking people; a strong sense of community; creativity, music, and dance; and a resurgence of African and Latin American cultural pride."
He also found solace and rejuvenation in distance running, reading and writing poetry, and volunteering for his church, Convent Avenue Baptist Church. "I would always find those quiet places within that helped me get through tough times," he says. "As I've deepened my practice, I've discovered that a lot of how I was approaching life back then was yoga. I was doing yoga off the mat, finding my way to these practices even before I had a label for them."
After graduating from Colgate in 1980, Stephen entered the Peace Corps, and spent a year doing agricultural work in remote villages in Sierra Leone before enrolling in law school at North Carolina Central University in Durham. After passing the bar, he practiced law for 20 years in the US Army, where he continued his unique yoga path and shared it with others in assignments at home and abroad—in Korea, China, Italy, France, Germany, South Africa, Brazil, and the Marshall Islands. His yoga and meditation practices helped secure him a spot on the All-Army Distance Running Team; he represented the Army against the other branches of the military and won several international competitions, as well as top honors competing with US and international Special Operations teams.
"The army is actually an environment where health is emphasized," he says. "Now the military is embracing yoga and calling it by that name, but for centuries they've been prioritizing physical fitness, focused energy, calm during chaos, mindfulness, and situational awareness. What I admire about military personnel is their ability to stay focused in the midst of adversity."
After retiring from the army, Stephen used the GI Bill to earn his PhD in human and organizational systems at Fielding Graduate University; his dissertation focused on the experiences of family members of service-disabled veterans who use entrepreneurship to transition from the military to civilian culture. His postdoctoral research led him to Kripalu in 2014, for the Certificate in Positive Psychology program. His time at the center, coupled with his desire to find new and effective approaches to serving veterans, inspired him to do yoga teacher training: He earned his 200-hour certification at Drishti Yoga Institute, a studio close to his home in Virginia, and completed his 300-hour training at Kripalu in 2018. Stephen is also certified by Warriors at Ease, iRest Yoga Nidra, Yoga of 12-Step Recovery, and Holy Yoga.
"My own personal practice is closest to Kripalu Yoga, but I listen within and allow my practice to flow without putting a label on it," he says. "Kripalu immediately resonated with me. I have some injuries from my time in the army, and learning to be more sensitive, mindful, and non-judging with my own physical, spiritual, emotional, and life challenges has increased my capacity to be more loving and compassionate with others. I have learned and I am still learning that everything we need for health, healing, wellness, and happiness is already within us. The greatest teachers are those who discover their internal God-given powers, then share paths to guide others to their own power."
Stephen recently assisted KSMOL faculty in guiding 40 students during the inaugural Kripalu Mindful Outdoor Guide training. "The program inspires and rekindles our innate abilities to operate and flow in the space between the human and more-than-human world," Stephen says. "Sometimes we often allow modern life to alienate us from the beautiful and healing environments around us. We can only thrive and be our best when we're in harmony with nature. Mindful breathing, movement, stillness, forest bathing, and Council practice are just a few of the transformational paths strengthened during the 10-day journey."
Today, Stephen teaches yoga and meditation at George Washington University and in the Washington DC, Maryland, and Virginia area. He enjoys doing and sharing yoga with his daughter, Tene, a banking executive, and his son, Jabari, a medical student. Stephen also co-facilitates workshops for Warriors at Ease, the Black Yoga Teachers Alliance, and churches and non-profit organizations; leads wellness retreats in Cuba, the Bahamas, and Puerto Rico; and is collaborating to create a retreat in Costa Rica in 2020. Primarily, his teaching is simply about sharing his compassionate nature and his love for the practice, no matter where he finds himself.
"I strive to bring yoga wherever I go—physically and virtually," he says. "If you can help a person to breathe, to move, to explore within, to be still, or to just be their wonderful, brilliant self, that's yoga. That's peace."