Small Things About Mothering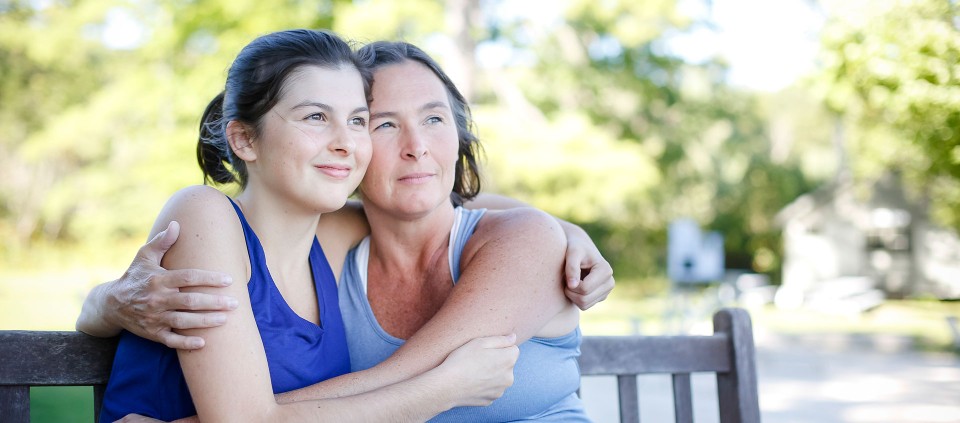 May 10, 2020
In an early episode of National Geographic's A Night on Earth series, a juvenile lion approaches a full-grown giraffe from behind, hoping to take her down. The giraffe—in my mind a female—turns her eye with the barest of interest, faces forward again, and simply takes one giant step away, as if to say, "This is an insignificant threat."
That is what I have always longed for in my mothering—a pure clarity of mind that tells me what is important to attend to and what is not. How often we find ourselves worried at 3:00 am about those approaching lions—the harms our children will face or the troubles they already have to bear. Mothering is a cocktail laced with anxiety and often guilt as well: about what might happen, what has happened, the signs we missed, the care we failed to give, and the best attempts gone awry. In the time of COVID, this has not changed.
Mothering While Sheltering
As I write, it is 7:00 am. My son, Jesse, a college student, is doing an internship in Boston at an essential business and Ubers to work once or twice a week to conduct lab experiments for a biotech firm. I would suggest that no college student should feel obligated to show up at an office anywhere. He, on the cusp of adulthood, feels responsible to do the job he was hired to do. I, on the cusp of motherhood fatigue, battled this one for weeks, and am now stepping away. It is often a question in mothering of choosing what to hold onto and what to let go of.
While Jesse navigates the pressures of his job on his own, four young adults (sometimes five) are sheltering with me and my boyfriend. My daughter, his daughters, and one significant other have found their way to us for the duration. Their strains are no less potent to them than Jesse's struggle to be safe. Two are in school, dealing with online classes and exams, missing the sustenance of a social life in real time. The others, out of school, work as they can, worried that any missed days will cause them to be without employment. They also understand the privilege of having any work at all at this time.
In this overnight shift to hands-on parenting—most obviously felt in the daily, often dreaded question, "What's for dinner?" and the less evident but far more significant question, "What have I failed to teach them?"—I try to hold onto a sense of the privilege bestowed to me: the privilege of caring for the well-being of another. I try, too, to remember how much harder this might be for parents of young children, who need so much more close attention. Or those with children who are suffering with illness, mental or physical; and those who are single parents, newly divorced, or sheltering with a partner who is unkind or unavailable.
Loving, Losing, Remembering
This year, Mother's Day brings with it all the uplift and disappointment and sense of injustice it has always had. The sweetness of my boy saving his pennies to buy me a hot fudge sundae. The swell of love I felt the year my daughter laid down on big pieces of paper taped together and had a friend draw the outline of her body, filling that outline with words of gratitude for me. Or the years I've been able to get it right for my own mother, being present with her in the ways that mean something to her.
But I cannot help today but think of those who have lost mothers, those who are separated from their children, and those who wish for but have not yet been given the opportunity to become a mother. And we cannot ignore the truth that COVID-19 has brought front and center: Not everyone has what they need to survive this time well.
Mother Teresa said, "Not all of us can do great things. But we can do small things with great love." If we can do so little for others right now, locked in as we are to the boundaries of our specific shelters, we can be courageous in witnessing their circumstances, respect the vast differences in experiences we are all holding, and bring gratitude to what we do have. This is the small thing we can do right now.
What We Do
Five days after 9/11, I received a call from the head of a monastery in India, one built to shelter hundreds of Tibetan children in exile from their homeland. My ex-husband and I had supported this orphanage for years and had become close with the abbot, Tenzin Menri, who cared for the children. His Holiness called to make certain we are safe, knowing that we were often in New York and had family there. I broke into tears at the sound of his voice—so moved that he had reached out, and so insecure in my own inadequacies. While others had raced to Manhattan to offer services, emergency care, food, I had stayed home to be with my two little ones.
Hearing the tension in my voice, His Holiness asked what was wrong. I explained that I wanted to do so much, and yet felt I could not leave home. He asked me to tell him what I had done on 9/11. I recalled the day—watching the news in between playing with the children, feeding them, bathing them, keeping them sheltered from the horror. He listened and then, in his broken English, said three simple words: "You fed children." As if I had done the most important thing. As if feeding another was, in fact, the only thing to have done. In so many ways, he was, and is, right.
So much is kept from us now: the joy of gathering, the touch of our friends, that sense of belonging that comes from our town celebrations, our religious services, concerts on the lawns, bonfires on the beach.
We can, however, do small, great things. Love ourselves and others where we can. Feed ourselves and others as we can. Hold on to whatever it is that inspires us to continue to show up to life. And let go of the unimportant worries—the lions that are too small to matter.
Maria Sirois, PsyD, is a positive psychologist and seminar leader who teaches with wisdom, authenticity, and humor at the intersection of resilience and flourishing.
Full Bio and Programs