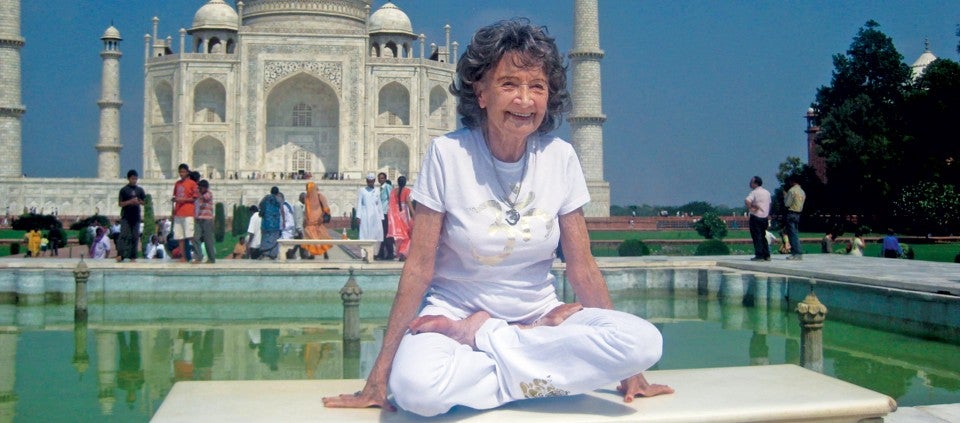 Tao Porchon-Lynch Never Says Can't: Wisdom from the World's Oldest Yoga Teacher
Tao Porchon-Lynch has been bestowed with quite a few unique monikers in her 99 years. She earned the title "Best Legs in Europe" during a modeling career in which she walked for the likes of Coco Chanel and Elsa Schiaparelli. She holds the Guinness World Record as oldest yoga teacher in the world. And she's been called a "real-life Forrest Gump," because of her presence at so many historic moments: She marched with Mahatma Gandhi and Martin Luther King, Jr.; worked with the French Resistance to help Jews escape the Nazis; and was under contract with MGM during Hollywood's heyday.
Tao was mentored by Noël Coward as a cabaret performer, co-starred with Elizabeth Taylor in The Last Time I Saw Paris, worked for Jack LaLanne (he was the first to hire her as a yoga teacher), and has personal stories about celebrities ranging from Ernest Hemingway to Marilyn Monroe to her teacher B. K. S. Iyengar (many of which she recounts in her award-winning autobiography, Dancing Light: The Spiritual Side of Being Through the Eyes of a Modern Yoga Master).
Throughout it all, yoga has remained a constant in her life. The daughter of an Indian mother and French father, Tao was raised by her aunt and uncle after her mother died in childbirth. She was just eight years old when she began practicing yoga. "I saw some young boys on the beach doing yoga and I decided that, if they could do it, I could do it," Tao recalls. "My aunt said no, you can't do it, it's not for girls—but when I decide to do something, I do it."
That sentiment has been the overriding theme of her life. "There is no such thing as 'can't,' only the verb 'to be able,'" she says. "I don't want anybody to tell me I can't do something, I just want to learn to do it." One of many examples: She took up ballroom dancing at age 87, appeared on season 10 of America's Got Talent, and has won hundreds of first place awards performing with dancers a quarter of her age. "Since I laugh at everything, they laugh, too," she says of her young partners. "There's a lot of joy in it."
Founder of the Westchester Institute of Yoga, Tao has been teaching yoga full-time for more than four decades and has trained more than 1,600 teachers. "I love my students and I love what I'm doing," she says. "Every time I see the expression on the face of someone who suddenly can do something, that's the thanks itself." And she considers herself a lifelong student as well: "We are never perfect—there's always something more we can learn, and I haven't arrived there yet."
After three hip replacement surgeries, Tao continues to practice daily. She credits yoga in general—and the breath in particular—for her longevity and positivity. "Yoga changed the way I breathe and the way I see life," she says. "Breath is life, and if you're in touch with it, it opens up the door and gives you a much more serene way of living."
Here are more of Tao's words of wisdom for living a full and happy life.
Let each day be a new beginning. "Wake up in the morning looking for something good to happen," Tao advises. "When you awaken with the sun and watch it go across the sky, it's a new dawn starting, a new day starting. There is nothing that is impossible."
Activate the "power of the smile." "Just smile at life and see the beauty of it," she says. "Look for what is good. I've been called a Pollyanna, but I'm not a Pollyanna—I just practice what I preach."
Never procrastinate. "Tomorrow never comes, so don't put things off," Tao says. "Just go and do, and then good things will come of it."
Buy the shoes. Well, she hasn't actually been quoted as saying that, but Tao is known for her love of high heels—she even trekked through Machu Picchu wearing three-and-a-half-inch heels.
Don't allow fear to rule you. "Don't let the past put fears into your mind," Tao writes in her book Reflections: The Yogic Journey of Life. "Know there is nothing you cannot do, and watch the door of life open the path which leads past obstacles."
Forget about aging. "People talk so much about getting older and allow it to affect them," Tao reflects. "I don't think about age at all. There's not enough time to think about it with all that I accomplish in a day. I haven't grown up yet! I'm still learning, and there are still a lot of wonderful things I want to do."
Find out about upcoming programs with Tao Porchon-Lynch at Kripalu.
© Kripalu Center for Yoga & Health. All rights reserved. To request permission to reprint, please e-mail editor@kripalu.org.
Reconnect to the power of your body through programs focused on physical fitness and well-being.
Explore