Teaching Yoga to Seniors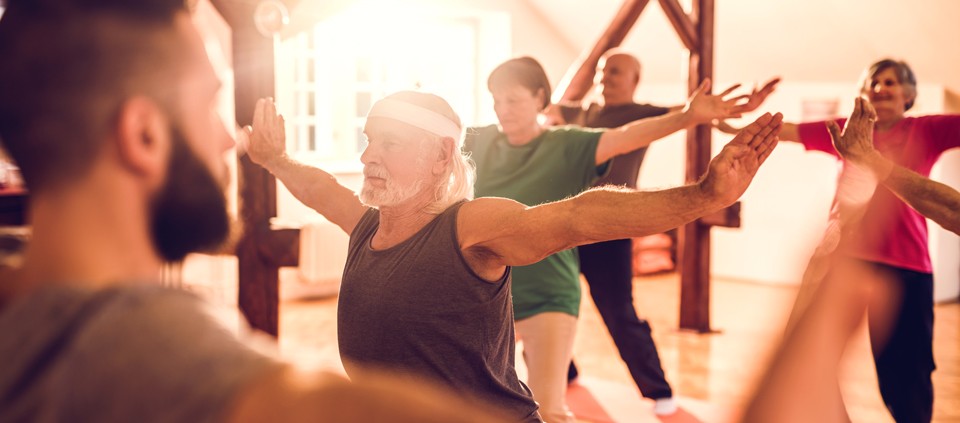 by Carol Krucoff, Kimberly Carson, Matthew Peterson, Kathy Shipp, and Mitchell Krucoff
We are in the midst of one of the greatest sociological shifts in history: Global aging. While the entire world is graying, developed countries are leading the way. In the United States, seniors age 65 and older represent the fastest growing sector of the population. This group is expected to more than double to over 80 million by the year 2050—with nearly one quarter 85 and older.
Like many Americans, older adults are increasingly drawn to yoga. This presents both an extraordinary opportunity and a serious challenge for yoga instructors, who must be both a resource and guardians of safety for this uniquely vulnerable group. A typical class of seniors (over age 65) is likely to represent the most diverse mix of abilities of any age group. Today's seniors may be extremely healthy and fit—able to run marathons, do headstands, and compete in masters athletic events. However, much more common are seniors who fit the profile of an ''average'' older adult in America, 80 percent of whom have at least one chronic health condition and 50 percent of whom have at least two. Most seniors face a broad array of health challenges, ranging from arthritis and incontinence to hip and knee replacement, heart disease, and cancer. Consider the health statistics for people over 65:
52 percent of men and 54 percent of women have high blood pressure.
43 percent of men and 54 percent of women have arthritis.
37 percent of men and 26 percent of women have heart disease.
24 percent of men and 19 percent of women have cancer.
19 percent of men and 17 percent of women have diabetes.
11 percent of men and 10 percent of women have chronic bronchitis or emphysema.
10 percent of men and 8 percent of women have had a stroke.
11 percent of men and 17 percent of women have clinically relevant depressive symptoms.
More than half of all adults over age 65 have a disability and more than a third have a severe disability. More than 87 percent of seniors take at least one prescription drug and nearly 60 percent take three or more. The average 75-year-old has three chronic conditions and uses five prescription drugs. Several classes of medications commonly taken by seniors—including anti-hypertensives, antianxiety drugs, and antidepressants— are associated with dizziness, in particular postural dizziness, so it is not surprising that prevalence rates for dizziness in the older adult population may be as high as 38 percent. This is of particular concern, since falls are the leading cause of injury deaths and the most common cause of injuries and hospital admissions for trauma in this age group.
These sobering statistics present a tremendous opportunity for yoga teachers and yoga therapists to help senior students improve their strength and enhance their balance to reduce their risk of falls, add comfort and control to breathing, and contribute to vitality, mood and alertness. These statistics also highlight the potential for harm that could occur if yoga instructors do not create a safe environment and class structure geared appropriately to older adults.
Another vital fact is that an estimated 30 percent of postmenopausal women have osteoporosis, a disorder of impaired bone strength that results in skeletal fragility and increased fracture risk. One of every two women over age 50 will have an osteoporosis-related fracture in their lifetime, with risk of fracture increasing with age. Each year, an estimated 1.5 million people suffer an osteoporotic-related fracture, an event that often leads to a downward spiral in physical and mental health. In fact, 20 percent of seniors who suffer a hip fracture die within a year. Osteoporosis is considered a ''silent disease,'' since people who have this condition are often unaware of the problem until they suffer a fracture. This means it is quite likely that older adult yoga students, particularly females, will have osteoporosis and be at risk of fracture, but not know this—and, of course, will not be able to inform their yoga instructor that they need modified programs.
In addition to being at greater risk for osteoporotic fracture, older adults are also at greater risk for numerous other potentially life-threatening ailments, including heart attack and stroke. Finally, seniors are also far more likely than younger groups to have health challenges that affect their participation in a yoga class—ranging from hearing and vision loss to tremors, dementia, and incontinence.
Society faces the reality of a historical proportion of our population living to more advanced ages than ever before, with a very broad range of functional capacities and needs. Thus, yoga teachers of older adults are—in many ways—navigating uncharted territory. The great sages who originated the yogic practices thousands of years ago had never encountered artificial joints, canisters of supplemental oxygen, or prosthetic heart valves in large numbers of people who have reached extremely advanced age. As recently as 1900, the average life expectancy in the United States was 46.3 for men and 48.3 for women. In 2005, that number had jumped to 75.2 for men and 80.4 for women.
Training yoga teachers who work with seniors—like all practice of healing arts—represents a blend of scientific knowledge and research, philosophy, and opinion based on direct experience. In service of ahimsa and the imperative to ''first do no harm,'' yoga teachers working with seniors should recognize the importance of adapting the practice to senior bodies, minds, and spirits.
Teaching yoga to seniors presents both significant risks as well as extraordinary rewards. Older adults can be extremely receptive to the profound benefits offered on all levels— physical, emotional, mental, and spiritual. They typically are open to an experience of ease and union, which provides an amazing opportunity for yoga teachers.
Yet, with the increased physical vulnerabilities present in an aging population, it is imperative for yoga instructors to be guardians of safety. This requires a solid understanding of common medical conditions and their associated risks, as well as an ability to use this knowledge as a foundation for creating a safe and effective yoga practice. Creating a truly safe environment may often require letting go of preconceived and commonly held notions of what a yoga practice entails in order to open to the joyful creativity and vast potential inherent in the experience of yoga.
Find out about upcoming trainings with Carol Krucoff and Kimberly Carson at Kripalu.
Reprinted with permission from the Journal of Alternative & Complementary Medicine, September 2010, by Krucoff et al, published by Mary Ann Liebert, Inc., New Rochelle, NY.