Where Yoga and Politics Overlap: My Women's Week at Kripalu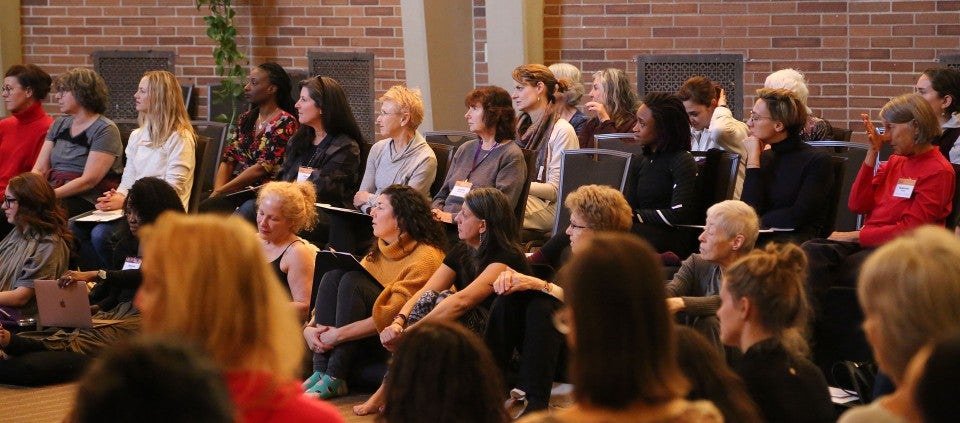 I have been teaching yoga for 14 years, and I own and run a yoga studio. My yoga is one of seeking truth—shedding light and having the will to look not only at the beauty, but also at the most painful parts of existence, knowing that there is wholeness even in that space. It requires surrender, and vulnerability, and time and space. I'm also a political activist, working to dismantle political patriarchy by bringing more women into politics in my home state of Rhode Island and advocating for social justice for marginalized populations. My political work requires strategy and positions, adrenaline and a willingness to push through even on the hardest days.
Before I attended Women's Week at Kripalu, my political activism world, as I saw it, lived as far away from yoga as it could. Yoga practice requires surrendering; a willingness to be vulnerable brings breakthroughs in meditation, pranayama, and asana. Activism requires armor and will and power and winning. Surrender in activism is losing. Being vulnerable is deadly in politics. How could it be possible for these two worlds to ever yoke together?
In the Venn diagram of the people I know who do yoga and those who are politically active, the area where they overlap is practically nonexistent. So, when I read the description of Women's Week, I found it hard to believe that there were people out there who were merging the wakefulness and wholeness and truth of yoga with the will, the grit, and the "good fight" of political activism—enough people to attend a whole week of programming with multiple teachers and thought leaders. I knew I had to come to Kripalu to listen and learn and be in community with these people. I hadn't realized how alone I felt living in these two worlds, seemingly by myself.
Preparing for the Journey
In the days leading up to my trip, I was anxious about what the week would bring and what would come up when I gave myself space. And I was worried about how my family would fare without me for a week. I had feelings of guilt for leaving them and a bit of anxiety about talking to new people. But I was also really looking forward to not working, not having to drive the kids around, not having to cook all week and still getting to eat nourishing, yummy food, and having plenty of time for self-care.
I deleted my social media apps before I left; set up "away" messages on my email; and committed to journaling all week. I told myself that I'd leave my phone in my room so I wasn't tempted to text anyone or read the news or otherwise be distracted. I set out on an overcast afternoon and spent most of the two-and-a-half hour drive from Rhode Island on the phone, knowing I'd be disconnecting from most folks for a week. As I came up over a hill, just minutes away from Kripalu, the sun peeked through the clouds as if in welcome. I had arrived, and it was time to do the work.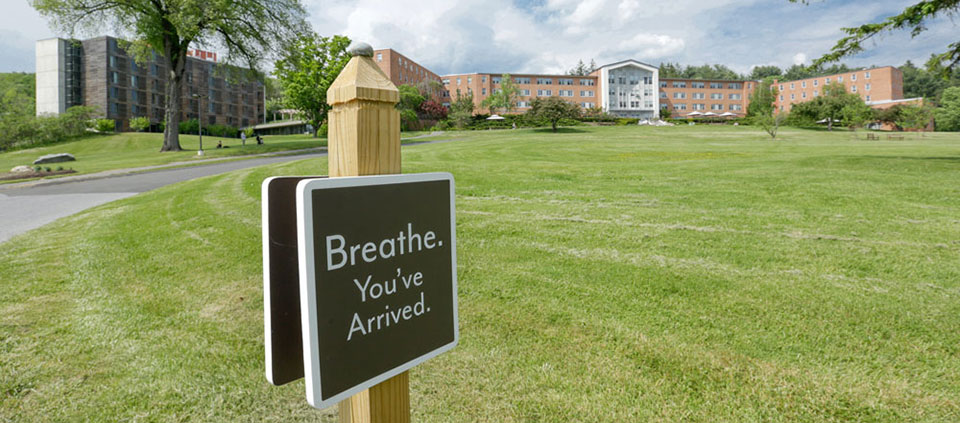 The Work Within
During her opening-night keynote address, Valarie Kaur reminded us that "the most important task we have is to get quiet enough to hear our own wisdom." This set the tone for my week, and I came back to this every time I wanted to reach for my phone, or read something to distract my brain, or ruminate on something that wasn't really serving me. She told us that committed practice is an act of resistance and that we need to breathe and push; we need to work and rest. I was ready, and I went back to my room Sunday night feeling like I was already full. She gave me just what I needed to get open and ready for the work ahead.
Bringing It Home
The women in the Yoga of Inclusion program were generous with their hearts and words as they shared their experiences as black women, as brown women, as white women, as cisgendered women, as non-binary women, and as biracial women. They served as my teachers all week, and I am so grateful for their stories and their willingness to share. My biggest takeaway was that none of us are a monolith. We can group ourselves by gender, sexuality, body shape, race, or any other group—and yet no two women are exactly alike. There were 24 of us, and we each came into the room from our own access points, with varying levels of experience with yoga, different perspectives about race in America, different histories, different skill sets, and different ancestors. The Yoga of Inclusion, I came to learn, is about looking at our differences as we each find our own tools in the practice. It's about seeing these differences and holding each person in reverence for all her wholeness.
All week, presenters invited participants to go inside and study ourselves, our mental structures, and where our experiences—our pain, our trauma, our joys—reside in our own bodies. The teachings of the brilliant women who presented and spoke throughout the week are still reverberating in me and I don't yet know how they will integrate. I imagine that they will simmer for a long while within, and maybe, if I'm lucky, boil over into understanding.
I am so grateful to the women who helped us see the truth of our own experiences and find our embodied voices. From them, I learned that race is designed to uproot our humanity, but that we can dismantle our own racialization. I was reminded to use my white privilege to dismantle white privilege. I visited with my own 9-year-old self and got to listen to her in her own embodied voice. I was reminded that the true revolution is within—integrating both my light and my shadow—and that the world needs my voice and my stories.
I missed my exit on the way home, and the drive ended up being more than an hour longer than it should have been. I was grateful for the extra time. Instead of going home, I went straight to a political fundraiser (I had to have my husband bring me a pair of heels!). While the juxtaposition was jarring, it was also so powerful to look at the people in my political community with new eyes, to offer them compassion, and to feel a sense of hope that, as I do the work within, it will continue to reverberate throughout every aspect of my life.
Tracy Ramos, E-RYT 500, is the owner and director of Bristol Yoga Studio in Bristol, Rhode Island. Find out more: bristolyogastudio.com