Whole-Body Awakening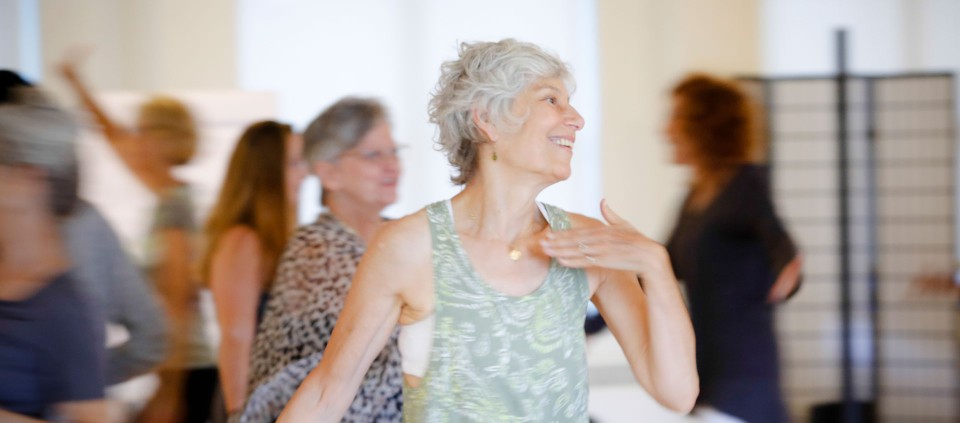 As a clinician and teacher of psychotherapy, I am fascinated with the embodied learning process available in both yoga and dance. These practices inform my clinical expertise continually. As opposed to psychotherapists who concentrate on short-term, symptom-focused therapy, the kind of deep work I am interested in involves addressing unconscious feelings and habits. Since contemporary neurobiology teaches us that the unconscious is located in the body through implicit, bottom-up memory and experiential learning, the somatic experiences available in yoga and dance are extremely useful. I have discovered how to shut off my head, embrace uncertainty, cultivate novelty, and find my unique style of being in my body and in the world in highly positive ways.
Because I didn't start dancing until graduate school, when I was in my mid-20s, the positions and transitions were not in my body the way they are for those who begin taking classes when they are just a few years old. To progress required a great deal of self-awareness. When I first started dancing, I was all in my head, attending to parts of my body rather than the whole: Straighten this … now move that … I was jerky, and had no spatial awareness or sense of others in the room. After a couple of decades of this kind of left-brain, analytical focus, I had a breakthrough one day. Suddenly I had a synesthetic experience of learning how to "sing" the music with my whole body.
From then on, I was actually dancing—moving from my center in a holistic, fluid way. Something similar exists in yoga: Beginners often apply pinpoint focus to particular body parts, especially those that are in pain or fatigued, while more advanced awareness involves spreading attention evenly throughout the body and beyond. This sort of evenly spread awareness serves me well in my clinical practice. It is the foundation for the right-brained capacity to tap into clinical intuition in order to respond holistically and spontaneously to the full complexity of the moment.
While I have been doing yoga for 40 years (and, in my 60s, am more flexible than ever!), I currently spend the majority of my daily physical activities taking dance classes, in ballet and jazz. To me, yoga involves spiritual opening, while dance is like a joy factory. I love the grace involved in both, which are different but related.
Find out about programs with Terry Marks-Tarlow at Kripalu.
Terry Marks-Tarlow, PhD, a clinical psychologist in private practice in Santa Monica, California, is on the teaching faculty at the Insight Center, Los Angeles.
Full Bio and Programs