Wintertime Recipes from the Ayurvedic Kitchen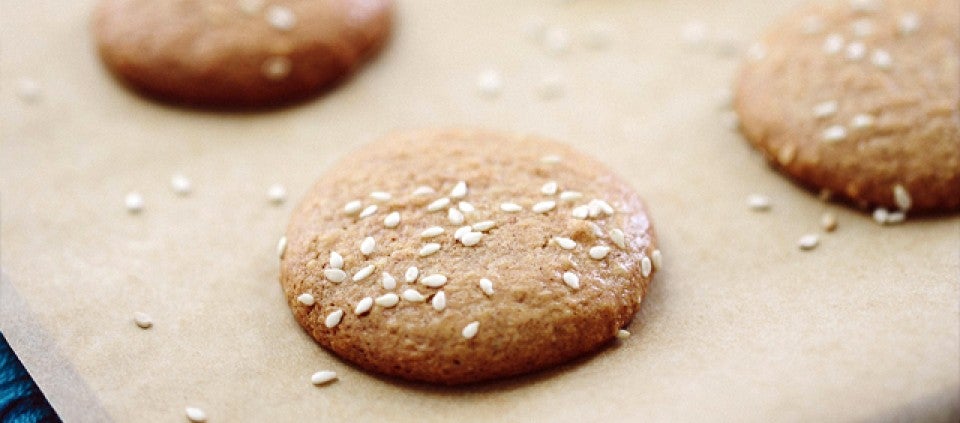 These three hearty treats offer warming spices, sugar–free sweetness, and enhanced immunity and vitality.
Baked Oatmeal
Serves 6
3 cups rolled oats
½ cup chopped apples
¼ cup raisins
¼ cup chopped, pitted dates
¼ cup chopped Turkish figs
¼ cup maple syrup
1 cup almond milk
3 tablespoons melted ghee or coconut oil
½ teaspoon vanilla extract
2 teaspoons baking powder
1 teaspoon cinnamon
1 teaspoon ground ginger
1 teaspoon ground cardamom
½ teaspoon ground nutmeg
¼ cup unsweetened apple sauce
Seasonal berries (optional)
Whipped cream or coconut crème (optional)
Preheat oven to 350 degrees. Mix all dry ingredients together in a large bowl.
Set aside the applesauce, and combine all other wet ingredients. Mix well.
Combine wet ingredients with dry ingredients. Add applesauce and chopped apples. Mix well.
Scoop mixture into a greased baking pan and bake for 40–45 minutes. Serve warm. Top with seasonal berries and whipped cream or coconut crème if desired.
Pear Bake
Makes one 9-by-9-inch baking dish.
4 large pears, with skin, cored and chopped
Juice of 1 orange
3 tablespoons coconut oil or ghee
2 tablespoons maple syrup or raw honey
½ cup soaked almonds, crushed or chopped
½ cup rolled oats
¼ cup almond meal
¼ cup raisins
¼ cup chopped dates
½ cup chopped pitted prunes
1 teaspoon cinnamon
½ teaspoon cardamom
½ teaspoon nutmeg
½ teaspoon powdered ginger
½ teaspoon powdered clove
1 cinnamon stick, broken into pieces
1 tablespoon raw honey or maple syrup (optional)
Preheat oven to 350 degrees. Combine all ingredients in a large bowl. Mix well, and pour into a 9-by-9-inch square casserole dish or equivalent round baking dish.
Bake for 25–35 minutes, or until the tops of the pears begin to brown just a bit. Serve warm. Drizzle raw honey or maple syrup on top for extra sweetness. Top with soaked prunes.
Sesame Cookies
This recipe comes from Kripalu School of Ayurveda graduate Kate O'Donnell, author of The Everyday Ayurveda Cookbook: A Seasonal Guide to Eating and Living Well. Congratulations, Kate, on the publication of this beautiful book!
Sesame is a rainy–season crop, revered in Ayurveda as an ojas builder and often used for making sweets in the winter and for devotional festivals. Sesame is special because it contains an unusual trio of tastes: bitter, pungent, and sweet. Its naturally balanced composition of heating, cooling, and building qualities makes it a tonic for increasing strength and immunity. Note: This cookie should retain a chewy inside.
Makes approximately 24 cookies.
1 cup sesame tahini
¼ cup almond flour
⅓ cup maple syrup
½ teaspoon pure vanilla extract
1 teaspoon ginger powder
1 teaspoon cinnamon
¼ teaspoon salt
½ teaspoon baking soda
1 egg, whisked
2 teaspoons sesame seeds, plus extra for decoration
Preheat oven to 350 degrees. Prepare two baking sheets by lightly greasing with ghee or coconut oil or else lining with parchment paper.
In a medium mixing bowl, mix the ingredients together in the order listed. If the batter is too runny to shape, put it in the fridge for 5–10 minutes (but batter that's a little runny bakes nicely). Shape batter into tablespoon-size balls or drop with a spoon onto the prepared cookie sheets. Leave a few inches between the balls, as they will puff up when they bake. Lightly press down on the balls with a fork. Sprinkle with extra sesame seeds.
Bake for 10–12 minutes, until the cookies are firm enough to touch without your finger sticking. Let them cool completely before removing from baking sheets and serving.