The Yoga of Burlesque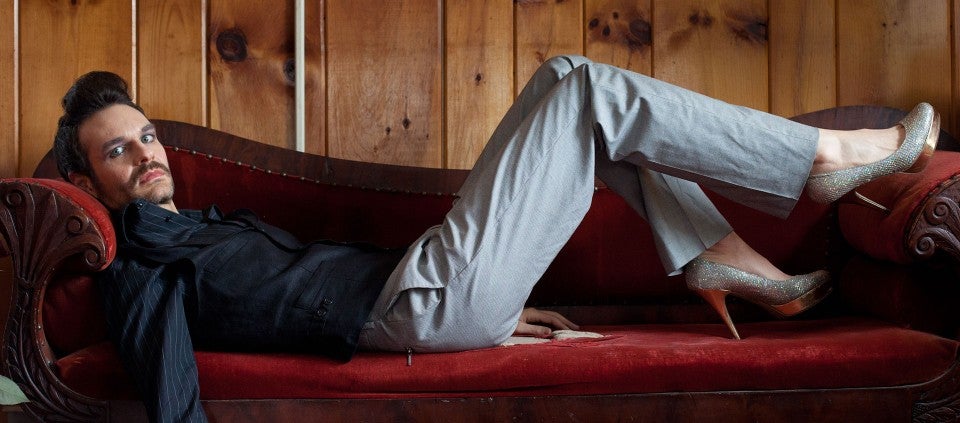 Photo credit: Bill Wright
by Jonathan Ambar
When I moved to the Berkshires from Brooklyn, I knew that a number of things were in store for me: my new job; plenty of opportunities for yoga; friendships honed from previous visits to Kripalu; and learning to drive. What I did not anticipate was becoming a performer in a burlesque troupe.
Actually, I take that back. People love to manifest things around the halls of Kripalu. They hope for relationships, emotional breakthroughs, job growth. The idea is that if you yearn for something, set an intention to make it happen, and verbalize it, then the universe will provide. Me? I found myself telling folks left and right that one of the things I wanted to create was a coed burlesque troupe called Big-Girl Panties.
According to Merriam-Webster's Dictionary, burlesque is "a theatrical entertainment of a broadly humorous, often earthy character consisting of short turns, comic skits, and sometimes striptease acts"—and it usually does not involve dudes. That's why the idea of a coed troupe was so innovative! I've always been theatrically inclined, but this would've been something on a whole other level, especially considering that I was starting a new life, ready to explore new ventures. Sure, all my talk of Big-Girl Panties was a good-natured joke, but one that, deep in my heart, I thought might actually happen.
And guess what? It kind of happened.
After nearly two months of talking about Big-Girl Panties, my friend J saw an ad on Craigslist seeking performers to audition for a new burlesque troupe, Gypsy Layne, the first of its kind in the Berkshires. J sent the ad to our friend M, who decided to audition … and got in! M learned that there was going to be a performance during which one of the cast members wouldn't be able to make it, so the troupe's director asked her if she knew of any boys who could make a guest appearance, to spice things up a little. Did she ever! J and I were asked to be in two numbers—doing backup-dance duties for a snake-charmer act and going from a suit and tie to barely-there workout gear for a tongue-in-cheek "fitness" routine—and the rest, as they say in show biz, is history. We were invited to perform in the Halloween show, Burlesque Bites (where I got a chance to fulfill a lifelong dream of writhing around in black netting while being zombified by a Black Widow Queen), and then asked to become official Gypsies. Ta-dah! A co-ed burlesque troupe was born in the Berkshires. (I guess there is something to be said about trying to manifest your dreams …)
Being in a burlesque troupe, creating a stage persona, wearing outrageous outfits, and lip-synching to tunes sung by big, brassy ladies is a lot of work, a lot of fun, and, even though it sounds as removed from the yoga realm as can be, it's actually helped me become more authentic, present, and in the moment. I knew that being part of Gypsy Layne was going to be empowering and enriching, though just how much so was a surprise.
Here's a little story. It was opening night of our Valentine's Day show, Venus in Wonderland, and I played Cupid—a Cupid decked out in angel wings, a cloth diaper, sliver armbands, body glitter, toy bow-and-arrow set, and red patent-leather, knee-high platform boots.
My entrance was going to be magnificent: Birthed fully formed, Cupid was to spring to life from the lap of his mother, Venus, and strut down the catwalk, triumphant and ready to create good-natured mischief and mayhem. (After all, what else could one do but create mischief and mayhem when sporting knee-high platform boots, right?)
I rehearsed my catwalk for months. I strapped on those big red clunkers as if my life depended on it and went to town. I watched RuPaul's Drag Race for inspiration, and strutted around my office as if it were a Parisian runway (luckily I have very understanding, open-minded co-workers). I became more confident with my gait each day. The character came to life. I was rarin' to go!
So there I was, ready for my big entrance, the fruit of months of preparation. I had a distinct image of what it was going to look like. I stepped out to the sound of applause. When I looked up, I was blinded by the spotlight. When I looked in front of me, there was nothing but darkness. I took my first step, ready to strut … and fell. That's right: Cupid totally ate it.
You know how some life lessons are referred to as "yoga off the mat"? Well, this was yoga off the stage. How often in life do we prepare for, anticipate, and imagine situations and then, when we experience them, they don't turn out the way we had envisioned, despite all our efforts? This has happened to me more times than I can shake a tassel at, and often the result has been frustration and disappointment. And let me tell you, in a scenario such as this, with a roomful of paying customers and a spotlight on my crumpled diaper, these uncomfortable emotions could easily have taken over.
But they didn't. As I picked myself up from the floor, I remained present, clear-headed. I observed what had occurred and stayed in the moment, trusting my instincts. Since Cupid was technically a newborn, the fall actually kind of made sense … he was learning to walk. I climbed back onto the catwalk, crawled around like a baby, got up, fluffed my feathers, and sashayed down the runway. Cupid got his wings—and legs—and the show went on.
As I learned after the show, the sidelights that were supposed to illuminate the edges of the catwalk had accidentally been turned off. The next night, they were lit up, and I made a spot-on landing on the catwalk. Cupid earned his wings, and I got to practice going with the flow and thinking on my feet, in my big red patent-leather platform boots.
Jonathan Ambar, Kripalu's Marketing Copywriter, is also a yoga teacher and a burlesque performer.
Browse creative expression programs at Kripalu.
© Kripalu Center for Yoga & Health. All rights reserved. To request permission to reprint, please e-mail editor@kripalu.org.