The Yoga of Parenting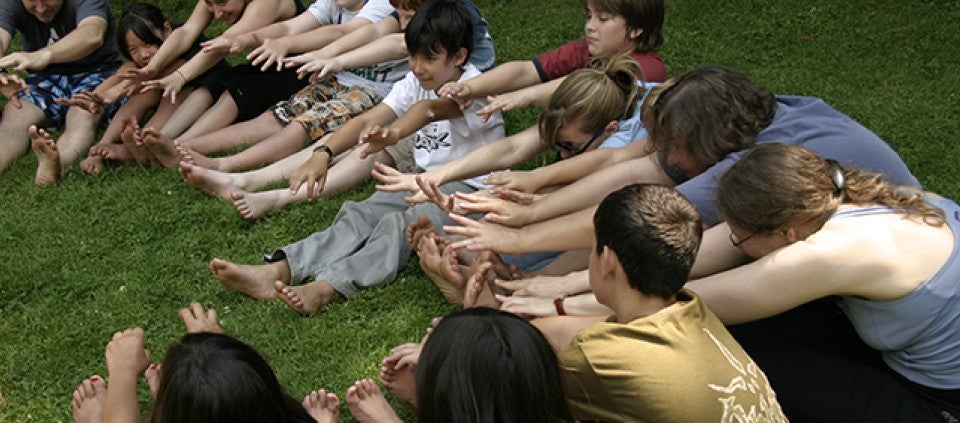 by Carrie Owens
Before my first daughter was born, I attended a prenatal yoga class in Los Angeles that was scheduled right before a postnatal class. Like other expectant moms, I had an idealized vision of our life after her arrival—via natural child birth, of course—that included attachment parenting (a responsive and nurturing parenting style that facilitates strong emotional bonds), a peaceful home, and yoga. The postnatal yoga class showed a picture of what I imagined for our new life. I distinctly remember babies lying peacefully next to their mothers' yoga mats.
My own daughter turned out to be a yoga-mat-hating, energetic wiggler. Attempts to engage Squirmy Girl in yoga were, to put it mildly, unsuccessful. Not only did we not practice together but my own practice lapsed while I attended to the business of learning to be a mother. A breakthrough moment in those early years occurred when a good friend recommended I tell my upset daughter to "Breathe in the flower, blow out the candle." This was the first time I was able to guide Squirmy Girl into conscious breathing, and the calm that came with it. Although she is now a teenager, we still use that phrase today.
Swami Kripalu said that the spiritual path is "the performance of skillful actions that lead one to the direct realization of truth." I can think of no better definition of parenting than performing skillful actions with a child that lead both the parent and the child to experience peace, realize truth, and increase consciousness. With this in mind, I recently spoke to several Kripalu presenters to seek out more skillful actions for parents.
Do-Overs
One morning, Kripalu presenter Arti Roots Ross walked into her teenage son's room to wake him and before she could say a word he growled at her. She told him she would go out of the room and try again, and when she returned, he was smiling.
Arti, her husband at the time, and her two sons called these do-overs, in which they give one another a second try if they feel a loss in consciousness or a build-up of antagonism. An important component of do-overs is the quality of lightheartedness. As parents, we can't take ourselves too seriously, or, as Arti says, "The kids are so not interested."
Big Souls in Little Bodies
Shakta Khalsa, founder of Radiant Child Yoga, says the conclusion she's come to is that the one essential ingredient in teaching children is a conscious intention of the highest well-being for those children. She recommends that parents make a point to remember that children are naturally radiant, aware, and full of wisdom, or, in other words, big souls in little bodies.
Shakta says, "Since children are closer to the source of life, and haven't forgotten their natural connection to it, the subtle message that is conveyed in a conscious intention is what children will respond to even more than words. See them as those big souls and you will see them match up to that."
Cloud Watching
The founder of Creative Kids Yoga, Rosemary Todd Clough encourages parents to facilitate their children's connections with nature, so children may learn through observation how we are all connected, which will, in turn, increase their own self-awareness and empowerment. She says it's important for kids to see their parents spend time being in nature because children naturally mimic and learn from us—so, no, we can't just shoo them outdoors.
A great activity is to lie on the grass with our kids and find shapes in the clouds. Then, she says, take it to the next level with questions or activities. Can you make a cloud shape with your body? Can you draw a picture of what you see? Rosemary says, "Parents have to be able to play with their kids, get them started, and take time to smell the roses themselves."
Don't Do Time Out, Do Time In
"Listen to your child, to your heart, to your intuition," says Gurmukh Kaur Khalsa, director of Golden Bridge Yoga in Los Angeles. "This child is like no other child, no one knows your child better than you."
She urges parents to do time ins, not time outs. When a child is having a tantrum, many parents will send the child away, or put him alone on a chair. She tells us that, instead, this is the time to pull the child to you, hold her, and listen to that distress to know what the child needs. Another advantage of this is that by listening well to our children, we also teach them to listen to others.
The Yes Game
Erin Maile O'Keefe and Kevin O'Keefe teach The Yes Game as part of their CircusYoga program, and parents report that much more than a game, it becomes part of the family culture. This is how it works: everyone sits in a circle, facing one another, someone offers an idea or emotion, however wacky, "Let's scoot around on our butts!" Each idea is received with complete enthusiasm by the group: "Yes! Let's scoot around on our butts!" Do that until there's another suggestion, also received with complete enthusiasm. "Let's walk on the moon! Yes! Let's walk on the moon!!" Even a no is received with complete enthusiasm. "I don't want to. Yes! We don't want to! It's boring! It's stupid!"
Once The Yes Game is a part of the family culture (this will probably take several attempts), it may be brought into accomplishing mundane tasks. "Let's do the dishes. YES! Let's do the dishes!" Or, "Let's do the dishes on one foot! Or, in French!"
The Ball Smush
The Ball Smush is one of yoga teacher Craig Hanauer's favorite exercises to do with the children he teaches. With the children lying on their stomachs, he uses a large yoga ball to press those whose "bodies are ready" from head to toe (except for the back of knees). The children are encouraged to yell out directives, "More pressure!" or "More on the back!" Then, the parent lies down and the child gets to smush the grown-up. Craig reports that children respond well to deep pressure and are calmed by the exercise. He recommends it as part of the bedtime ritual.
Nightly Loving-Kindness
Spiritual teacher and writer Sharon Salzberg recommends another bedtime ritual, a nightly loving-kindness practice. This is not a prayer, but an exercise in which you think about people, wishing them well before sleep.
First, children think about people they know, then people they've had conflict with, and, finally, everyone in the world. The child may say something like, "May George be well. May Jerry be at peace. May Dandelion be happy." When there is someone a child had a rough time with that day, they can say, "Well, today I was really mad at you, Kate, but I want you to be happy." The child can end with, "May everyone in the whole world be happy, be well, be at peace." Sharon tells us that parenting is like meditating out loud.
Parenting as Meditation
Indeed, a meditative posture is what we're cultivating through skillful actions, to be really present with what's happening with our children, to allow them to have their emotions and thoughts without being overwhelmed or reactionary. And, in this, to nudge them into their own meditative postures—to experience peace, realize truth, and increase consciousness.
For me, the truth is that parenting has been my practice all these years. It turns out that I didn't need to actually get on the yoga mat. I wish I had known this during those early days when I yearned to be in yoga class with Squirmy Girl, but mostly I am just glad to know it now. Now I can see that my idealized vision for our family life has been realized—from deeply attached children, to a peaceful home, to even, occasionally, yoga on a mat.
Find out about children's and family programs at Kripalu.
Carrie Owens is an award-winning filmmaker and writer.
© Kripalu Center for Yoga & Health. All rights reserved. To request permission to reprint, please e-mail editor@kripalu.org.