A Yoga Revolution for Women of Color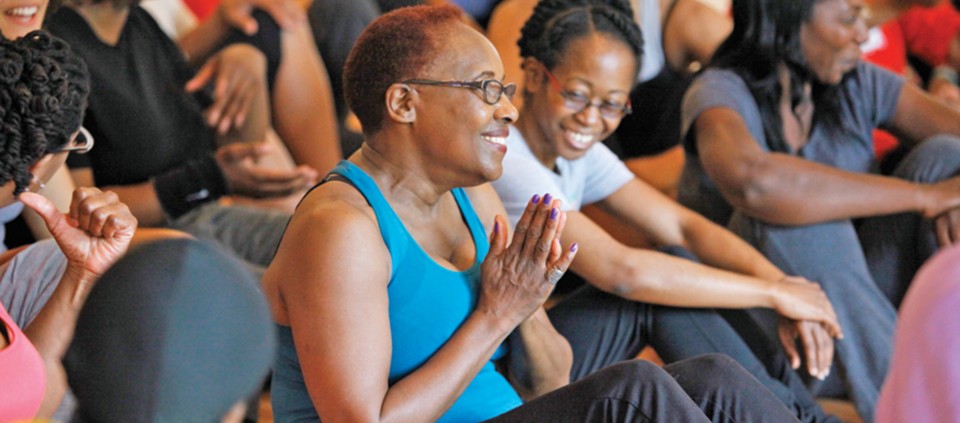 Several years ago, a Brown University college student and member of the Rites and Reasons Theater group reluctantly participated in my yoga class. The class was one of several that were required as a prerequisite for a field trip. The series involved me giving a talk about yoga and teaching a few basic yoga classes focusing on relaxation and alleviating stress. The objective was to introduce the students to yoga and demonstrate how it could be used as a tool to maintain balance and well-being while they were on the road. I created a course that provided the basics of yoga: simple breathing, postures, a meditation practice, and a few relaxation techniques.
I was surprised after the class when the reluctant participant joined the line of students wanting a word with me. I assumed he was going to complain about something—the music had not been hip enough, the postures were too challenging, or the relaxation period too long. To my surprise, he looked me square in the eyes and said, "Maya, we need a revolution."
"A revolution?" I shot back.
"Yes," he said. "We need a yoga revolution. You need to start a revolution for our people. My mom in New York could use this—all of this. My aunties and my cousins are struggling, too; my brother just got out of jail, and he needs to learn how to breathe. I'm from the Bronx. I'm not sure about other places, but we need this in the Bronx for sure. Since I started these classes, I feel great! And you know, when I came in here, I was not down for this. Is this really what yoga does for you? Is there more?"
This conversation has stayed on my mind over the past few years and I often replay his voice and see him raising his hand in a sign of power, saying, "Yeah, revolution, Maya, revolution! You can do it!"
And, so I am.
Now is the time.
Why a Yoga Revolution of Color?
Women of color have, historically, taken care of others while placing themselves last. Though we have made gains in education and employment, our careers have now been added to our caretaking lists. We are still putting ourselves last. I am proposing a radical approach to lifestyle: Put yourselves first! The Yoga Revolution encourages women of color to do yoga as a lifestyle practice.
I agree with that college student who said that we need a yoga revolution to help change the lives of people of color. This revolution is about taking care of body, mind, and spirit. It is easy. All one has to do is begin a yoga practice. There are no membership fees and no organization to join. Just do it and your life will begin to improve!
Maya Breuer, E-RYT 500, YACEP, is the Head of research and yoga advancement for Yoga Alliance, cofounder of the Black Yoga Teachers Alliance, Emerita Trustee of Kripalu, and creator of the Yoga Retreat for Women of Color™.
Full Bio and Programs