Yoga in the Schools: Helping Adolescents Become Compassionate Adults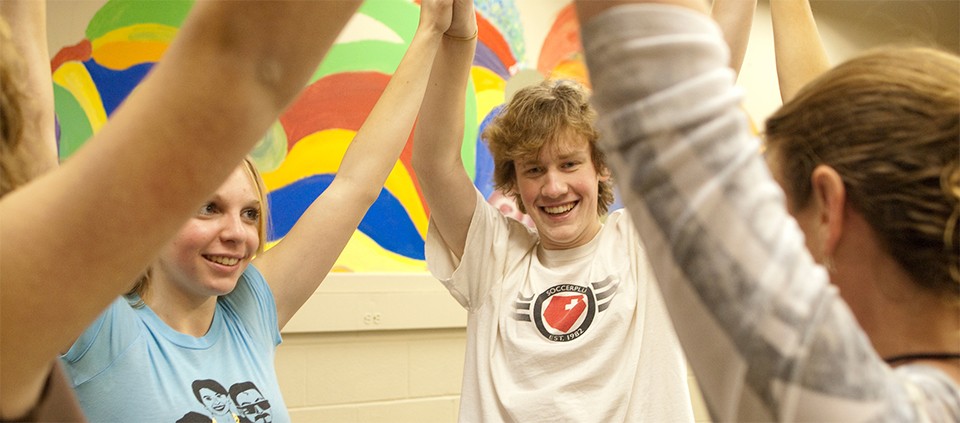 Tired. Stressed. Bored. These are the words most commonly used by 22,000 high school students recently surveyed about their experiences in high school. In fact, study author Dr. Marc Brackett of the Yale Center for Emotional Intelligence found that, of all the words used by students to describe their school-based experiences, 75 percent had negative connotations.
No one doubts that adolescence is a time of physical, mental, emotional, and social turmoil, and that high school itself is often a pressure cooker where anxiety, confusion, and self-doubt catalyze into unhealthy or risky behaviors. But there are more potent solutions to this stress than simply waiting for graduation.
Since 2008, the Kripalu Yoga in the Schools (KYIS) program has served as a powerful tool to help youth find stability, enhance their sense of self, and cocreate a more compassionate school environment. Cultivating those qualities is important for managing the struggles of adolescence as well as laying the groundwork for becoming emotionally healthy adults.
Cultivating Compassion
Self-compassion in adults has been linked to emotional well-being. Research published in 2015 in the Journal of Positive Psychology showed that, as young people move from early to late adolescence, there is a drop in self-compassion, which is defined as a combination of self-kindness, a sense of connection to others who face similar struggles, and mindfulness or the ability to address challenging situations. Extending this pattern, studies have shown that self-reported levels of empathy among college students have continued to decline over the last few decades, while narcissism has risen. Bottom line: A concerning picture of stunted individual emotional maturity arises, which might also impact young people's ability to recognize the concerns of others and work collaboratively to solve them.
The KYIS program has demonstrated that its yoga curriculum, which includes postures, breath work, and didactic lessons woven throughout each class, can shift some of these mindsets and behaviors. Ongoing research on the program conducted by the Institute in collaboration with Harvard Medical School researchers, has found that adolescents are better able to manage anger, harness resilience, and decrease fatigue than their counterparts who simply participated in gym class. In a 2011 study, students enrolled in the yoga program stabilized or saw small improvements on a variety of measures, such as anxiety, depression, and attitude toward school, while the control group showed marked declines. Another Kripalu study indicated that mindfulness and self-compassion play a mediating role in adolescents' quality of life and perceived stress.
The ability to slow down and self-regulate seems like a natural benefit of a yoga practice. But how does a yoga curriculum expand compassion among adolescents? "Compassion and empathy—for self and others—shift through this program," says Janna Delgado, KYIS teacher and faculty for the Kripalu Schools. "Awareness is huge. We start with fundamental breathing and yoga postures—and that base is critical because, for some students, the postures are the only access point for relaxation and openness to the broader learnings. We then apply those learnings to specific circumstances, such as when the students are feeling low energy or frenzied. The last third of the curriculum dives into thinking about self in relation to others—how can they take the lessons off the yoga mat and bring those tools and that awareness into the world."
On the Ground
It's not just the numbers that tell the story—it's the KYIS-certified teachers who connect with these students, both the original faculty members and the 120 instructors who have been trained through the Kripalu Yoga in the Schools Yoga Teacher Training. "As a teacher on the ground," says Iona M. Smith, KYIS teacher and Institute faculty, "I've had kids tell me they sleep a lot better, are more ready to learn, are happier, and have better relationships with family and friends when they participate in these programs. I see them learn the skills of pausing and to not be as reactive. They use the tools of the program in their everyday lives."
Parent Ruby Aver saw firsthand the difference the program made for her daughter, Fay Lee, who attended Monument Mountain Regional High School. "Without yoga, I don't think Fay Lee would have managed the high school load as well," says Ruby. "It would have been very chaotic and frantic. Fay Lee is a very high-energy, upbeat person. Yoga slowed her down, balanced her out. It was an oasis for her."
As a former associate director of a performing arts program for youth in Berkshire County, Ruby believes that, along with decreasing stress, a stronger mind-body connection positively impacts the choices teens make. "I see that teens who find that connection with their body care more about it," says Ruby. "They don't disconnect so easily and throw their body at people or drugs. The body becomes more precious."
Expanding the Reach
Collectively, the choices made by students can shift the culture of an entire school, and the KYIS program has touched schools in 12 states and the District of Columbia as well as Canada, China, and Israel. Since formalizing the teacher training program in 2013, KYIS has noticed a shift among those coming into the program.
"In the beginning, it was yoga teachers who were interested in going into the schools to work with youth," says Edi Pasalis, Director of RISE Programming, which oversees research done on KYIS and other Kripalu programs. "Now, we're seeing more people who are yoga teachers and already in the schools as counselors or gym teachers, or in other roles. There is a growing awareness of the power of integrating yoga into schools to create personal and communal change."
Kripalu continues to serve a critical leadership role in that change. Thus far, Kripalu has hosted several Yoga in the Schools Symposiums, bringing together administrators, educators, yoga teachers, and researchers to discuss and advance strategies for enhancing the social and emotional well-being of youth.
Bringing yoga to adolescents holds huge promise. Transforming fatigue, stress, and boredom into self-compassion, connection, and mindfulness changes both the individual and collective high school experience. And, in a world increasingly in need of compassion and collaborative solutions, nurturing emotionally mature young adults is more important than ever.
Find out about Kripalu Yoga in the Schools Teacher Training.
© Kripalu Center for Yoga & Health. All rights reserved. To request permission to reprint, please e-mail editor@kripalu.org.