Online Program
Kripalu Sangha Chats
Sharing Wisdom and Community Care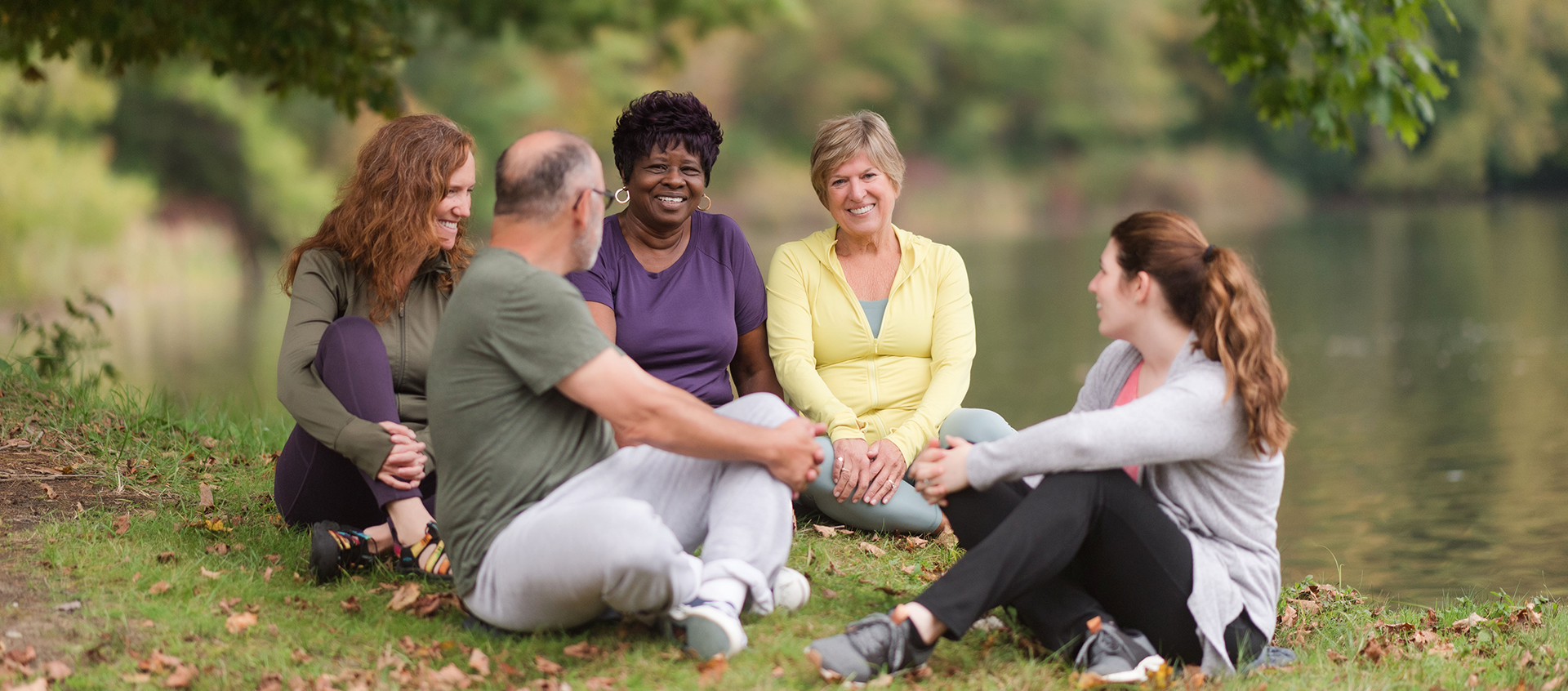 COME TOGETHER IN COMMUNITY
"The next Buddha will be a Sangha." –Thich Nhat Hanh
There has never been a more important time to come together, learn from one another, and work in unity. As the world continues to change around us, it is vital to look to each other as we practice the values that shape and guide us toward a more loving future.
Join Kripalu CEO Robert Mulhall and Director of Creative Strategy Eset Rose along with special guests from Kripalu's faculty and leadership teams and members of the larger community of healers, thought leaders, and change agents each month for a live online sangha—a community of people who practice the dharma together.
Become more connected to your presence and awareness. Fill your cup as you join others in community, care, and respect, and tend to the fire of our collective Sangha.
Note Our summer wisdom chats will focus on Kripalu's 50-year legacy as we honor and celebrate how far we've come while looking ahead to the next 50 years.
Note All recordings will be available within 72 hours of the end of each session. You will have access to the video recording for 30 days after the program ends.
---
Monthly Themes
MAY THEME: Becoming Together
To come together in service to the collective is a worthy and lifelong task. When we give ourselves permission to "become" together, it invites an inquiry that while we may hold a similar vision along this journey, we will all "be coming" to a mission from our own unique perspectives, experiences, and vantage points. Join special guest Kripalu lead faculty Monique Shubert as she joins us in our community gathering to share how she is continuously becoming in her practice and in her work as a teacher, guide, and facilitator.
JUNE THEME: Pilgrim on the Path of Love
When Swami Kripalu said, "Truly the wise proclaim that love is the only path, love is the only God, and love is the only scripture," he invites us to impress this verse upon our minds and in order to realize our deepest dreams. Join special guest Stephen Cope, Kripalu's Scholar Emeritus—known affectionately as Kavi to our community—as he guides us remember the ancient path of love and how every living being is a stream of love.
JULY THEME: In Service to the Collective
Swami Kripalu saw service as a natural outgrowth of love and an effective tool for personal and spiritual growth. His well-known quote, "Serve with a full heart. By making others happy, you make yourself happy. The key to your heart lies hidden in the heart of another," encapsulates the simplicity and power of service. Join Robert, Eset, and former Kripalu Ashram members Aruni Nan Futuronsky and Dr. Rasmani Orth as they talk about the legacy of service and community at Kripalu and what the next 50 years of service looks like for the organization.
AUGUST THEME: Living From The Wisdom of Silence
Swami Kripalu said, "Before speaking, consider if it is an improvement upon your silence." Beyond the famed Silent Breakfast that is part of the Kripalu daily experience on campus, observing silence as a practice to listen and connect to the wisdom and truth inside each of us is a bedrock of Kripalu's teachings. Join Kripalu faculty Edi Pasalis and Jess Frey—facilitators of The Kripalu Silent Retreat—to talk about the power of silence and how it deepens our awareness and opens us to the fullness of life.
---
Program at a Glance
Program Theme
Intuitive Development
---
Presenter(s)
Robert Mulhall is the CEO of Kripalu. He is passionate about service and deeply curious about how people can facilitate sustainable transformation to enable more peace, justice, and freedom in our world.
Full Bio and Programs
Eset Rose, Director of Creative Strategy and Programming, is a multidimensional artist, warrior, and teacher of transformation and healing.
Full Bio and Programs
May 29, 2022
Monique Schubert, MFA and lead Kripalu faculty member, uses her 20 years of experience as an artist and educator to develop yoga and mindfulness programs for schools, workplaces, and cultural institutions.
Full Bio and Programs