On Campus Program
Mindful Outdoor Guide Certification, Level 2
Aligning with Nature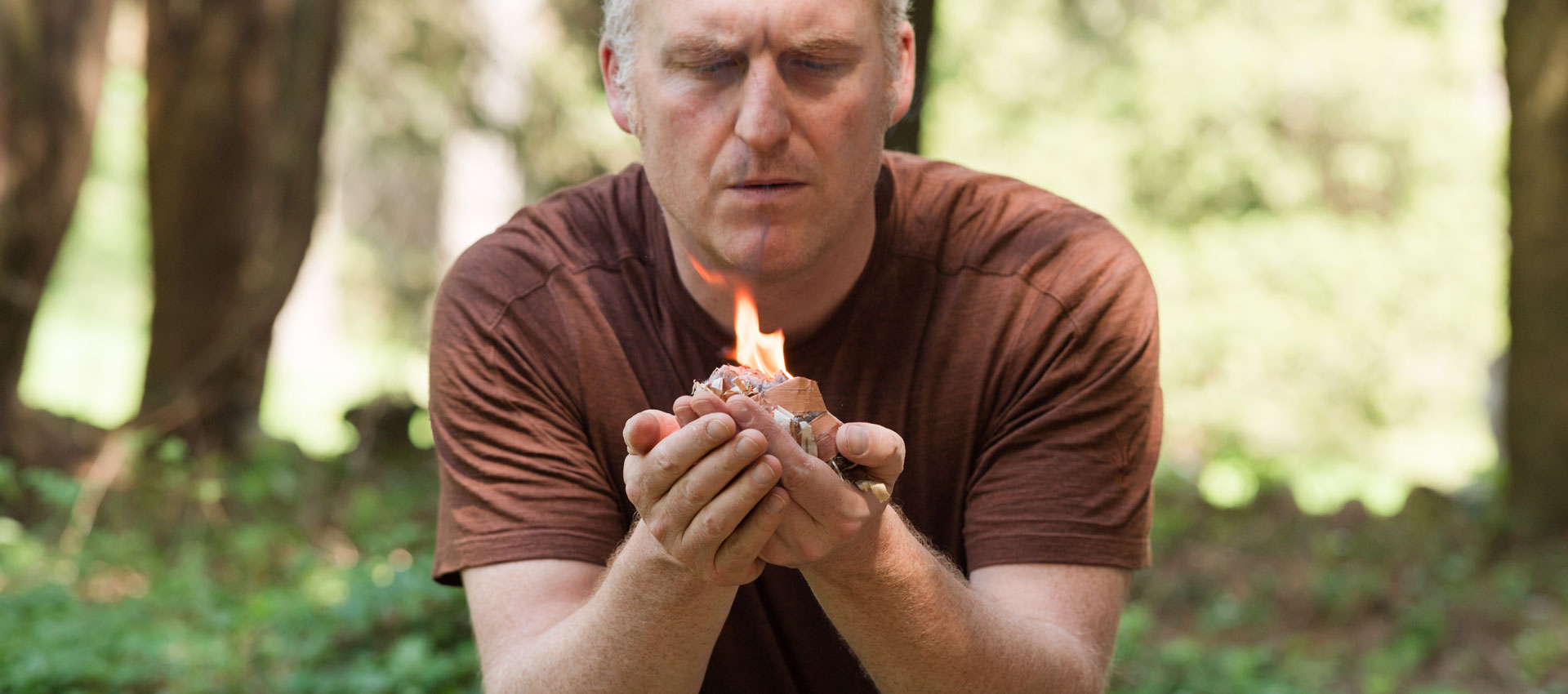 DEEPEN YOUR OUTDOOR LEADERSHIP SKILLS
Aligning with Nature is a nine-day intensive that offers a profound opportunity for mindful outdoor guides to deepen their relationship with the "more than human world" through the lens of the Great Elements, Ancestral Skills, and deep communion with place.
As a KSMOL guide, you will learn to
Integrate fire into your mindful outdoor experiences, both as a focal point for meditation and as an ally for carving your own wooden tools and utensils.

Carve your own bow-drill kit, and be initiated into the ancient art of birthing fire through friction by Mohican Tribal Representative and KSMOL faculty member, Shawn Stevens.
Fashion a safe, dry, and cozy shelter using only what they gather from the forest.
Harvest and treat water using fire, wood, and stones—a valuable skill for aligning with nature.
Learning to guide in deep reciprocity with place means remembering to listen deeply and be guided. To this end, you will spend two days going offsite to "Places of Power and Refuge" near the Kripalu campus where guides will have the opportunity to practice exploring unique energetic qualities. On day one, KSMOL faculty will lead you on a visit to a 120-year-old wildlife sanctuary. On day two, KSMOL faculty will bring you to two energetically conjoined and sacred places of power on a day-long journey from earth to sky. Guides will also forage for wild teas and incorporate the ceremonial art of making and sharing tea within the context of guiding mindful outdoor experiences.
Throughout the program, guides will receive mentoring and supportive feedback from faculty and peers. They will share the findings of their Level 1 home research project, present their personal project, and lead a one-hour mentored Mindful Outdoor Experience. By the end of the program, guides will have developed a profound connection with the great elements, and will walk with a greater sense of belonging. They will be equipped with the skills and knowledge necessary to lead meaningful and transformative experiences in the natural world, and carry forth the inquiry into what it means to "carry the fire" and be good ancestors.
Note Upon successful completion of KSMOL Level 1, you are eligible to register for Level 2. No additional application is necessary.
Prerequisite Mindful Outdoor Guide Certification, Level 1: Forest Community
Find out more about the Kripalu School of Mindful Outdoor Leadership
---
Apply Now
Registration to this training requires an application process. To apply please fill out this form.
---
Program at a Glance
Program Theme
Nature and the Outdoors
---
---
Presenter(s)
Micah Mortali is lead Kripalu faculty, the Founder of the Kripalu School of Mindful Outdoor Leadership and author of Rewilding.
Full Bio and Programs
Katie Hagel, RYT-500, is a certified Nature and Forest Therapy Guide, Ayurvedic Health Counselor, and Kripalu Yoga teacher.
Full Bio and Programs
Shawn Stevens (Red Eagle), a member of the Stockbridge Munsee Band of Mohicans, is a Native American culturalist, artist, musician, and ceremonial helper.
Full Bio and Programs