On Campus Program
Mindful Outdoor Guide Certification, Level 2: Aligning with Nature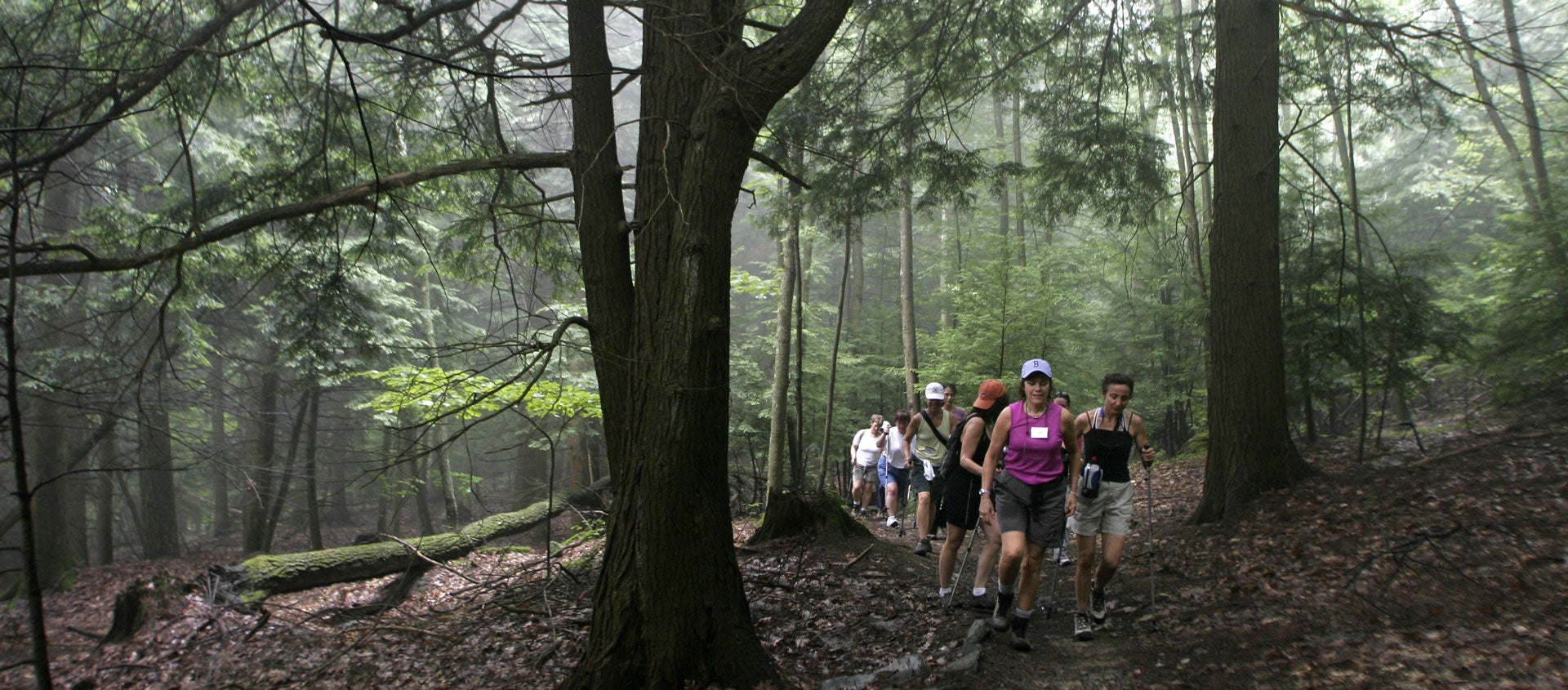 DEEPEN YOUR OUTDOOR LEADERSHIP SKILLS
This intensive nine-day Level 2 Kripalu Mindful Outdoor Guide immersion provides a powerful opportunity to deepen your relationship to the earth through daily, early morning, element-themed meditations and practices. Learn transformational outdoor skills such as friction-fire birthing, shelter building and Bush-craft tool making with KSMOL faculty, and sub-alpine ecology and orienteering with Mass Audubon atop Mount Greylock on our two-night camping trip. Present your personal project and guide your solo mindful outdoor experience before graduation.
Deepen your connection to nature and expand your skillset as a Kripalu Mindful Outdoor Guide as you
Share with your fellow guides the findings of your Level 1 home research project.
Learn from Shawn Stevens, language and cultural peacekeeper of the Stockbridge Munsee Band of Mohicans, the history of the indigenous people for whom the Kripalu grounds are part of their ancestral homeland.
Explore advanced nature meditation, working with the air, ether, fire, water, and earth elements as your focal points.
Carve your own bow-drill kit, learning the ancient art of birthing fire through friction.
Learn how to integrate fire into your mindful outdoor experiences, both as a focal point for meditation and as an ally for carving your own wooden tools and utensils.
Continue your studies with Mass Audubon, honing your exploration of the geology, flora, and fauna of the unique subalpine environment atop Mount Greylock.
Develop the essentials of map and compass navigation with Mass Audubon.
Forage for wild teas and incorporate the ceremonial art of making and sharing tea within the context of guiding mindful outdoor experiences.
Bolster your guiding skills on an overnight adventure, learning about trip preparation, packing, gear selection, and cooking, as well as the health benefits of resetting your circadian rhythms when camping.
Discover how to fashion a safe, dry, and cozy shelter using only what you gather from the forest—a crucial skill for building confidence and a sense of connection to the outdoors.
Receive mentoring and supportive feedback from faculty and peers on the 45-minute Mindful Outdoor Experience you lead at the completion of your Level 2 training.
Prerequisite Mindful Outdoor Guide Certification, Level 1: Forest Community
Find out more about the Kripalu School of Mindful Outdoor Leadership
---
Apply Now
Registration to this training requires an application process. To apply please fill out this form.
---
Program at a Glance
Program Theme
Professional Training
---
Micah Mortali and Mark Roule: Nature Deficit Disorder
---