From the Back of the Room to the Front of the Class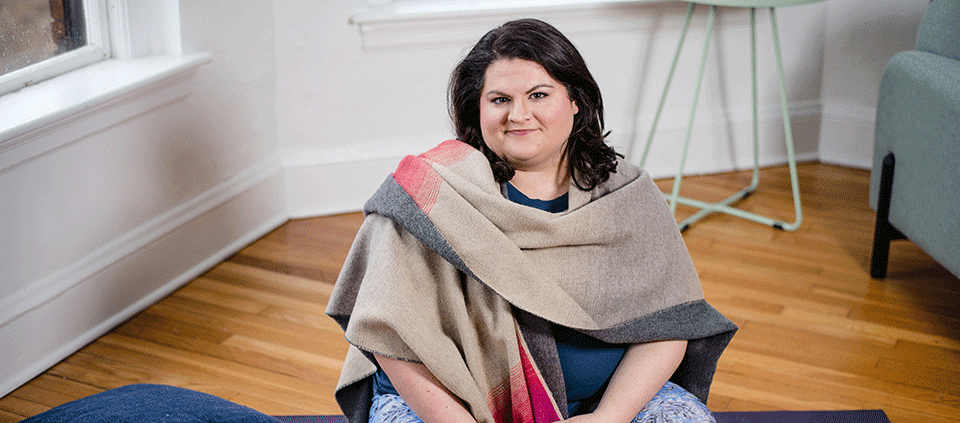 Photo credit: M. Davidson-Schapiro Photography
I am a big-bodied woman, a spirited yoga teacher with a focus on plus-size people, and now a presenter at Kripalu's Annual Yoga Teachers Conference. But I wasn't always so visible with my body and my practice. My first few years of yoga were spent in the back of the class, hiding from my assumption that stares and scoffs were merely a sightline issue, and convincing myself that if I was behind everyone, I was safe to practice. Some teachers offered adaptations to movements as an after-thought—"But if you can't do this, do that instead"—which felt like confirmation of my belief that my body was something to apologize for.
My first visit to Kripalu shattered the idea that my larger body wasn't suited for yoga, and revealed a new path: unconditional self-love, at any size. The seeds of Kripalu's compassionate approach to yoga changed not only my life but also the lives of the thousands of students I'd come to teach. My passion for teaching yoga to people like me emerged from my long struggle with body image and self-confidence—but passion needs support in order to turn into something real, and I'm grateful for Kripalu each time I step on my yoga mat.
More to Love Yoga was born soon after I completed my Kripalu Yoga Teacher Training in 2015. During my training, I learned the inner and outer mechanics of yoga, but more importantly, the spirit of Kripalu's mission. Empowered, I was excited for my work ahead of bringing yoga to bodies rarely seen. Bodies like mine—larger, fuller, often left hiding in the back of yoga classes or scared to step on a yoga mat in the first place.
More to Love Yoga teaches plus-size bodies how to do yoga, including helpful adjustments to make poses more realistic and enjoyable. But More to Love is more than yoga—it's a way to integrate body-positive lessons into daily life. It's become a movement and a community in which people feel welcome and loved without needing to change anything about who they are.
In the past four years, I've taught thousands of people of all shapes, sizes, ages, and abilities. It's a full-circle moment to return to Kripalu as a presenter and offer a workshop that will support yoga teachers in making their classes more welcoming to plus-size students. And it's a moment that wouldn't be possible if not for Kripalu's dedication to bringing yoga to people of all bodies and backgrounds.
Rachel Estapa, founder of More to Love, is a Kripalu Yoga teacher and transformational life coach. More about the author: moretolovewithrachel.com
Find out more about Kripalu's Annual Yoga Teachers Conference.
© Kripalu Center for Yoga & Health. All rights reserved. Email usto reprint.
Rachel Estapa, RYT 200, founder and CEO of More to Love Yoga®, is a Kripalu Yoga teacher and ICF-accredited wellness coach specializing in plus-sized yoga, health, and wellness.
Full Bio and Programs