The Book I Didn't Want to Read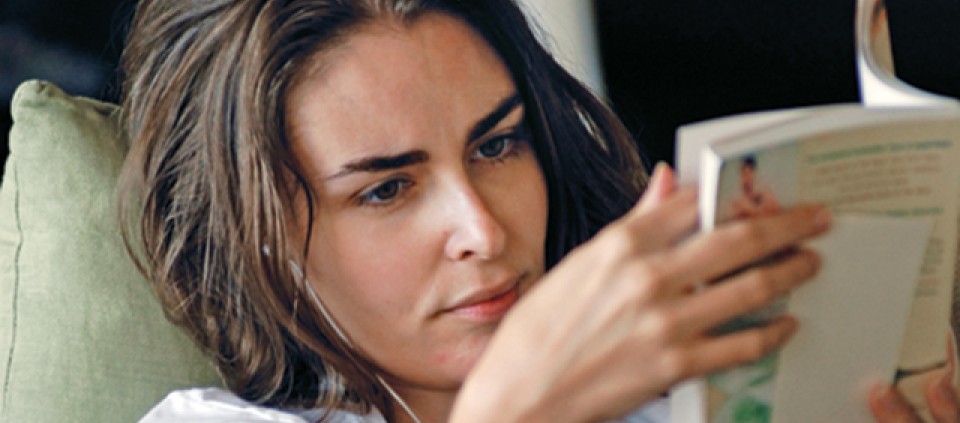 "There's a book I want you to read," says my cousin Becky. She's been saying this for months and I haven't been listening—it's 2009 and this particular book is everywhere. I pretend to enjoy dreary literary galleys instead, which I occasionally review for a clever literary magazine for about .0001 cent per hour. It takes me ages to write them, I'm so worried about being clever enough.
But she's bossy, my cousin—about the book and everything else. She's always been a lot taller. In kindergarten, she cast herself as teacher, queen, cowboy to my pupil, jester, horse. At summer camp, she claimed the bottom bunk. She was the first of my hometown friends to get married, to Fred, who apparently loves the book, too.
Becky leaves it on my top bunk pillow, the familiar cover bent. We're at Kripalu, in a dorm that holds a dozen beds, and again Becky has scored the bottom one. It's August and the fans are churning. We chose the bunks closest to the door because we're both nervous night pee-ers, a trait that's in our bloodstream, along with a penchant for yard sales and a mighty fear of germs. We've been talking about Kripalu for what feels like ages over manicures and cinnamon buns when I go home to Maine for visits. Over the past year, Becky has become a fitness addict and I have moved out of my alcoholic ex-boyfriend's apartment in Manhattan. She takes Adult Ed yoga classes in Yarmouth and I attend Yoga to the People in the East Village because it's "pay what you wish." In other words, we both know what a Sun Salutation is. We know to say savasana instead of Corpse pose. We keep doing it because it seems to make us feel better—to be reminded to breathe, to twist our spines. We like it enough to come to the Berkshires to try it for a whole weekend.
Becky has orchestrated this. She's been my cheerleader and general checker-inner for the past 12 months. She sends flowered cards and goofy stickers to my bare studio apartment. Her mother does the same. (Her mother feels bad about sending a wedding planner a few weeks before I left the ex for good.) I can tell they confer and are worried about me—my weight, my single status at 36, my aging ovaries, my tendency to spend hours watching PBS specials instead of going on speed dates. Becky is fascinated by speed dating. "If you ever go, promise to take me with you," she says. "Fred won't mind."
But we're not speed dating. We're at Kripalu, where we get up at 6:00 am for Moderate Yoga and Becky says, "This reminds me of the part in the book where she's praying."
After silent breakfast, she says. "For your next book you should write with 'I,' even if it's not about you." My cousin likes the fake memoir too, the one with sprinkles on the cover that Oprah got so upset about. "That's all I have patience for now—books that are true or books that seem like they're true," my cousin says. Though she likes the novel about four females in New York City. ("You're Carrie," Becky says. "You're the writer. I'm Samantha.")
I don't tell Becky, but I'm a snob about these popular books. I've lost faith in the power of reading for fun or consolation, because I'm too entranced by my own story, the one about the past 10 years. I cry a lot, despite the pranayama. I don't need to read about a bad breakup.
After a weekend of kale and great yoga and bonding with Becky, she insists that I take the book with me.
I go back to my studio apartment and still I don't read it. I don't wear the engagement ring, though I look at it sometimes. I sit on my new IKEA couch and watch, when I can't stand another minute about national parks, What Not to Wear, and this too makes me cry—all this easy transformation because of frocks.
And then, because I can't lie to Becky any more, I start to read the book, which is about another compulsive crier, a dabbler in yoga. I see the movie, and when Julia Roberts says to her supporting-actress best friend, I've never let myself just be alone, I get it. It's what Becky has been saying to me for years. Since high school, I've either been dating or breaking up with a boyfriend—often the same boyfriend—and I need to see if I can just be on my own.
Which is what I do, finally. I go back to Kripalu twice more in the next six months—once at Thanksgiving with my mother, a divorce lawyer who barely tolerated my ex, and again with Becky during my winter break from teaching.
"See?" says Becky. "You were meant to read that book."
I come to Stockbridge as soon as the academic year ends, turning in my grades early, cancelling the last day of classes to be at Kripalu on time. Then I stay a whole year as a volunteer, sleeping in the same bunk bed, a bottom one.
I loved the book, despite myself. I got sick of my old, sad story and pulled an Eat, Pray, Love. A good book can do that, I think—make you want to shift something in yourself and be the bigger character: the cowgirl instead of the horse.
© Kripalu Center for Yoga & Health. All rights reserved. To request permission to reprint, please e-mail editor@kripalu.org.
Lara Tupper, MFA, is the author of two novels, Off Island and A Thousand and One Nights, and Amphibians, a linked short story collection forthcoming in 2021.
Full Bio and Programs