Boost Your Immunity with This Ayurvedic Honey, Turmeric, and Spice Remedy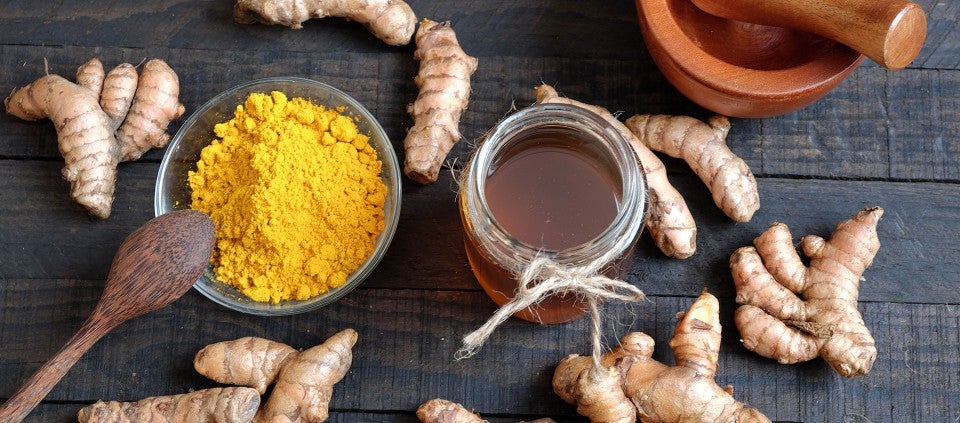 Cough, cold, congestion, sore throat? Late winter is a great time to give your immune system a little extra love. Bolster your resilience and soothe an achy throat with a honey lickable. Comprised of honey, turmeric, black pepper, and cinnamon, this Ayurvedic remedy is a breeze to whip up—and it's delicious.
So why this combo? Honey works as a demulcent to help soothe the inflamed mucus membranes of the upper respiratory tract, and serves as a carrier for the spices. Turmeric has been gaining popularity for its anti-inflammatory nature. It is an analgesic (pain reliever) and also has antibacterial qualities.
While black pepper may seem like an odd addition to the mix, its presence plays a substantial role. The addition of black pepper with turmeric increases the absorption of turmeric by 2000 percent when used in a 1:10 ratio of pepper to turmeric. Pretty amazing, right? Black pepper aids in combating respiratory conditions and rejuvenating the lungs.
Finally, cinnamon lends a sweeter taste to the remedy and is chock-full of medicinal benefits. It's excellent for coughs, colds, and sinus congestion, as it helps clear mucus. It also eases gastrointestinal pain, which is often part and parcel with winter bugs.
Here's the recipe:
1–2 tablespoons raw honey
1 teaspoon ground turmeric
½ teaspoon ground cinnamon
Pinch of ground black pepper
Combine all ingredients in a small bowl. The mixture is best made fresh and can be transferred to a small jar for easy transport. Eat it by the teaspoonful throughout the day, as needed, or use it like a lozenge to soothe a scratchy throat.
Browse Ayurveda programs and trainings at Kripalu.
Lauren Gernady is Academic Coordinator for the Kripalu School of Ayurveda.
© Kripalu Center for Yoga & Health. All rights reserved. To request permission to reprint, please email editor@kripalu.org.
Lauren Gernady is an Ayurvedic Health Counselor, a 500-hour Ayurvedic Yoga Teacher, a graduate of the Kripalu School of Ayurvedic (KSA), and a former intern and Academic Coordinator of KSA.
Full Bio and Programs