The Dance of Yoga, the Yoga of Dance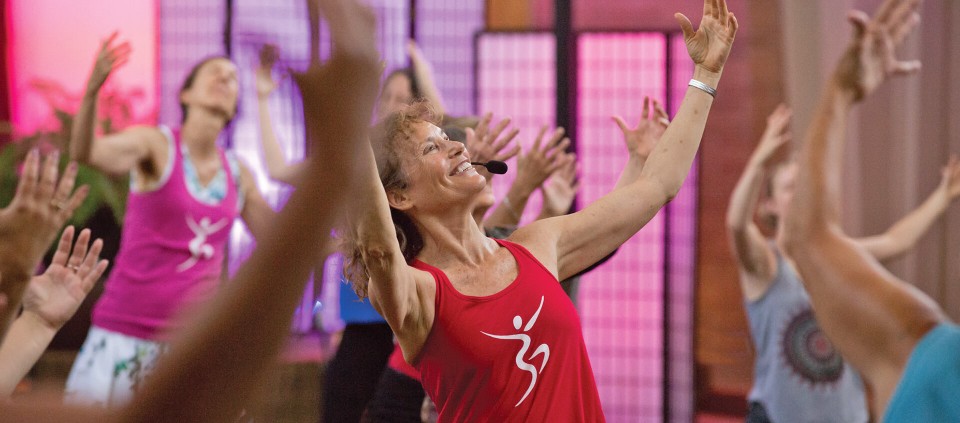 Yoga and dance share powerful benefits—including healing, enhanced presence, and greater access to joy and well-being. That's why the Kripalu School of Yoga has added dance trainings from three longtime Kripalu faculty members to its 1000-hour offerings. Megha Nancy Buttenheim,Toni Bergins, and Dan Leven have each trained hundreds of teachers in their respective approaches to movement and embodiment.
"Each of these three trainings are unique, yet all are informed by Kripalu Yoga," says Micah Mortali, Director of the Kripalu Schools. "Learning to combine mindful movement and yoga postures with music and dance will expand teachers' toolkits, so they can offer something fresh and exciting to their core groups of students and also reach new populations."
Megha describes her approach, called Let Your Yoga Dance®, as "a moving celebration of spirit: a fusion of gentle yoga, user-friendly dance, breath, and meditation in motion, with music from around the world." Megha directed Kripalu Yoga Teacher Training for seven years, and first wove together yoga, dance, and the chakras back in 1986. "We use yoga vocabulary as the foundation for the practice, including the codes of conduct—the yamas and niyamas," she says. "Pranayama (yogic breath) is also an integral element of the practice." Megha also weaves qigong and positive psychology into the practice.
As part of the 1000-hour certification, Megha offers a complete Let Your Yoga Dance training, as well as Let Your Yoga Dance for Special Populations, which focuses on adapting the practice for people with Parkinson's, multiple sclerosis, arthritis, or Alzheimer's; breast cancer survivors; and others with special needs. She's been teaching the form to people suffering from Parkinson's disease since 2007, and recently received a grant to support her classes in Pittsfield, Massachusetts. Her students tell her that they experience increases in flexibility, muscle tone, and energy.
Toni discovered YogaDance at Kripalu in 1993, when she was just 23 years old, and it changed her life, she says. "I was a workout maniac and I wasn't in my body—I was dealing with eating disorders and chaos in my emotional life," she recalls. "Dancing freely, without mirrors, silenced the barrage of external messages and allowed me to heal my inner voice, which was begging to be heard and asking for my love. This awakening brought me from body/mind crisis to heart/spirit opening. In that moment, my path became clear to me, and my healing and teaching journey was set in motion."
Drawing on her background in psychology, dance, and psychodrama, Toni's JourneyDance™ classes and teacher trainings incorporate elements of ritual, deep transformative work, sacred drama, music, and affirmations. "JourneyDance is not about learning steps," she says, "it's about revealing, remembering, and rediscovering your natural intuitive movement. You are the medicine, life is the ritual," she adds, quoting her current favorite soundtrack for moving meditation.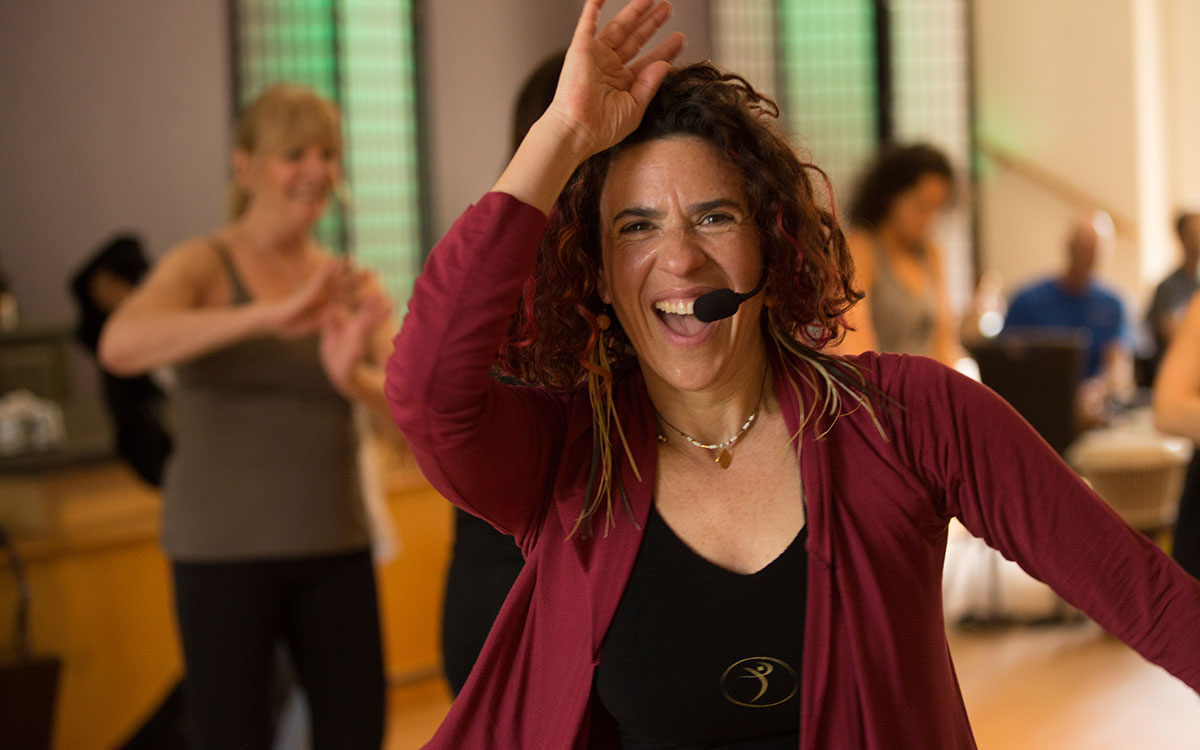 Toni's three-module Embodied Leadership Training program guides trainees to tap deeply into the inner power, presence, wisdom, clarity, and confidence that emerge through embodiment and expressive processes. Module 1 provides foundational training and provisional qualification as a JourneyDance Apprentice; Module 2 qualifies teachers as JourneyDance Guides to teach public classes; Module 3 provides full certification as a JourneyDance Transformational Movement Facilitator. All modules offer continuing education credits.
A cococreator of Kripalu YogaDance, Dan is now a faculty member for Hartford Family Institute's Body-Centered Gestalt Psychotherapy Training Program. His Shake Your Soul and SomaSoul trainings integrate aspects of Gestalt, creative expression, and contemplative practice. "It's only in our modern society that dancing is often reduced to a form of exercise," he says. "Indigenous cultures revere dancing as a form of communion of body, soul, and spirit, and communion with others."
His Shake Your Soul Teacher Training guides instructors to create a sacred space and community, using established repertoire, improvisation, and an approach that invites dancers to tune in to their full-body experience.
"Listening to your body is an art and a skill. It requires unlearning the habit of listening only to the mind—with all its thoughts, strategies, planning, projections, and ruminations—rather than tuning in to sensations, feelings, and emotions," says Dan.
Find out more about these trainings and other 1000-hour Kripalu School of Yoga programs.
© Kripalu Center for Yoga & Health. All rights reserved. To request permission to reprint, please email editor@kripalu.org.