An Excerpt from Our New Kripalu Kitchen Cookbook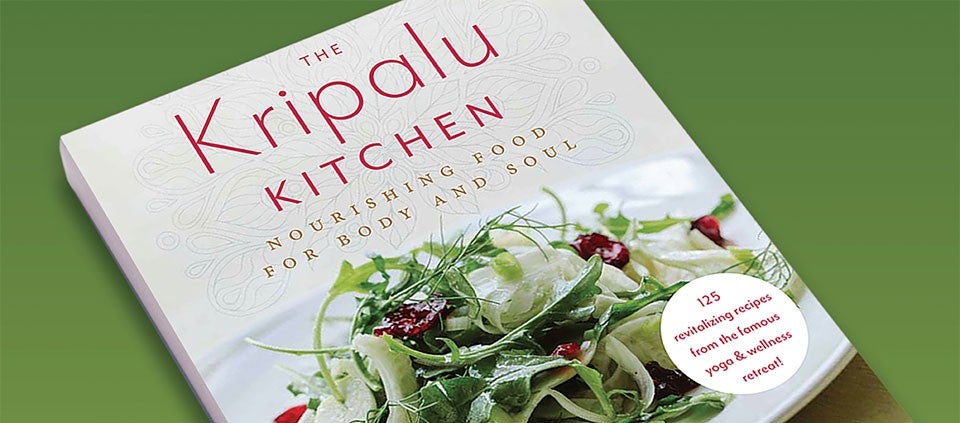 Have you noticed that almost every small town in America has at least one yoga studio? In bigger cities, you find dozens. According to recent research from the Yoga Alliance and the Yoga Journal, more than 36 million Americans maintain some kind of yoga practice. Why? Because it feels good! More and more studies are verifying the health benefits of yoga, such as reducing stress, lowering blood pressure, improving heart health, fighting inflammation, reducing chronic pain, and improving mental health.
More people are also hiking, paddling, and taking up activities like tai chi. Along with the increasing popularity of these physical activities, demand for healing foods such as turmeric and ginger has also skyrocketed in recent years. Again, you can chalk it up to scientific research confirming the health benefits of these time-honored curative ingredients. Plus, they taste great!
Yoga, tai chi, paddling, turmeric, and ginger are all part of the larger American movement toward healthy living—from the foods we eat to the activities we enjoy. They are also key elements of the healthy lifestyle practiced here at Kripalu, North America's largest yoga-based healing and education center. This cookbook captures everything we do at Kripalu. It provides dozens of holistic wellness strategies and 115 deeply satisfying recipes with variations that create many more options, all of which can help you get healthy and stay healthy.
Kripalu has been teaching holistic living skills for more than forty years and attracts nearly fifty thousand guests every year. Our nonprofit facilities sit on more than three hundred acres in the picturesque Berkshire Hills of Western Massachusetts, and we offer approximately a thousand unique wellness programs a year. We also serve more than twelve hundred nourishing meals to guests every single day. In fact, the Kripalu Kitchen daily meals are one of the highest-ranked experiences among guests, aside from the beautiful grounds.
This cookbook brings the satisfaction and healing power of Kripalu's most popular foods to your table. It also provides a personalized approach to nutrition, including an introduction to the ancient practice of Ayurvedic healing, useful tips for mindful eating, a variety of delicious cross-cultural recipes, and menus for various dietary preferences ranging from vegan and vegetarian to gluten-free, grain-free, dairy-free, and sugar-free. No matter how busy you are, we encourage you to incorporate more healthy foods into your current lifestyle, so we also offer dozens of six-ingredient and thirty-minute recipes.
Over the years, the food we've prepared in the Kripalu Kitchen has woven together the wisdom of ancient healing practices, modern nutritional science, and both classic and contemporary culinary techniques. This cookbook features a wide range of recipes, including international twists on popular favorites such as Coconut French Toast with Thai Ginger Maple Syrup (page 62); healthy versions of quick and satisfying meals like Mushroom Cheesesteaks (page 203) and Linguine with Pumpkin Sage "Alfredo" and Kale Pesto (page 192); and restorative preparations such as Morning Broth (page 279) and Cucumber, Kale, Ginger, and Apple Juice (page 292).
Our cuisine needs to please anywhere from two hundred to six hundred individual palates a day, so these recipes come with simple adaptations for special diets, allowing you to serve a single dish such as Sautéed Barramundi with Harissa, Toasted Almonds, and Honey (page 212) to vegans and vegetarians as well as omnivores by replacing all or part of the fish with plant-based proteins such as tofu. About 80 percent of the recipes are naturally vegetarian and the other 20 percent come with easy vegan and vegetarian options. Many of our guests eat gluten-free, so we also include recipes for our most tried-and-true baked goods, such as Gluten-Free Salted Double Chocolate Chip Cookies (page 253), Gluten-Free Whole-Grain Vegan Brownies (page 261), and Gluten-Free Vegan Swami Kripalu Birthday Cake (page 273).
But this is not just a cookbook. At Kripalu, our mission is to empower you to realize your full potential through the transformative wisdom of yoga, a union of mind and body. A critical part of any unified health practice is a nutritious diet, and this book helps you find the optimal diet for you. We include a simple test to determine your personal nutrition profile, and explain which foods are best for you to eat. To help you achieve and maintain your ideal health, every recipe in this book is marked as balancing or imbalancing for your personal constitution.
This concept of personal nutrition and personal choice is central to everything we do in the Kripalu Kitchen. We believe that each person has a unique path to health, and our goal is to gently guide you along that path. Let's get started!
Excerpted from The Kripalu Kitchen by Jeremy Rock Smith with David Joachim. Copyright © 2019 by Jeremy Rock Smith. Excerpted by permission of Ballantine Books. All rights reserved. No part of this excerpt may be reproduced or reprinted without permission in writing from the publisher.
Jeremy Rock Smith, Kripalu faculty and a graduate of the Culinary Institute of America, began his career in classical French cuisine.
Full Bio and Programs