Four Things Yoga Teachers Should Know About Kripalu Vinyasa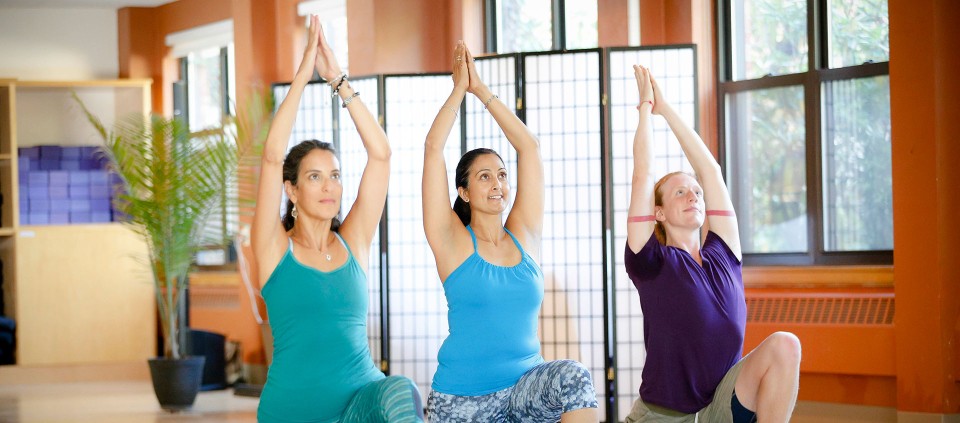 Training in Kripalu Vinyasa can offer you a whole new way of thinking about sequencing and alignment; empower you to incorporate creative themes and yoga philosophy into your teaching; and broaden your tool kit and scope of knowledge. Here are four things you might not know about Kripalu Vinyasa.
It looks a little different, but it's still got the Kripalu DNA. Kripalu Vinyasa retains all the foundational ingredients and core teachings of Kripalu Yoga—including Kripalu Yoga's essence as a mindful, compassionate practice. Like any Kripalu Yoga class, a Kripalu Vinyasa class includes asana, pranayama, and meditation, and taps into the intelligence of prana, a hallmark of Kripalu Yoga. We're simply adding another layer of investigation and understanding, without taking anything away.
It doesn't have to be vigorous. People often associate vinyasa yoga with power yoga, but power yoga is just one style of vinyasa. The Kripalu methodology for vinyasa has three levels: gentle, intermediate, and vigorous. Each level incorporates mindful movement that's sometimes slower (but slower doesn't have to mean easier). We build each pose from the ground up, focusing on synchronizing breath with movement, and making time for sustaining and integrating postures. Kripalu Vinyasa is appropriate for all levels, when taught at the appropriate level; I've even created a chair vinyasa flow. It's also important to realize that you can create vigorous vinyasa classes without doing the typical sequence of Chaturanga/Upward Dog/Downward Dog, if you have students who are unable to safely practice that particular flow.
It's all about the sequencing. The template I've created for sequencing Kripalu Vinyasa classes is based in a deep understanding of the fascia and what makes sense anatomically to create balance and safety. It follows a natural evolution and expression of movement in the body, building strength and stability and also providing space for awareness and reflection. We look closely at the transitions, not just the postures; just as in life, sometimes the transitions are the places where it's most important to access creativity, patience, and presence. The template's guidelines serve as riverbanks for the fluidity of the practice; within that structure, there are infinite possibilities for freedom and creativity. Two teachers could be given the same list of postures and create entirely different sequences and variations.
It's a way to practice flow, so we can flow off the mat, too. Kripalu Vinyasa invites practitioners to experience yoga as a journey of aligning with the rhythms of life—learning to flow gracefully through the different seasons and the different flavors of each day and each moment. In Kripalu Vinyasa training, we look at how teachers can use themes in class—from simple, universal themes to more complex, subtle ones—to deepen the practice for students and increase their levels of awareness and exploration, so they can take that self-knowledge off the mat. In a sense, vinyasa practice invites us to create a narrative through the body, to embody our story as we come into alignment with the constant change and movement of life.
Find out about upcoming Kripalu Vinyasa trainings with Coby Kozlowski.
© Kripalu Center for Yoga & Health. All rights reserved. To request permission to reprint, please email editor@kripalu.org.
Coby Kozlowski, MA, E-RYT, is a faculty member for the Kripalu School of Yoga and author of One Degree Revolution: How the Wisdom of Yoga Inspires Small Sifts That Lead to Big Changes.
Full Bio and Programs