Greens: Nutrition Superstars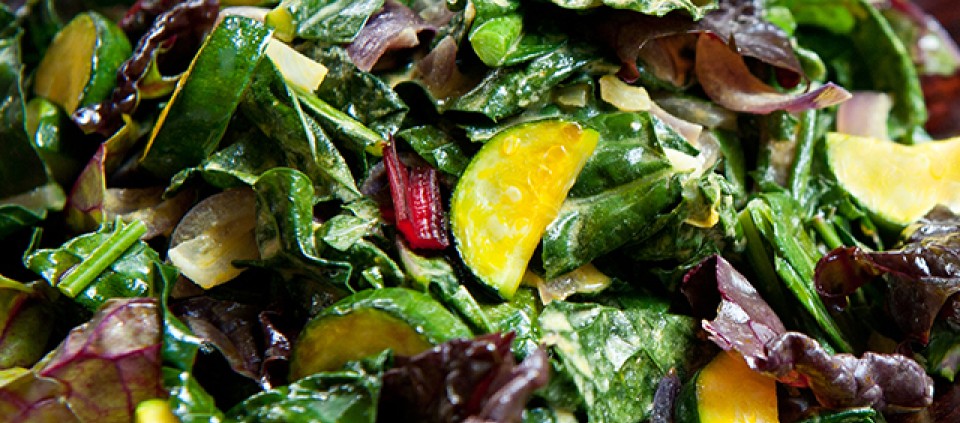 Cooking with leafy greens is quick and delicious, and, when it comes to nutrition, greens are superstars. They're anti-inflammatory, detoxifying, help prevent certain cancers, enhance vision, and are high in fiber and low in calories. Rich in antioxidants and minerals, including calcium and iron, greens such as kale, mustard greens, collards, spinach, and chard also have modest amounts of omega 3s.
Toss your greens in soups, stir frys, salads, smoothies, and sauces. Feel free to vary the greens according to the season, your mood, and what you have on hand in your garden or fridge.
Here's a recipe for a yummy side dish of greens in a creamy, dairy-free sauce, perfect on its own or over grains or pasta. Think creamed spinach, but heartier and higher in calcium. Feel free to use collard greens, chard, or beet greens instead of kale. If you haven't cooked with umeboshi vinegar before, you're in for a treat—it has a delicious lemony and salty flavor. If you like, swap out the umeboshi for fresh-squeezed lemon and sea salt. If you can't find red palm oil, use extra virgin olive oil or sesame oil.
Greens in Garlic Tahini Sauce
Serves 4.
2 tablespoons extra virgin olive oil, sesame oil, or Nutiva Organic Red Palm Oil
½ cup red or yellow onion, coarsely chopped
5 cloves garlic
2½ cups zucchini, sliced in half moons
5 cups kale, tightly packed, chopped into bite-size pieces
1 cup water
2/3 cup tahini
2 tablespoons umeboshi vinegar
Heat the oil in a wok or large skillet over medium-high heat. Add the onions and garlic, and sauté for about three minutes to blend the flavors. Add the zucchini and sauté for another three minutes. Add the kale and sauté for about five minutes, until it wilts. (Cook longer if you prefer the kale more tender.)
Push the vegetables to the side of the wok. Add the water, tahini, and umeboshi vinegar and stir it into a creamy sauce. Gently stir the vegetables into the sauce.
Adjust the seasonings as desired: Add more umeboshi vinegar for a tangy, saltier flavor. For a creamier consistency, add more tahini and water.
© Kripalu Center for Yoga & Health. All rights reserved. To request permission to reprint, please e-mail editor@kripalu.org.
Leslie Cerier, "the organic gourmet," is an internationally recognized farm-to-table chef, recipe developer, author of six cookbooks, and educator. She...
Full Bio and Programs