Grilled Harissa Cauliflower with Corn and Avocado Relish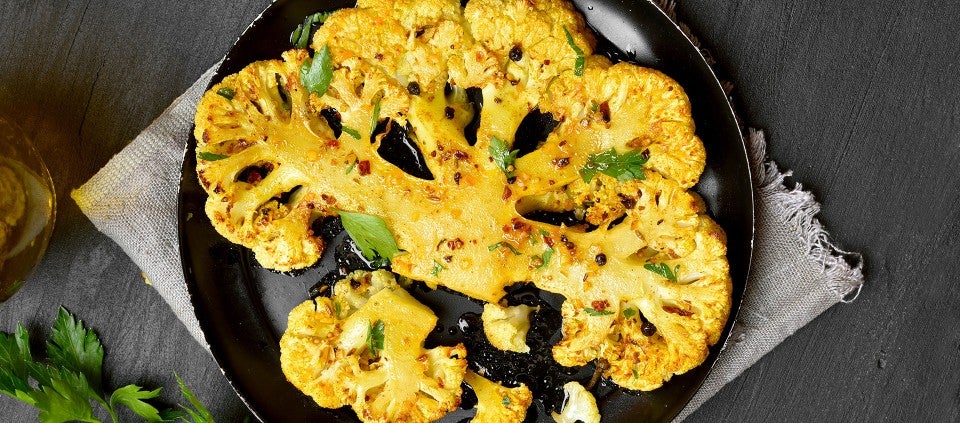 This is one of Kripalu Executive Chef Jeremy Rock Smith's favorite side dishes.
For relish:
2 tablespoons rice wine vinegar
1 tablespoon coconut sugar
2 tablespoons olive oil
2 cups corn, cut from one cob
¼ cup red bell pepper, small diced
¼ cup red onion, small diced
¼ cup cucumber, small diced
2 tablespoons dill or parsley, chopped
½ avocado, diced
1 head of cauliflower, halved and cut into 1-inch thick "steaks"
2 tablespoons grapeseed oil
Salt and black pepper
1 tablespoon dry harissa spice
Preheat outdoor grill.
Mix vinegar, coconut sugar, and olive oil until sugar is dissolved. Combine the rest of ingredients for the relish. Season with salt and pepper. Set aside.
Coat cut cauliflower with grapeseed oil. Lightly coat both sides with harissa spice, and sprinkle with salt and pepper.
Place steaks on the grill and cook until lightly browned, 3 to 5 minutes. Flip, turn heat down to medium and grill 10 to 12 minutes, or until cooked through.
To serve, divide cauliflower on plates and top with relish.