Kripalu Recipe: Chickpea Fritter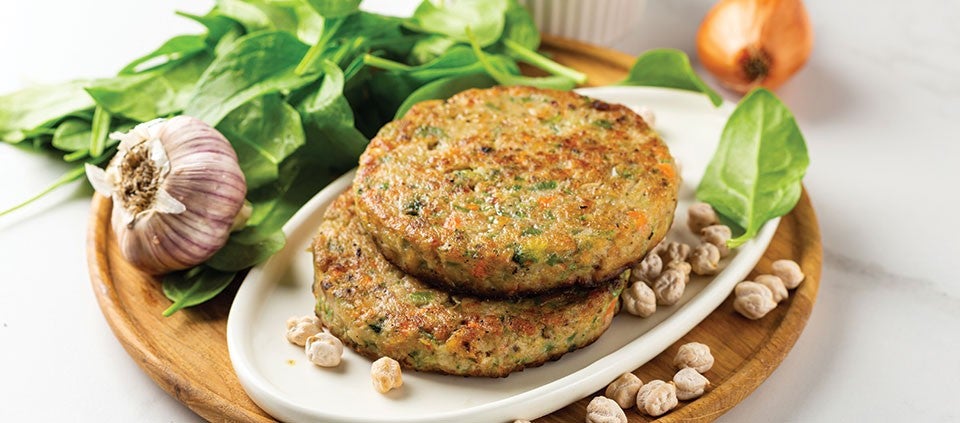 The always-available, pantry favorite chickpea is ready for a new life with this delicious chickpea fritter recipe sent straight from the Kripalu Kitchen to you.
1 15 oz can of chickpeas
2 tsp chopped garlic
½ cup diced onion
2 tbsp jalapeño, finely diced
½ cup diced red pepper
¼ cup Dijon mustard
2 tbsp olive oil
¼ –½ cup chickpea flour
¼ cup nutritional yeast
½ bunch of parsley, finely chopped
6 scallions, thinly sliced
2 tbsp flaxseed soaked in ¼ cup water
Drain and rinse chickpeas; reserve liquid. Mash chickpeas (or put in a food processor) until roughly chopped. Transfer to bowl.
Sauté onions and garlic in a pan until translucent. Set aside to cool.
Add to chickpeas all the remaining ingredients except chickpea flour. Mix well until ingredients are evenly distributed, then add flour to bind the mixture. If the mix seems too wet, add more chickpea flour. If the mix seems too dry, add some of the reserved chickpea brine. Form into cakes, sear in a sauté pan, and then finish in the oven until thoroughly heated.
Enjoy!
Steve Sherman, longtime Kripalu employee, brings his culinary creativity to Kripalu from some of the finest restaurant kitchens in the Northeast, and the results are as healthy as they are delicious.
Full Bio and Programs