Kripalu Recipe: Ginger Almond Broccoli Salad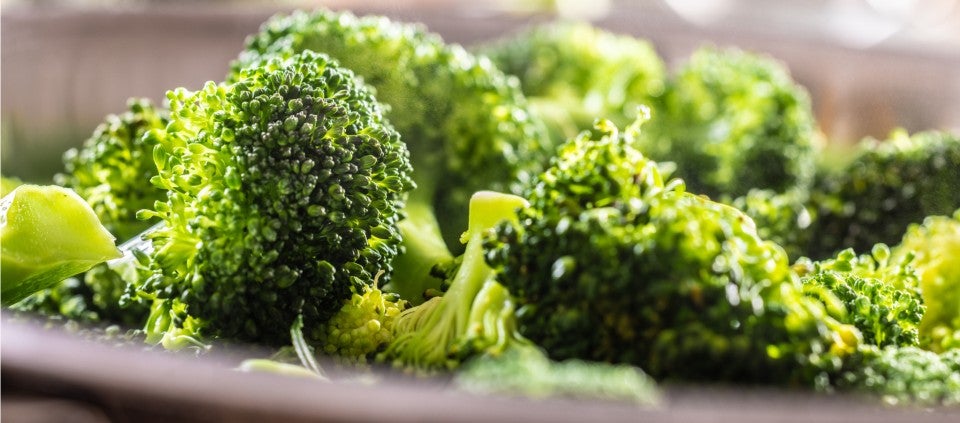 Use the flavors of the season in this summery broccoli salad with an invigorating almond ginger dressing.
For Salad
1 ¼ cups small broccoli florets
1 ¼ cups scrubbed and shredded carrots
1 ¼ cups shredded bok choy (leaves and bulbs sliced crosswise super thin)
½ cup paper-thin slices red radish (use a mandolin)
For Almond Ginger Dressing
6 tablespoons almond butter
Zest and juice of 1 lime
2 tablespoons honey or agave
1 tablespoon toasted sesame oil
2 ½ teaspoons minced fresh ginger
1 teaspoon minced garlic
½ teaspoon fine sea salt
Pinch of cayenne pepper
1 ½ tablespoons chopped fresh cilantro
For the salad, blanch the broccoli by bringing 6 cups of water to a boil in a medium saucepan. Drop in the broccoli and blanch for 2 minutes. Use a strainer to remove the broccoli from the water and then run cool water over the broccoli for a minute or two to stop the cooking. Let drain and reserve.
For the dressing, spoon the almond butter into a medium bowl. Whisk in the lime zest and juice, honey, sesame oil, ginger, garlic, salt, cayenne, and cilantro until the dressing is well blended and creamy. Add the blanched broccoli, carrots, bok choy, and radishes. Serves 4.
Jeremy Rock Smith, Kripalu faculty and a graduate of the Culinary Institute of America, began his career in classical French cuisine.
Full Bio and Programs