Healing the Healers: Five Ways to Keep Burnout at Bay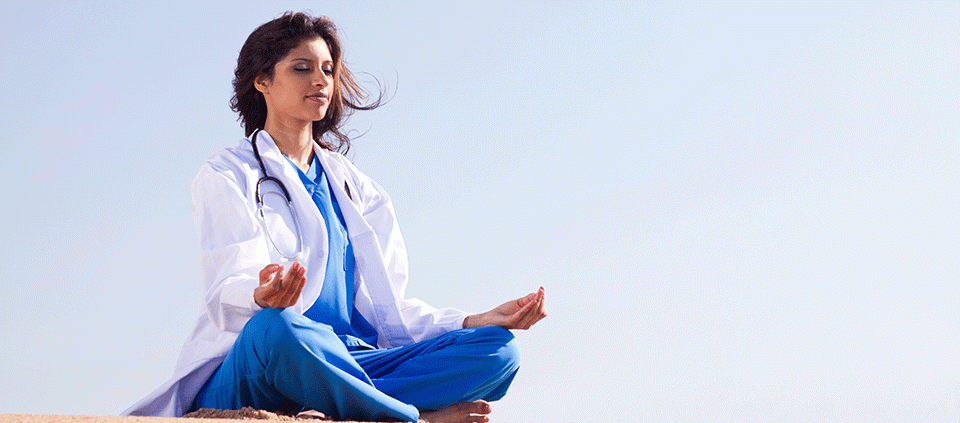 In her 37 years in the healthcare field—first as an RN and now as a physician assistant in Grand Rapids, Michigan—Nanette Bowen never imagined that she'd be asking doctors and nurses to close their eyes and do a body-scan meditation during grand rounds.
"I couldn't believe I was doing it, because I'm actually pretty shy, but I believe so deeply in these practices that I was completely inspired," she says.
Along with her training in Western medicine, Nanette is a Kripalu Yoga teacher, yoga therapist, and Kripalu-trained Ayurvedic Health Coach. She's also trained in iRest Yoga Nidra, LifeForce Yoga, Reiki, Thai-shiatsu bodywork, and Healthcare Professional-Level Mindfulness-Based Stress Reduction in Mind Body Medicine. When she's not at her day job, she teaches yoga to patients with cancer, and offers private consultations, workshops, and teacher trainings.
Nanette is using all these skills to help effect change in her corner of the Western healthcare system—teaching Ayurveda, yoga, and mindfulness techniques to physicians, residents, nurses, social workers, executives, and dietitians. She is particularly interested in the topic of burnout, which has become a crisis in healthcare, and is currently involved in a pilot research study that incorporates gratitude and breathwork into the daily huddle for nurses. If it's found to be helpful, her local healthcare system hopes to incorporate it system-wide.
The Toll of Burnout
Burnout among healthcare professionals runs both broad and deep. A report published by the Critical Care Societies Collaborative revealed that nearly half of all critical care physicians and one-third of nurses report symptoms of severe burnout syndrome. In addition, 86 percent of nurses have at least one of the three classic symptoms of burnout: emotional exhaustion (feeling drained and hopeless), depersonalization (becoming detached and uncaring), and reduced accomplishment (feeling as if what you are doing isn't helpful and doesn't matter).
Nanette says that she has never before seen the levels of burnout she's seeing now. The fallout from the political turmoil around health insurance intensifies what's already one of the most stressful jobs imaginable. In fact, nurses have higher levels of post-traumatic stress disorder (PTSD) than military veterans: One study found that 24 percent of ICU nurses and 14 percent of general nurses have PTSD, compared to 11 to 20 percent of military veterans.
"Healthcare providers, moment after moment, are faced with suffering," Nanette says. "We often build walls that we think will keep us safe, but when those walls get too thick, we become irritable and less present for patients."
The repercussions of burnout play out on multiple levels, she says, impacting the individual suffering from burnout and their family, the patients they serve, and, ultimately, society at large. Burnout has tremendous costs—physically, mentally, and financially.
But Nanette believes that the healthcare system is on the cusp of making real change. She is a part of a growing movement that's introducing practices like yoga nidra, breath work, meditation, mindfulness, and Ayurveda into hospitals and clinics—not just for patients, but also for healthcare providers.
"Caregivers tend to forget that we are patients, too, and we need the same kind of preventive medicine that we give the people who come to us for help," she says.
Here are five ways that healthcare professionals—and anyone else working in a high-stress environment—can build resilience and keep burnout at bay.
1. Cultivate awe and wonder.
Positive emotions, particularly awe and wonder, have been found to impact our physical health, as well as our state of mind, according to a 2015 study. Researchers conducted two experiments designed to measure the effect that positive emotions have on the cytokine Interleukin-6 (IL-6), a marker for inflammation. "That awe, wonder, and beauty promote healthier levels of cytokines suggests that the things we do to experience these emotions—a walk in nature, losing oneself in music, beholding art—have a direct influence upon health and life expectancy," said Dacher Keltner, coauthor of the study and a psychologist at the University of California-Berkeley.
2. Build mindfulness practices into your day.
"Mindfulness is just like any other muscle," Nanette says—use it or lose it. But instead of exercising those muscles in one big "mindfulness workout" every day or a few times a week, she tells people to do what she calls micro-resiliency practices, integrating moments of mindfulness here and there throughout the day. For example, do a few Three-Part Breaths while you're waiting for the elevator to arrive or when you're stopped at a red light on the way to or from work.
3. Strengthen your emotional digestive system.
Here's where the teachings of Ayurveda come into play. "Ayurveda has simple tools you can embed in daily life to help not only with physical digestion, but also with how we digest our emotions, feelings, and thoughts," Nanette says. These include mindful eating, deep rest, daily self-care routines, and sleep. Read "Five Tips for Boosting Your Immune System." Ayurveda is all about preventive medicine, Nanette says, noting that there are six stages of disease in Ayurvedic philosophy—and Western medicine doesn't tend to recognize a problem until we're already at stage four.
4. Create connection.
A strong sense of support and community has a powerful impact on resilience and morale, Nanette says. "We need to provide ways that healthcare professionals can reach out to each other, and allow ourselves to be vulnerable," she says. For example, she has the nurses she's working with do a gratitude practice, sharing something they're grateful for that day—which not only creates positive emotion (see #1) but also empathy.
5. Breathe more.
"When it comes to healthcare providers, the sympathetic (fight/flight/freeze) nervous system has plenty of opportunity to be engaged," Nanette says. "We really need to activate the parasympathetic nervous system, and breath is the quickest way to do that." Taking deep breaths also increases oxygen and blood flow in the lungs. Nanette recommends Mark Hyman's Take 5 Method: Take five deep breaths five times a day (it could be first thing in the morning, before meals, and before bed), with a five-second inhale and a five-second exhale.
"These techniques can be such powerful medicine, and the healthcare community really needs it," Nanette says. "These practices are one way to find our way back to our sense of purpose, which has the potential to fix the system, as well as individual healthcare practitioners. We have to heal the healers."
Find out about upcoming programs with Nanette Bowen.
© Kripalu Center for Yoga & Health. All rights reserved. To request permission to reprint, please e-mail editor@kripalu.org.