How to Keep Your Teaching Fresh: Yoga Instructors Share Their Secrets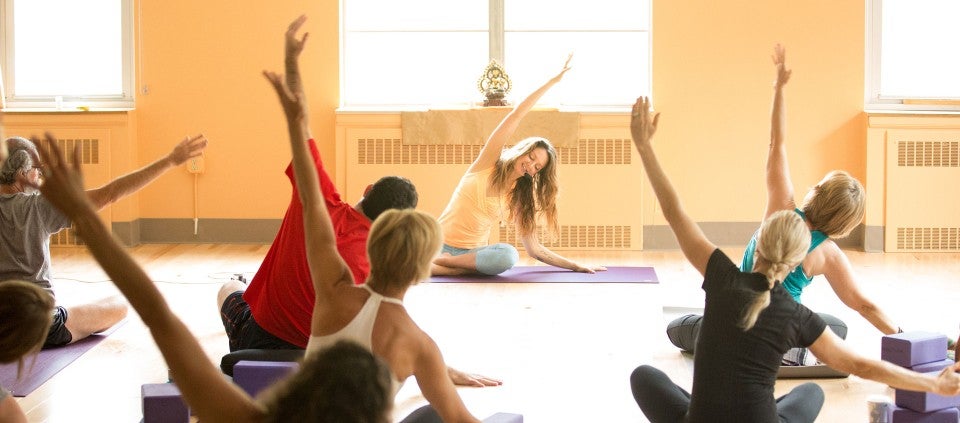 Keeping your yoga teaching fresh and inspired is not only great for your students, it's essential for you. Your students can sense when you're feeling stagnant, just as they can tell when you're passionate about what you're doing, and they will reflect that energy back to you.
When planning for a yoga class, there are several things to take into consideration: Is it a vigorous, intermediate, beginner, or gentle class, or one designed for a specific population? What will the students need/expect? What can you bring from your own life and your own experience today? As yoga teachers, plan as we might, we need to be able to hold those plans loosely and be willing to accommodate the circumstances of the class—location, noise level, etc.—and the needs of the group. Keeping a malleable perspective encourages us to stay in the present with our students.
Planning your class as you would a narrative—with a beginning flow, a middle flow, a peak pose that you build up to, and an ending—provides a structure within which you can play and be creative. Working on a peak pose over a series of classes can be a powerful way to keep your students engaged and coming back for more.
Even if you're teaching the same sequence every time, there are ways to tap into your creativity with each class. Bringing a particular intention or focus to the practice can change the overall bhav, or tone/internal experience, of the flow. For example, if you sense that your students need a more energetic practice, you can inspire that energy with your enthusiasm, the timbre of your voice, and the words you use.
I asked a selection of Kripalu presenters and faculty to share how they keep their teaching fresh, both for themselves and for their students.
Sage Rountree, author of several books on yoga for athletes and yoga sequencing: Our practice grows when we have a good balance of consistency and variety. First, we need the consistent elements of a class: a warm-up, standing poses, seated poses, and a closing sequence. Then, we need variety to keep our students engaged and adapting. Too much consistency and the class gets stale; too much variety and the students are confused.
Jennifer Reis, Kripalu Schools faculty: Yoga sequencing for me is a creative process similar to art-making and meditation: I listen to the moment, and images of what needs to happen show up on my inner screen. I am simply following it, trusting that this moment is revealing what is true and fertile. I'm never quite sure what will happen next, and that keeps it alive and exciting.
Janna Delgado, Kripalu Schools faculty and lead trainer for the Kripalu Yoga in the Schools Teacher Training: A quick check-in at the start of class can give you great information and inspiration, plus it builds a connection between you and your students. I also customize my classes based on factors such as the time of day, the season, and the weather.
Jurian Hughes, Kripalu Yoga teacher trainer, Let Your Yoga Dance® trainer, and Kripalu faculty: I am constantly reminded of the wisdom of the phrase "Planning is priceless, plans are useless." I might have plans for an energizing, playful practice but if most of the room is in Savasana before we even begin, I have to rethink! I try to stay open to what's present in the room by watching before and during a class for clues to use in adjusting my approach.
Allison Gemmel Laframboise, Kripalu Yoga teacher and cofounder of KDZ: The Kripalu Drummers: To keep my yoga teaching alive and creative, I ask myself, "What can I say to my class today about yoga that is real for me right now, in this moment?" This connects me to my truth and helps me deliver a fresh, authentic experience.
Ray Crist, Kripalu Yoga teacher certified in Reiki and Thai Yoga: When you stand in front of a group, your job is to lead. Increase the volume of your voice and slow down your pace. By stepping fully into that role, you allow the students to surrender into their practice and not have to think, but rather feel, allow, and experience.
© Kripalu Center for Yoga & Health. All rights reserved. To request permission to reprint, please e-mail editor@kripalu.org.
Sarajean Rudman, E-RYT 500, is a clinical nutritionist, Kripalu Yoga teacher, Ayurvedic practitioner, life coach, fitness instructor, and outdoor adventure guide.
Full Bio and Programs