How to Savor the Holidays Mindfully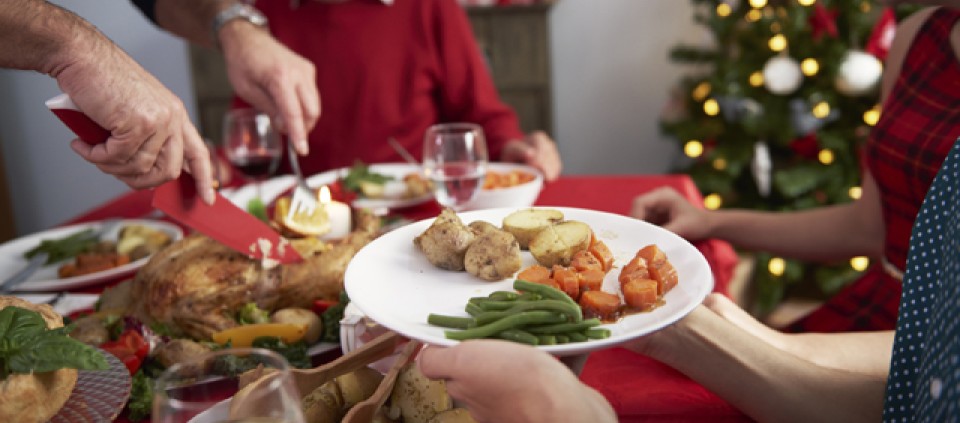 Ah, the holidays hover! And inherent in them is the potential for indulgence and imbalance, along with celebration and joy. How do we continue our commitment to self-care, while living in the reality of the season's abundance? How do we give to ourselves the celebration of the season without guilt or shame? How do we "mindfully indulge," side-stepping the slippery slope of deprivation—we know that doesn't work—and appropriately give to ourselves of available cheer?
There are external and internal practices that can support us in this holiday balancing act. As an external strategy, before going to an event, eat a little bit. To be too hungry, to wait for food, amplifies the possibilities of losing balance. Also, if possible, take appropriate food with you, food that works for you. In the spirit of giving, share your food—how lovely to have your needs met while offering it to others. And finally, practice balance—what a concept! If you do have an unusually big dinner, let the next day's breakfast and lunch be lighter. Rather than adding more to the already existing more, let the splurge be fine and enough; let it be followed by lighter.
As an internal strategy, practice Swami Kripalu's invitation to observe our behavior without judgment, as a mindful inquiry. What is your intention for self-care and the holidays? Take a moment—breathe, relax, and consider. Perhaps even write out your plan. Sugar or limited sugar? Do you want to limit your alcohol intake or not? Get clear. And then, practice. At any moment, you can realign your actions to support your intention. Notice your actions; as you watch them diverge from your intentions, a door is opened. Let this door, through loving-kindness, be an invitation back to realignment. As a practice, notice, relax, and realign, with self-compassion.
And, most important, feed yourself on the true spirit of the holiday. Give to yourself the deliciousness of the return of the light. Let the sweetness you ingest be that of connection and love. Make the internal decision to live in the full spirit of the holiday, and create steps externally to make this happen. Live the spirit of the holiday season, and let that be the feast you savor.
©Kripalu Center for Yoga & Health. All rights reserved. To request permission to reprint, please e-mail editor@kripalu.org.
Aruni Nan Futuronsky is a Kripalu Yoga teacher, life coach, and Legacy Faculty member for Kripalu R&R and Kripalu programs.
Full Bio and Programs