Kripalu Recipe: Almond Date Balls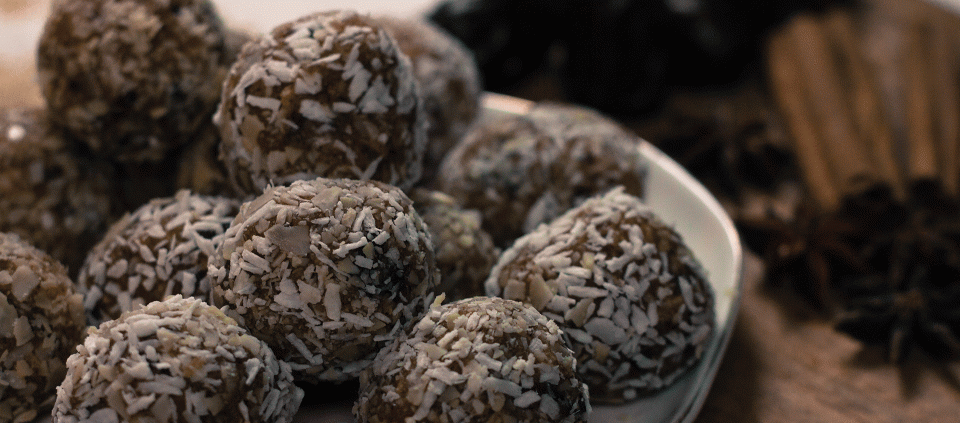 An important component to any celebration is the inclusion of a little something sweet, created with loving intention. In the Kripalu tradition back in the day, that little post-celebration sweet was often a small ball of dried fruit and nuts rolled in coconut or more nuts. In the Indian tradition, when food is offered as prayer, it's called prasad, and is said to contain the energy of the prayer.
Feel free to experiment with a variety of dried fruit, nuts, and spices, which offer a diverse range of nutritional benefits. Studies have confirmed what has been known for centuries in Ayurvedic medicine and areas of Asia: Cardamom helps with digestion and lowers blood pressure. Researchers gave laboratory animals crude cardamom extract in moderate doses, and observed significant changes in the animals' ability to tolerate changes in diet with reduced stress and a lower systolic blood pressure.
Almonds, another ingredient in this recipe, are high in minerals, and are approximately 72 percent monounsaturated (good) fat, which promotes the fluidity of cell membranes and enhances cellular communication and overall function.
Makes 12–20, depending on size (but you will want to make more!)
8 whole pitted dates
¼ cup raisins
½ cup raw whole almonds
1 teaspoon ghee (optional)
2 tablespoons honey
½ teaspoon plus ground cardamom (or to taste)
¼ teaspoon vanilla
½ cup ground coconut or nut of choice
Soak the dates and raisins in hot water for five minutes. In a food processor, grind the almonds, stopping before they become pasty. Drain the dates and raisins, saving the soaking water, and add to the food processor with the ghee (if using), honey, cardamom, and vanilla.
Mix until the dried food is well blended, but be careful not to overblend or it will become a paste. You may need to use a little bit of the fruit-soaking water to get the right consistency, especially if you're not using ghee.
Remove mixture from blender and roll into small balls. Roll each ball in either ground coconut or ground nuts. Refrigerate balls before serving; they will keep for two weeks in the refrigerator.