Kripalu Recipe: Aloo Gobi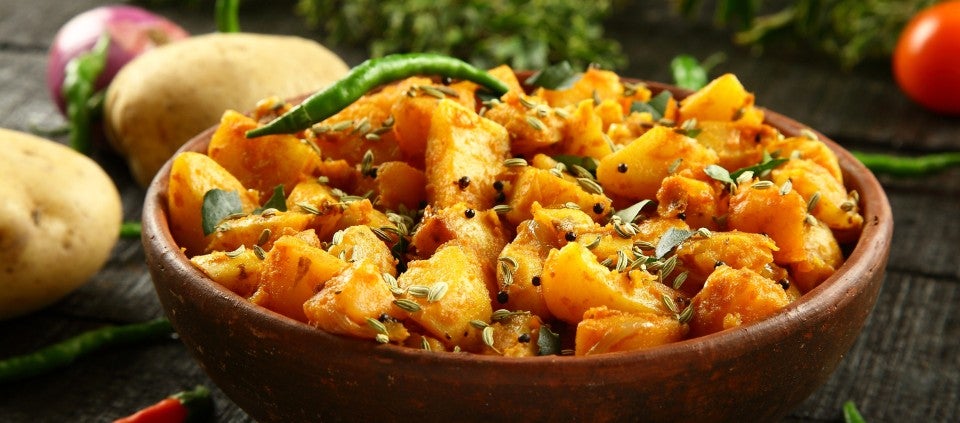 For a flavor-packed vegetarian curry, try Kripalu's take on this delicious and warm Indian staple.
3 tablespoons ghee (or substitute coconut oil)
1 shallot, finely chopped
4 cloves garlic, finely chopped
1 teaspoon fresh ginger, finely chopped
1 serrano chile, finely diced
2 teaspoons cumin seed
1 teaspoon brown mustard seed
½ teaspoon ground turmeric
½ teaspoon paprika
1 teaspoon ground coriander
1 medium-sized tomato, small diced
2 cups large diced potato
1 head cauliflower
¾ cup water
1 teaspoon salt
Cilantro, for garnish
In a medium/large saute pan, saute shallot, garlic, ginger, and serrano pepper for about 3 to 4 minutes, add cumin seed and mustard seed and saute another 1 to 2 minutes.
Reduce heat and add remaining spices and diced tomato. Reduce tomato down to low heat for 3 to 4 minutes.
Add water and salt to pan and stir. Get any of the browned ingredients from bottom of pan.
Add potato and cauliflower, and toss to coat. Cover and bring to a simmer over low heat. Cook until tender, about 10 to 15 minutes. Uncover and reduce until all liquid is gone. You will want this fairly dry.
Spoon into a serving dish and garnish with fresh cilantro.
Jeremy Rock Smith, Kripalu faculty and a graduate of the Culinary Institute of America, began his career in classical French cuisine.
Full Bio and Programs