Kripalu Recipe: Creamy Vegan Zucchini Soup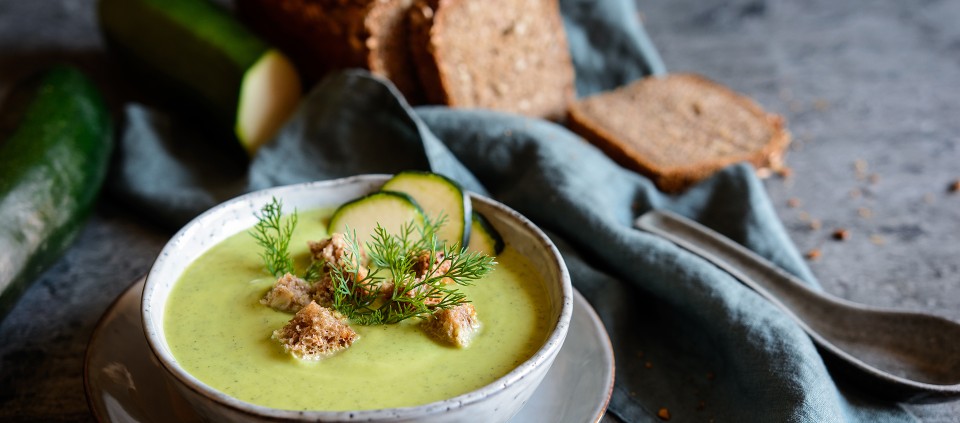 Feeling overwhelmed by a bumper crop of summer squash? How about turning those zucchinis into a simple seasonal soup? According to Ayurveda, zucchini is a cooling and sweet vegetable. It is said to help purify the blood, and also works as a mild diuretic and a refrigerant, helping to cool the body—which makes it a perfect summer food. This soup is quick to make, refreshing, and delicious.
2 large or 4 medium-size zucchini, sliced into ½-inch half moons
1 large yellow onion, chopped
2 tablespoons olive oil
1 teaspoon salt
Black pepper to taste
In a large stock pot, warm the olive oil on medium heat. Add the onions and sauté until translucent. Toss in the sliced zucchini and stir until coated with oil. Sprinkle with salt and a hefty amount of black pepper.
Continue to sauté for about 5 minutes. Reduce heat to low, add ¼ cup of water and cover the pot. Allow the zucchini to steam until soft, another 5 minutes or so.
Once soft, remove from heat and pour the contents into a blender or food processor. Whirl until completely smooth. Add more salt to taste.
Lauren Gernady is an Ayurvedic Health Counselor, a 500-hour Ayurvedic Yoga Teacher, a graduate of the Kripalu School of Ayurvedic (KSA), and a former intern and Academic Coordinator of KSA.
Full Bio and Programs