Kripalu Recipe: Famous Tomato-Cheese Pizza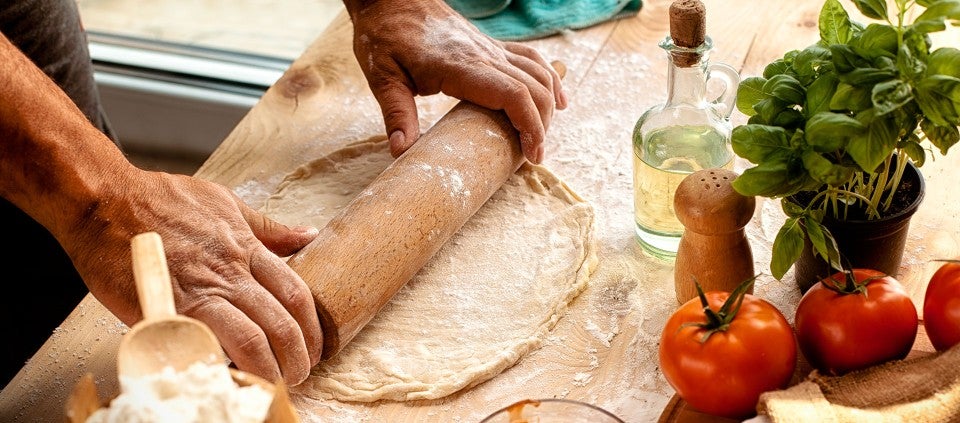 For many years, Kripalu has been known for its outstanding vegetarian pizza. Its origins lie in the experiments of a long-ago Kripalu cook named Narendra, a former Italian chef. Legend has it that Narendra would stand at the back door of the kitchen and beckon to residents to taste his latest creation. Narendra's humor and his pizza delightfully kept us from taking our diet too seriously. Since his departure, our cooks have experimented with many different textures and toppings, and our legendary pizza continues to improve.
Makes one 9 x 12-inch pizza.
1 recipe Tomato Pizza Sauce (see below)
1 recipe Basic Pizza Dough (see below)
¼ cup chopped onions
¼ cup sliced fresh mushrooms
¼ cup chopped green bell peppers
¼ cup pitted sliced black olives
¾ cup shredded mozzarella cheese
¾ cup shredded cheddar cheese
Prepare the first two recipes. Preheat oven to 500 degrees F. Spread the prepared sauce on the baked crust. Add all of the vegetables and the olives and top with both chesses. Bake for 15 minutes, or until both cheeses are completely melted. Slice and serve immediately.
Pizza Sauce
Makes sauce for two 9 x 12-inch pizzas.
¼ cup olive oil
2 tablespoons chopped garlic
1 tablespoon dried oregano
1 tablespoon dried basil
½ tablespoon dried marjoram
½ teaspoon black pepper
¼ teaspoon dried crushed mild chili peppers
3 cups canned tomato puree (one 28-ounce can puree)
3 cups canned crushed tomatoes (one 28-ounce can tomatoes)
½ cup canned tomato paste
1 teaspoon salt
In a large pot, heat the oil and sauté the garlic for 3-5 minutes. Stir in the oregano, basil, marjoram, black pepper, and chili peppers. Add all of the tomato products and salt and mix together well. Bring the mixture to a boil, stirring frequently. Reduce heat to simmer and cook, stirring occasionally, for at least 20 minutes. Let cool. Use immediately or store, covered, in the refrigerator until ready to use.
Basic Pizza Dough
Makes two 9x12-inch pizza crusts
1 teaspoon active dry yeast
½ cup warm water
2 tablespoons honey or barley malt
3 cups high-gluten flour
1½ cups unbleached white flour
2 tablespoons olive oil
½ tablespoon salt
In a large bowl, combine the yeast, water, and honey. Let stand for 2 minutes. Add both flours, oil, and salt and mix together well, but do not over knead. Put the dough in an oiled bowl, over, and place in a warm place. Let rise for 1 hour.
Punch down the dough and divide in half. Form each half into a ball and wrap in wax paper. Refrigerate overnight. The next day let the dough stand at room temperature for 2 hours.
Preheat oven to 500 degrees Fahrenheit. Roll or flip the dough into desired shape on a large baking sheet and bake for 2–5 minutes. Add the prepared sauce and toppings and bake according to the directions in the above pizza recipe.
Find out about our new cookbook, The Kripalu Kitchen, by Executive Chef Jeremy Rock Smith.