Kripalu Recipe: Life-Changing Chia Cereal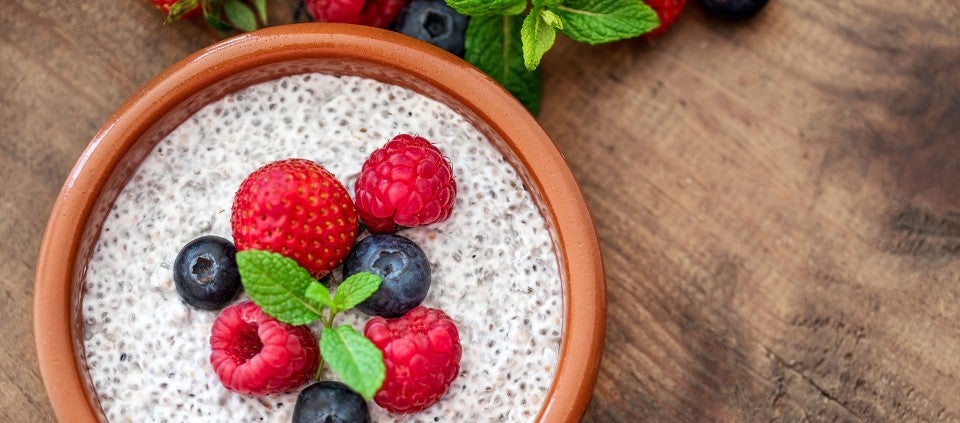 I know, life-changing is a rather bold statement. However, this recipe deserves that title.
The base of this cereal is non-dairy milk and chia seeds. If you haven't tried chia seeds yet, it's time to get on board. There's a reason these seeds have been touted as a superfood for the last few years. Just three tablespoons provide over 40 percent of your daily fiber!
Chia seeds are high in linoleic acid, which help the body absorb and assimilate fat-soluble vitamins (A, D, E, and K), and full of healthy fats—remember, fat is no longer the enemy! They are a rich source of omega-3 fatty acids, which are thought to lower your risk for heart disease, dementia, depression, and arthritis.
This is a great cereal to consume when you are trying to eat a little lighter—think spring/summer, or after a weekend bender. Chia Cereal digests easily and, due to its dairy-free nature, it does not create mucus or aggravate kapha dosha. Bottom line, this cereal is nourishing, vegan—and I would be remiss if I did not mention that, when soaked, their gel-like consistency helps aid in optimal stool formation. Winning at life!
3 tablespoons chia seeds
1 cup hemp milk (recipe below) or non-dairy milk of your choice
½ teaspoon vanilla extract
1 teaspoon cinnamon
1 tablespoon tahini
1 tablespoon large-flake coconut
1 tablespoon hemp seeds
Seasonal fruit, preferably cooked
In a small bowl, combine chia seeds with non-dairy milk. Stir completely to break up any lumps.
Allow the chia seeds to bloom for at least an hour, or overnight. Refrigerate if you are letting the mixture sit overnight, and bring to room temperature before eating.
Stir in the vanilla extract, cinnamon, and tahini. Top with the coconut, hemp seeds, and fruit.
Hemp Milk
1 cup water
3 tablespoons hemp seeds
1 pitted medjool date (optional)
Place all ingredients in a food processor or blender. Blend for about a minute, scraping down the sides of the blender or processor if necessary.
Transfer to a container or use directly on cereal. For creamier milk, run the mixture through a milk bag or fine mesh sieve.
Lauren Gernady is an Ayurvedic Health Counselor, a 500-hour Ayurvedic Yoga Teacher, a graduate of the Kripalu School of Ayurvedic (KSA), and a former intern and Academic Coordinator of KSA.
Full Bio and Programs