Kripalu Recipe: Lung Support Tea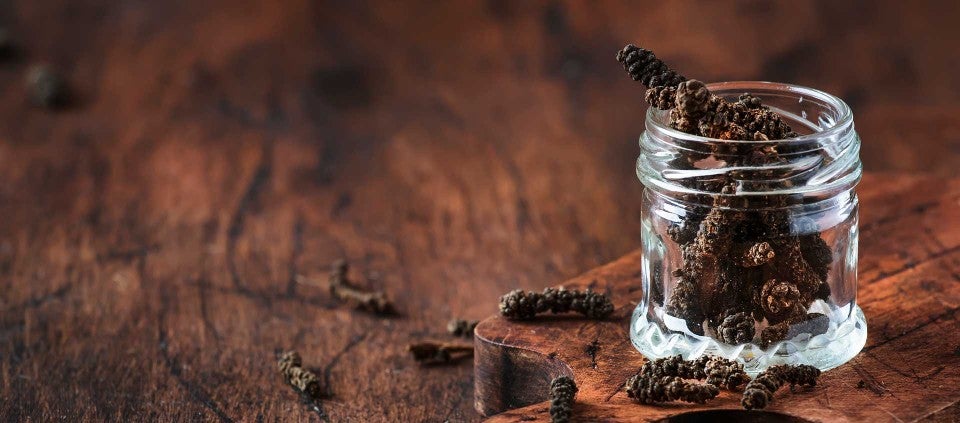 Springtime can be rough for those with a little more kapha (earth and water) in their constitution. In spring, as moisture returns to the air, things get sticky—including your lungs. According to Ayurveda, overproduction of mucus is the result of excess water and earth in the body. To remedy this, we need more heating, circulating, and drying substances.
Pippali, or Indian long pepper (piper longum), is in the Piperaceae family and can be easily found online. In Ayurveda, pippali is highly revered for its ability to support and rejuvenate lung tissue. Ground mustard is heating and circulating, perfect for breaking up mucus. Honey, while sweet, is astringent; its heating properties work to scrape and purify the channels of the body—getting rid of any goo that accumulated during the winter.
If you're a mucus factory or have an overactive immune system that manifests as seasonal allergies or asthma, try this recipe to support your respiratory system.
Lung Support Tea
¼ tsp of ground pippali
¼ tsp ground mustard powder
1 tsp of raw honey
Combine all ingredients and dissolve in 1 cup of hot water.
Lauren Gernady is an Ayurvedic Health Counselor, a 500-hour Ayurvedic Yoga Teacher, a graduate of the Kripalu School of Ayurvedic (KSA), and a former intern and Academic Coordinator of KSA.
Full Bio and Programs