Kripalu Recipe: Multigrain Autumn Cereal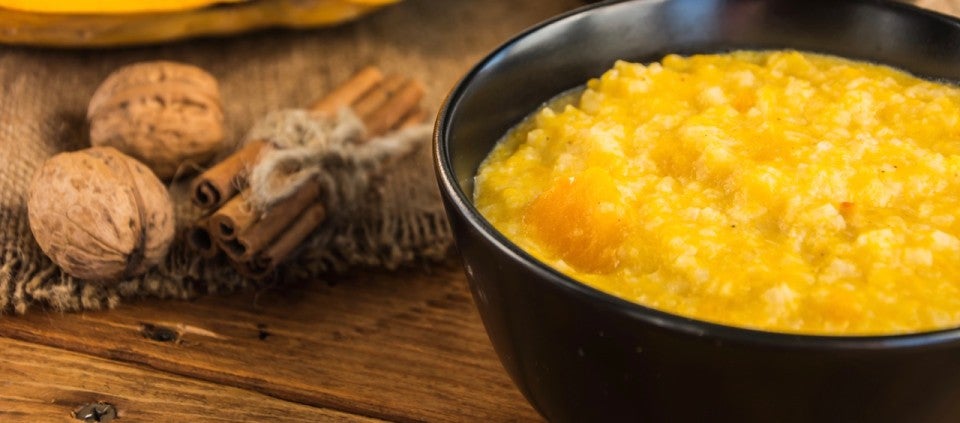 With the change of seasons, fall begins to usher in the qualities of vata dosha, the light, dry, ephemeral dosha. Like vata dosha, the environment becomes more dry, rough, cold, and mobile. To prevent these qualities from accumulating in your body, antidote the fluctuations with opposites. Rather than sticking with the same menu from summer, fall is the time to invite more grounding, warming foods into your diet.
This is one of my favorite fall/winter breakfast dishes. According to Ayurveda, grains have an inherently sweet and earthy nature that lends itself towards more grounding and stability. Sweet potatoes and dates offer even more depth and heft. Top that off with some warming spices and a dollop of ghee, and you are in for a treat that will keep you focused and well nourished in the colder months.
Preparation time 20 minutes. Serves 2.
2/3 cup cereal blend: Select two of the following grains and combine in equal proportions in a mason jar.
Steel-cut oats
Amaranth
Quinoa
Millet
2 and 2/3 cup water
2/3 cup chopped sweet potato
2 Medjool dates, pitted and slightly chopped
1 tablespoon ghee
1 teaspoon cinnamon
¼ teaspoon ground ginger
1/8 teaspoon ground cardamom
¼ teaspoon sea salt
Combine all ingredients in a saucepan. Bring to a boil, drop to a simmer, and cover. Simmer covered for about 20 minutes; it's done when the quinoa is unfurled (if using) and the sweet potato has melted.
Lauren Gernady is an Ayurvedic Health Counselor, a 500-hour Ayurvedic Yoga Teacher, a graduate of the Kripalu School of Ayurvedic (KSA), and a former intern and Academic Coordinator of KSA.
Full Bio and Programs