Kripalu Recipe: Red and Black Bean Chili with Pan Cornbread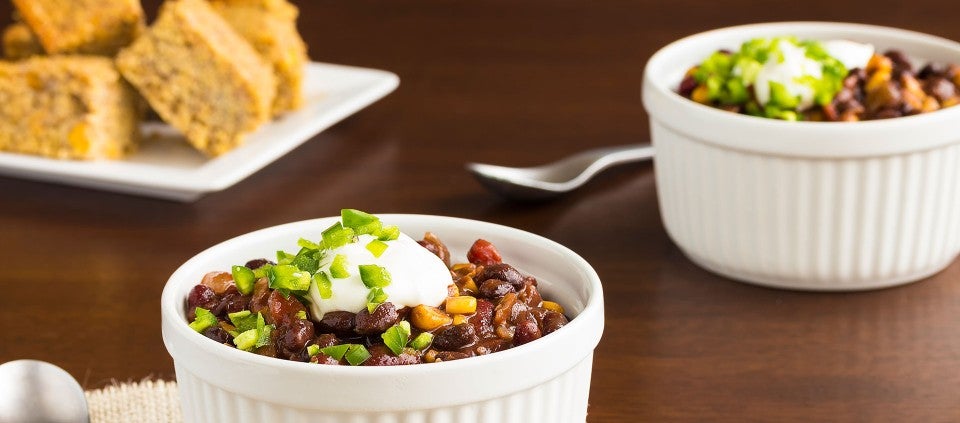 The combination of kidney beans, black beans, fresh cilantro (optional), and seasonings that are a little sweet, a little sour, and very spicy make this an unusual and delicious chili. And it's even better with Pan Cornbread (recipe below).
Red and Black Bean Chili
Serves 6–8
2 cups kidney beans, dry or canned
1½ cups black beans, dry or canned
14 cups boiling water or vegetable stock
2 bay leaves
¼ cup olive oil
2 cups chopped onions
2 tablespoons chopped garlic
1½ cups diced green bell peppers
1 16-ounce can diced tomatoes
1 tablespoon dried oregano
1½ tablespoons ground cumin
1½ tablespoons ground paprika
1 teaspoon cayenne pepper
1½ tablespoons chili powder
1 teaspoon dried crushed mild chili peppers
2 tablespoons dried basil
½ cup frozen corn kernels
2 teaspoons salt
1½ cups canned tomato paste
¼ cup chopped fresh cilantro (optional)
2 tablespoons lemon juice
If using dry beans, wash and soak overnight. Bring to a boil with 14 cups water and reduce heat to medium-high. Add the bay leaf, and cook, stirring occasionally, for 1 hour 45 minutes.
Meanwhile, in a large, deep skillet, heat the oil and sauté the onions and garlic for 3–5 minutes. Mix in the bell peppers, tomatoes, oregano, cumin, paprika, cayenne pepper, chili powder, chili peppers, frozen corn kernels, and basil and sauté for 5 minutes more. Set aside.
After 1 hour and 15 minutes, add the reserved vegetable mixture, salt, and tomato paste to the beans and cook for 30 minutes more, or until the beans are soft. If using canned beans, add them at this point and cook until the chili is thoroughly heated. Add the cilantro and lemon juice and serve.
Pan Cornbread
Serves 6–8
Olive oil for oiling the baking pan
2½ cups cornmeal
1½ cups whole-wheat pastry flour
1 1/3 cups unbleached white flour
3 tablespoons baking powder
1 teaspoon salt
1¼ cups water
1 1/3 cups soymilk (or desired milk)
2/3 cup canola oil
½ cup pure maple syrup
½ teaspoon pure vanilla extract
Preheat oven to 400 degrees F. Oil a 9x12-inch baking pan with olive oil.
In a large bowl, mix together all of the dry ingredients. In a separate bowl, stir together all of the wet ingredients. Add the wet mixture to the dry mixture and mix together until just blended.
Turn out the batter into the pan and bake for 20–25 minutes, or until a tester inserted in the center comes out clean. (The corners of the corn bread may start to turn brown; if so, reduce heat to 375 degrees for remaining baking time.)
Let cook for 30 minutes on a wire rack. Cut into squares and serve.