Kripalu Recipe: Red Lentil Pâté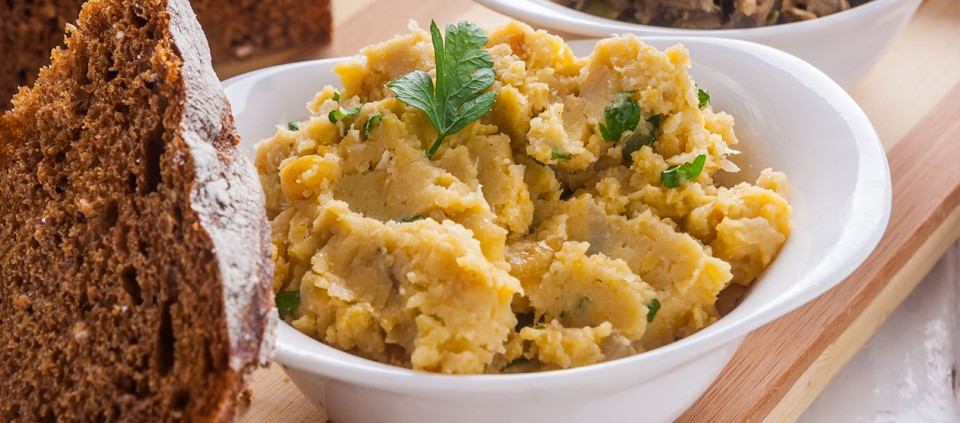 Red lentils are a rich source of both high-quality protein and high-quality carbohydrates. The protein in red lentils is almost complete; if you add a grain to one of your meals the same day, your body will have all the essential amino acids it needs to make new proteins. The carbohydrates found in lentils trickle into your bloodstream (never surging or producing high levels of insulin), allowing adequate amounts of glucose to enter the blood slowly and giving you sustained energy while supporting a healthy weight-management plan.
Makes one loaf pan.
Serves 4 to 6
Prep time: 35 minutes.
1¼ cups red lentils
2¾ cups water
1 small onions diced
1 clove garlic
2 tablespoons extra virgin olive oil
1 teaspoon basil
1 teaspoon oregano
1 teaspoon thyme
1 teaspoon salt
¼ cup chopped parsley
1 teaspoon umeboshi vinegar
¼ cup chopped kalamata olives
2 tablespoons brown rice flour
Pepper to taste
For garnish:
½ cup roasted red peppers
½ cup mixed Greek olives
Chopped parsley
Wash lentils. In a large sauté pan, sauté onions and garlic in olive oil. Add lentils, water, and herbs. Bring to a boil, then cover and simmer. When lentils are soft (after about 20 minutes), add salt, umeboshi, parsley, olives, and pepper. Stir until well combined. Stir in flour and turn off heat. Preheat oven to 350 degrees. Oil and flour a loaf pan (glass works well), pour lentils into pan, and bake for 15 minutes to set. Garnish with roasted red peppers and olives, and serve immediately, or refrigerate and serve cold with crackers.