Kripalu Recipe: Simple White Bean Chili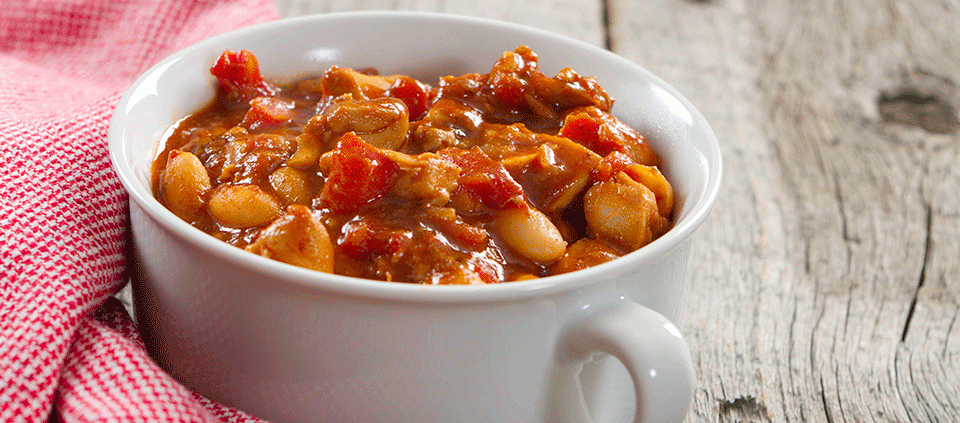 What's better that a hearty one-pot meal on a cold night—especially when it takes only half an hour to make? This quick-and-easy chili from Executive Chef Jeremy Rock Smith uses canned beans, or soak your own the night before. For a veggie option, omit the sausage or use a vegetarian version.
¾ cup dried or 3 cups canned navy beans
2 tablespoons olive oil
1 cup diced yellow onion
2 teaspoons minced garlic
1 cup chopped yellow or red bell pepper
½ teaspoon paprika
¼ teaspoon ground caraway
½ cup diced tomato
1 tablespoon tomato purée
1 bay leaf
1 quart vegetable stock
¾ teaspoon sea salt
¼ teaspoon marjoram
¼ cup sliced, fully-cooked, nitrate-free Italian chicken sausage (optional)
In a large bowl, soak beans in enough water to cover by 3 inches. Place in refrigerator overnight. Drain water, transfer to a large saucepan and cover with fresh water. Bring to a boil, reduce heat, and cook on a low simmer until tender, about 1 hour. (If using canned beans, skip this step.)
Heat the olive oil in a large pot over medium heat. Add the onion, garlic, and bell peppers and sauté until onions are translucent.
Add paprika and caraway, and cook for 2 minutes. Add tomatoes and puree. Stir in bay leaf, vegetable stock, and beans. Simmer for about 20 minutes, or until slightly reduced.
Remove from heat and stir in salt and marjoram. Add sausage if using.
Find out about cooking programs with Jeremy Rock Smith at Kripalu.