Kripalu Recipe: Winter Breakfast Cereal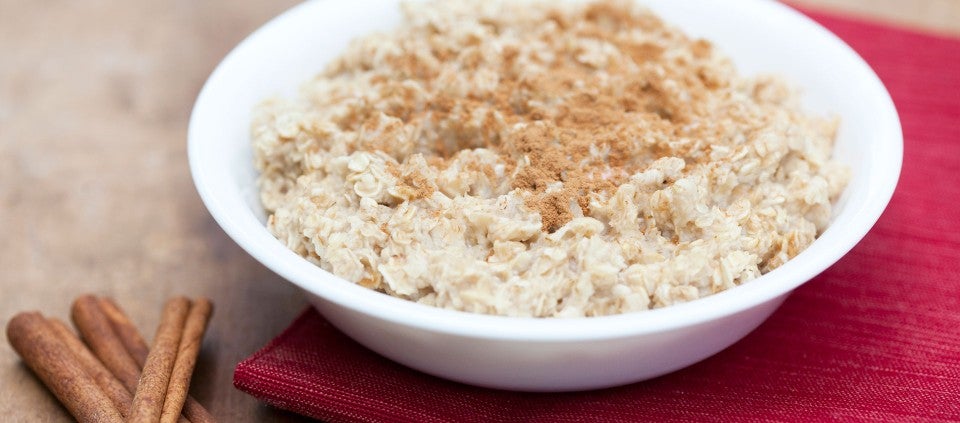 'Tis the season to eat warm, cooked grains for breakfast. Oatmeal is earthy and grounding, providing a hefty bite to anchor you for your day. Cinnamon stimulates the digestive fire, increases circulation, and regulates blood sugar. The sweet flavor of dates helps to balance vata dosha, which abounds in late fall and winter. In addition, dates are said to build ojas, or immunity—and who doesn't need more immunity in the winter? The addition of tahini makes the oatmeal more unctuous (oily) to combat the excessive dryness of winter. Enjoy!
Makes 1 serving.
½ cup rolled oats
1 cup water
1 coconut date roll, broken into small pieces
1 tablespoon shredded coconut
½ teaspoon ground cinnamon
Pinch of pink salt
1 tablespoon tahini
Combine all ingredients, except tahini, in a small saucepan. Bring to a gentle boil, reduce heat to low, and cover. Allow the oatmeal to cook for about 5 minutes, stirring as needed to prevent sticking. Remove from heat, cover, and let sit for an additional 5 minutes. Stir in tahini and top with additional coconut and a sprinkle of cinnamon.
Lauren Gernady is an Ayurvedic Health Counselor, a 500-hour Ayurvedic Yoga Teacher, a graduate of the Kripalu School of Ayurvedic (KSA), and a former intern and Academic Coordinator of KSA.
Full Bio and Programs