Kripalu Recipes: Chocolate Chip Cookies and Chai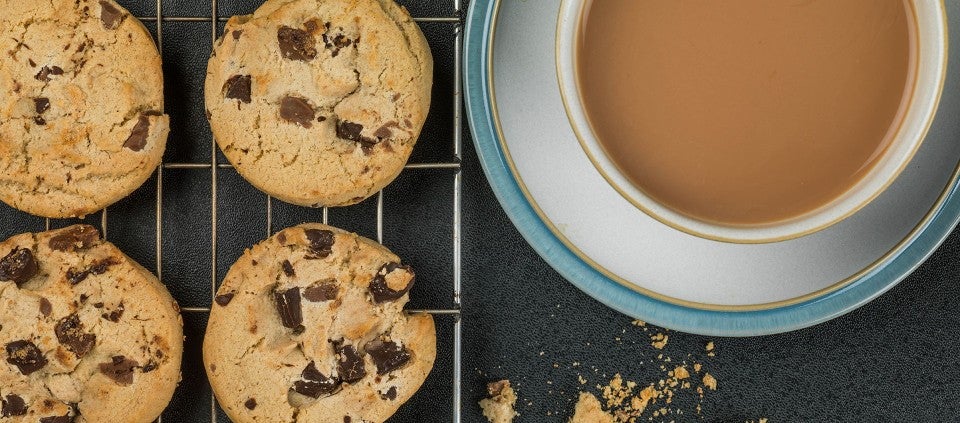 Here are two of our most-requested recipes. Together, they make a delicious and surprisingly nutritious picker-upper.
Chocolate Chip Cookies
Certain types of chocolate can be a pleasurable part of a healthy diet. Some studies suggest cocoa and other forms of chocolate, especially dark chocolate, may help keep your heart healthy and your blood pressure down. They contain high amounts of flavonols, plant compounds with strong antioxidant properties that help maintain healthy blood flow and ward off cardiovascular disease.
Makes 30 cookies
¾ cup butter or vegan spread, at room temperature
1 cup rice syrup
1 teaspoon pure vanilla extract
1 egg (or an egg substitute such as ground flax seed)
2½ cups unbleached white flour
1 teaspoon baking soda
1 teaspoon salt
2 cups chocolate chips
1 cup coarsely chopped walnuts
Preheat oven to 375 degrees. In a large bowl, cream the butter with an electric mixer at medium speed until fluffy. Add the syrup and vanilla, and cream at a medium speed until fluffy. Add the egg (or egg substitute) and beat until fluffy.
In a small bowl, combine the flour, baking soda, and salt. Add the flour mixture to the butter mixture, and beat at low speed until smooth. Add the chips and walnuts, and mix at low speed until well combined.
Drop the dough by rounded teaspoonful on a well-oiled baking sheet. Bake for 10 minutes or until golden brown on the bottom. Let cool on wire racks or serve warm.
Kripalu Chai
Chai is the word for tea in many languages, so when we have plain tea we are technically drinking chai. Of course, that means the phrase "chai tea" is redundant. What we Westerners refer to as chai is actually masala chai, meaning spiced tea.
 As with most recipes that are enjoyed in various regions throughout India, there are many versions of masala chai that you may have run across. Some who have been to India say that the masala chai they most often encounter is simply black tea and ginger with milk and lots of sugar.
For you coffee drinkers out there: Try a cup of half masala chai and half coffee and see what you think!
Makes about 4 cups.
2 tablespoons whole cardamom
2 teaspoons whole cloves
2 cinnamon sticks
1 whole stars of anise
1/2 teaspoon whole black peppercorns
1 tablespoon slice fresh ginger
4 black tea bags
2 cups milk (or substitute soy milk)
2 cups water
1 to 3 tablespoons sweetener of choice
Combine all spices and tie them in a cheesecloth. Using a rolling pin or other heavy utensil, lightly pound the spices to crush them slightly. Place milk, water, and spices in the cheesecloth in a pot and bring to a boil. Reduce heat and let simmer for 15 minutes. Bring water back to a boil, turn off, and add black tea. Let steep for 5 minutes, then strain. Add sweetener of choice and stir to dissolve. Serve warm, or chill over ice for a cooling afternoon treat.