Powers and Purpose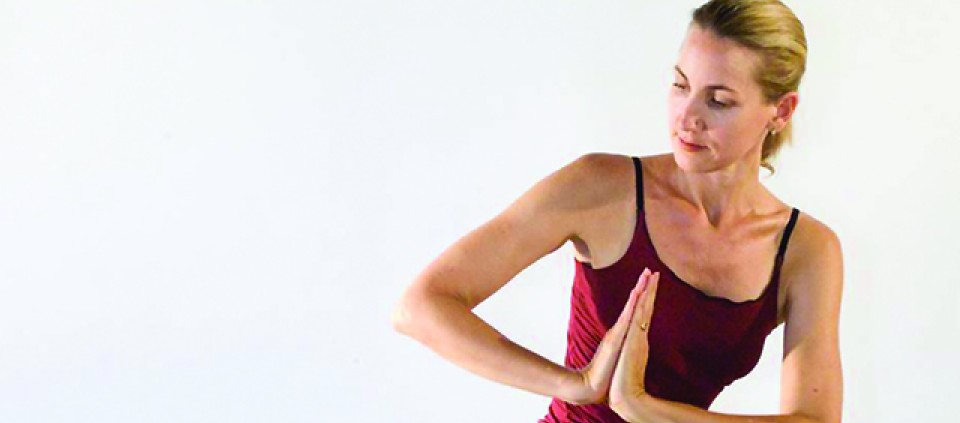 by Jonathan Ambar
There comes a time in every yoga teacher's life when he looks down at the mat before him and asks, "Is this all there is?" His passion for yoga and teaching is still strong, yet he may also feel stuck, even a bit stale. He needs something new, something to reinvigorate his love of teaching.
Not too long ago, I was that teacher. I had received my 200-hour certification in 2007. As those of you who have done teacher training know, it was a truly transformative experience, and I was inspired to pursue teaching opportunities soon after becoming certified.
For me, teaching yoga is similar to writing. When crafting a class, I think about themes, both philosophical and anatomical, the arc of the class, foreshadowing, metaphor, the apex—a peak pose to work on—and the dénouement, Savasana. To be able to offer that experience to students is deeply fulfilling.
But after four years of teaching, I wanted to expand my vocabulary—new words, new sequences, new perspectives. One of the things I love about being at Kripalu is that it's pretty much the Ivy League of yoga. There are so many teachers that I've always wanted to study with, and they have all at one time or another come to Kripalu. Sarah Powers was definitely one of them.
I'd seen clips of Sarah on YouTube leading classes and was drawn to her simple, down-to-earth approach to teaching both an active, flowing practice and the more receptive Yin Yoga (floor postures passively held between three to five minutes). Yet her simplicity held a great deal of knowledge: I was impressed with her clear anatomical alignment cues and precise hands-on adjustments, the way she navigated through the room, keenly observing her students and safely guiding them into a deeper experience of each posture, each breath. When I saw that Sarah was returning to Kripalu to lead Insight Yoga Teacher Training Intensive: Yin/Yang/Mindfulness Level 1, I knew this was the opportunity I'd been looking for.
During her five-day training, I—along with 50 or so other fellow yoga teachers—sampled an eclectic smorgasbord that consisted of lessons about Taoism and meridian theory and Yin Yoga. We partnered up to work on adjustments for active yang poses, such as Warrior I. We meditated, explored mindfulness, delved into Buddhist philosophy and Western psychology, and learned about the relationships between the modalities.
It seems like a lot to cover in five days, but after each session, I felt energized and excited at being immersed in a rich learning environment with such a thoughtful, generous teacher. This was exactly what I had been craving! There was a lot of lecturing, which I found stimulating. Being inspired, taking notes… It was like being in yoga graduate school.
Sarah's language was as crisp as the early March air. Throughout the training, especially during the meditations, she reminded us to be aware of our "feeling tones" and "emotional flavors." I loved the idea of our emotions having tones and flavors—it reminds me of how embodied we are in our physical experiences and sensations. (And I couldn't wait to use the term "emotional flavor" while teaching a yoga class.)
Our days were book-ended with half-hour meditations at 7:00 am and 9:00 pm, plus a brief sit before each session. I was surprised by how much of a pivotal role meditation played in our training, and it really resonated with me. I became aware of the constant shift of my moods, my thoughts … I could easily go from feeling restless to rooted to lethargic and back within moments—and my leg fell asleep a lot. But as long as I remained present with my breath, I was able to build a rapport with those moments of unease, and that was a powerful thing to be reminded of.
As a vinyasa teacher, learning the intricacies of Yin and fully immersing myself in meditation served as a reminder of what drew me to teaching: I thrive when I feel the energy of the class as students move and flow, breathe and sweat. One of the key principles of Yin Yoga is becoming still in your edge, and then remaining in that stillness. Yet there's movement within stillness: movement of the mind, the opening of the ligaments. There's a whole inner world that opens up. I experienced that first-hand during the training—would I be able to offer that to my students in a different way than I was accustomed to? If I couldn't "see" my students move, if I incorporated more yin and longer meditations, could I trust that I would still be creating an active space for them?
Now that it's been two years since the training, I've learned that yes, I can. And I've learned that, ultimately, training is about building, immersing, experiencing, and transforming—verbs that propel the story forward.
Jonathan Ambar, Kripalu's Marketing Copywriter, is also a yoga teacher and a burlesque performer.
© Kripalu Center for Yoga & Health. All rights reserved. To request permission to reprint, please e-mail editor@kripalu.org.